Rathanvel, Manish and Niharika lead National Under 17
Dr. N. Mahalingam 28th National Under-17 Open and Girls Chess Championships 2017 began on 24th October 2017 at Kumaraguru College of Technology in Coimbatore, Tamil Nadu. World Youth Silver Medal winners Arjun Erigaisi and Sakshi Chitlange are the top seeds of the tournament in Open and Girls category respectively. Over 170 players across the country are participating in a 9-day, 11 round tournament. Here is a report of rounds 1 to 4 with photographs by K Sathish Kumar. Rathanvel and Manish Cristiano lead in the open section with 4.0/4, and Niharika is the sole leader in girls section with the same score.
The inauguration ceremony was held in presence of Chief Guest Dr M Manickam, President of TNSCA, Guest of Honor Mr Bharat Singh Chauhan, Hon. Secretary of AICF, Mr P Stephen Balaswamy, General Secretary of TNSCA and many other dignitaries of Kumaraguru college of technology.
Round 1: Saurabh Anand, Nitish Belurkar and Kumar Gaurav were held to a draw
Saurabh Anand of Bihar, had to split the point with Hari R Chandran of Kerala in a Sicilian Najdorf opening after he missed an opportunity and played 21. Rg1 instead of 21. Bxf6 and then his opponent missed multiple winning opportunities.
Bhoopnath of Bihar, held 632 ELO points higher rated FM Nitish Belurkar of Goa to a draw without giving any real chance.
Among the girls, only Kalaiarasi D Pasubathi of Tamil Nadu caused an upset as she held WFM Bommini Mounika Akshaya of Andhra Pradesh to a draw.
Round 2: Top seed Arjun Erigaisi held to a draw and Tarini Goyal shocked by Senthamizh Yazhini S
Arjun Erigaisi of Telangana had to settle for a draw against AGM Rathneesh R of Tamil Nadu in a Benko Gambit after Arjun missed an opportunity to gain clear advantage with 17. a5
Siba Visal R of Tamil Nadu defeated FM Jeet Jain of Gujarat in a Closed Catalan Opening, after Jeet Jain lost his Bishop for two pawns when Siba played 22. b3
Chaitanya Sairam Mogili of Andhra Pradesh defeated Hari Madhavan M B of Tamil Nadu in a French Defence Exchange Variation, although Chaitanya offered a repetition with the move 25. Nd6 for the second consecutive time, which his opponent declined by playing 25...Raf8. Madhavan blundered his knight in the next move with 26...Nc8 and lost the game in another 12 moves.
Dhananjay S of Chattisgarh survived a scare after he blundered his knight when he played 19. Na4 against Kishore Kumar Jaganathan of Tamil Nadu in a Symmetrical English Opening. Kishore did not capitalize and the game ended up in a draw.
Dileep Kumar R of Tamil Nadu was held by Shuban Saha of West Bengal in Sicilian Defence Pelikan Variation. Dileep missed a winning opportunity with 25. Rxd6 instead he opted for 25. Kf1 which still maintained his advantage. However when Dileep played 28. Nxd6, he equalized the game. Go through the analysis below to find out what he missed.
Aswin Kumar B S of Tamil Nadu split points with Pruthu Deshpande of Maharashtra in a Trompowsky Attack.
Senthamizh Yazhini S of Tamil Nadu shocked Tarini Goyal of Chandigarh in Sicilian Defence Maroczy Bind variation when Tarini blundered a pawn with 12...b5 which Yazhini obviously capitalized. Check the analysis below (The game is incomplete due to some technical error):
Round 3: Arjun Erigaisi suffers a loss and Arpita Mukherjee held by V Toshali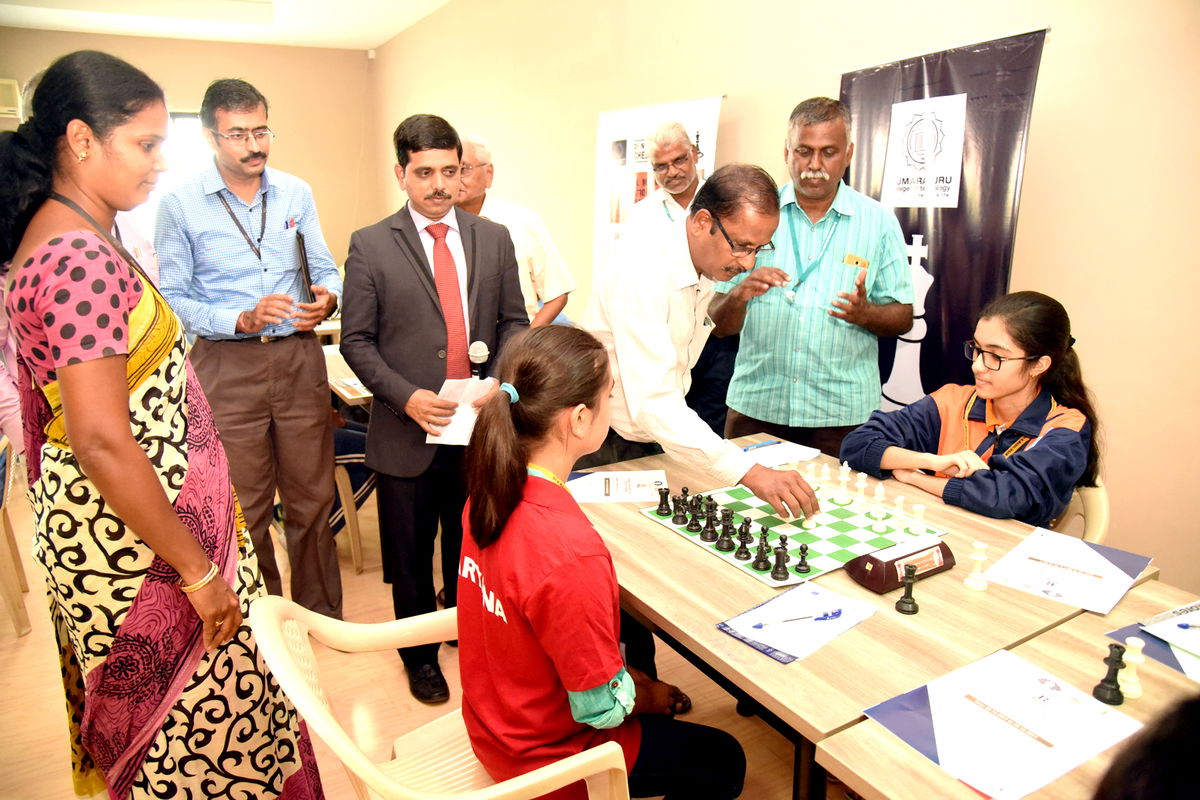 Reigning National Under 13 Champion Raja Rithvik R of Telengana had to be content with a draw against Cheela Naga Sampath of Andhra Pradesh in a Dutch Defence after Rithvik made a wrong exchange with 23.cxd5. Here is the analysis:
Top Arjun Erigaisi suffered a terrible loss against Chaitanya Sairam Mogili in a Semi-Slav: Meran System. Arjun launched an ambitious attack against which his opponent succumbed, however Arjun could not take advantage of it by playing 16. Nxe6. Instead he played 16. Qh3 and lost all chances.

Toshali V of Andhra Pradesh held Arpita Mukherjee of West Bengal to a draw in an English Opening Four Knights variation. The full game is missing due to some error.
Round 4: Rathanvel VS, Manish Anto Cristiano F and Niharika Ch lead with 100% score
Arunachalam Shivaa T V of Tamil Nadu held Mitrabha Guha of West Bengal to a draw in a Caro-Kann Exchange Variation, Panov-Botvinnik attack.
Niharika Ch of Andhra Pradesh defeated Jyosthna L of Tamil Nadu in French Defence Classical Variaition and moved into the leading position after round 4. The game is incomplete due to some technical error
Pairings of Open category
Round 5 on 2017/10/27 at 09.30 AM
Pairings of Girls category
Round 5 on 2017/10/27 at 09.30 AM
---