National Premier 2017 Round 11: Aravindh keeps the race alive!
Aravindh Chithambaram is not going to give up the race for becoming the national champion so easily! The lad was in grave trouble against P. Shyam Nikhil, but managed to find some key defensive ideas to win his game and join Lalith Babu at the top of the table. The duo are now on 7.5/11 and have a full one point lead over the field. Lalith has a tiebreak edge because he has beaten Aravindh in their personal encounter, but on the other hand Aravindh has relatively easier opposition in the last two rounds than Lalith. It's going to be a fantastic battle to the finish. Round 11 report from Patna.
Lalith Babu and Aravindh Chithambaram lead with 7.5/11

P. Shyam Nikhil vs Aravindh Chithambaram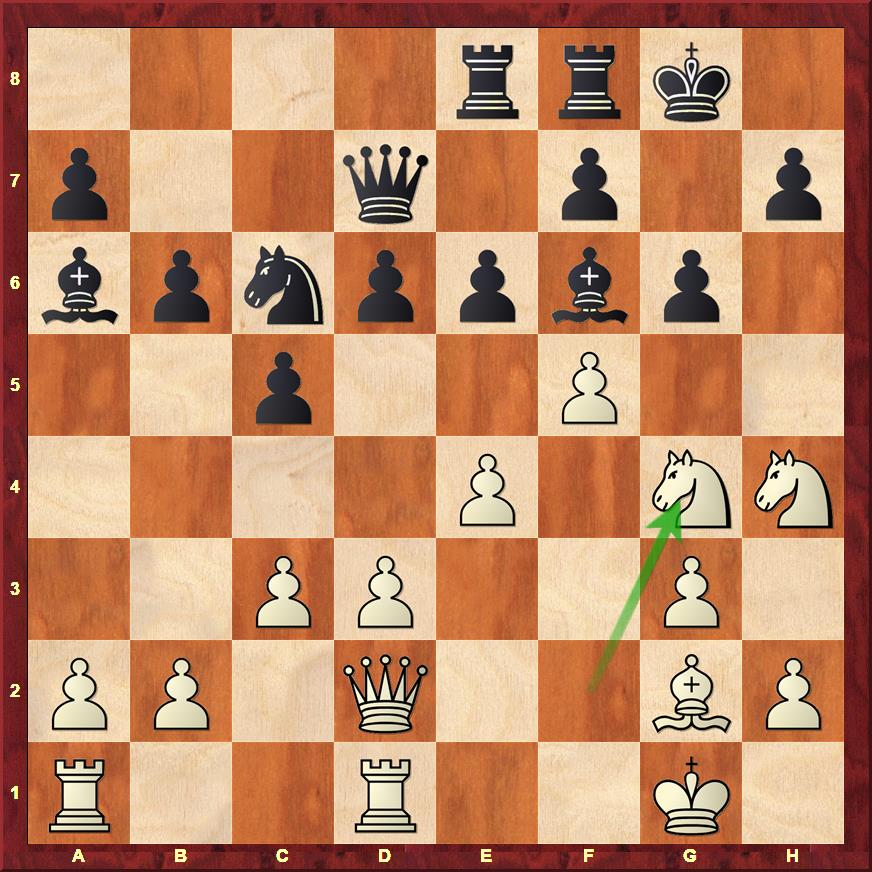 Shyam Nikhil moved his knight to g4. Aravindh thought for a while and chopped of the knight on h4. He was expecting his opponent to recapture with gxh4 when he was stunned by Shyam's response...
f6! was a strong move. The threat now is Qh6 and it would be a forced mate on the king. "I was really shocked to see this move", says Aravindh. "I felt really nervous, but showed that I was confident. I thank God that there was the move Kh8 followed by Rg8 with no white rook coming up to deliver the mate after a typical Qxh7+ sacrifice!" Aravindh's position was quite bad at that point as Shyam took back the piece and had control on the entire board.
However, the 18-year-old showed some great defensive skills. Shyam tried hard to break Aravindh's position, but it was not to be. Finally under grave time pressure he blundered, and Chithambaram took home the full point. With this he joined Lalith Babu in the lead.
After the game I managed to get Aravindh on record on discuss his entire game. It's always a pleasure to see the thought process of such a big talent in such depth:
S.L. Narayanan vs Swapnil Dhopade
Mikhail Tal would have been proud of S.L. Narayanan. He sacrificed a bishop on e6 and it seemed as if he didn't have sufficient compensation. But he was able to prove it otherwise by making one strong move after another. Swapnil was on his toes and if it was for some lesser player, he would have surely got mated. The game finally ended in a draw, but it was one filled with great excitement and unusual motifs.
After the game Swapnil and Narayanan came to the studio and shared their thoughts about the game. When two players are involved in such an intense fight, it is nice to hear their thoughts about the game:
Himanshu didn't play well from the white side of the Sicilian and Kunte got in all the crucial breaks and ideas in the game. It was a game that every Sicilian lover must look into.
With this draw Lalith and Aravindh have now 7.5/11. Lalith has an edge in terms of tiebreak. If they both end on the same score then Lalith would be the champion as he had beaten Aravindh in their direct encounter. However, Aravindh has much easier opponents in last two rounds than Lalith. While Lalith is up against Swapnil Dhopade and S.L.Narayanan, Aravindh will face an out of sorts Himanshu and Debashis Das in the last two rounds. It's really going to be a very interesting fight to the finish.
Unique pictures by Amruta Mokal:
Replay all the games of round 11
Previous reports:
India's strongest tournament National Premier 2017 is here!
R1: Deepan carries his Challengers form to the Premier
R2: How to beat Ruy Lopez Exchange
R3: Capablanca's theorem helps Aravindh
R5: Shete scores a stunning win
R6: Aravindh Chithambaram is the sole leader
R8: Winning this tournament is not Aravindh's aim
R9: Lalith Babu throws the tournament wide open
R10: Can Lalith win his maiden National Premier title
Hindi coverage by Niklesh Jain:
नेशनल प्रीमियर-R1- दीपन के प्यादों में उलझे हिमांशु
नेशनल प्रीमियर R-2- जब राजा निकला घूमने !
अरविंद - अर्घ्यदीप की पहली जीत
नेशनल प्रीमियर R-4 - अब आया खेल का मजा !
नेशनल प्रीमियर-R-5 : उलटफेर अभिजीत कुंटे हारे
नेशनल प्रीमियर-R-6 -अरविंद निकले सबसे आगे !
नेशनल प्रीमियर-R-7-विश्राम के बाद :जमकर हुए प्रहार
नेशनल प्रीमियर-R-8 -अरविंद के कदम खिताब की ओर
नेशनल प्रीमियर-R-9-ललित के कमाल से अरविंद बेहाल
नेशनल प्रीमियर R10 -ललित का विजयरथ क्या दीपन रोकेंगे !
नेशनल प्रीमियर R11 :रोमांचक हुई खिताब की दौड़
---