National Women's Championship: Mary Ann Gomes inches closer to the title beating Meenakshi Subbaraman
The penultimate round of the National Women's Championship saw Mary Ann Gomes of PSPB emerge as the clear leader. On the top board, Mary defeated Meenakshi Subbaraman to take sole lead while her co-leader, Mahalakshmi M, tripped and lost with black against Saranya J. After her previous round loss, Bhakti Kulkarni made a strong comeback beating Michelle Catherina and retained her sole second place. As the tournament reaches its final round, Bhakti is hot on Mary's heels, just half a point behind. Round 10 report.
Mary takes the lead
The penultimate round of the National Women's Championship in Jaipur, Rajasthan saw Mary Ann Gomes (2286) of PSPB take sole lead in the tournament after defeating Meenakshi Subbaraman (2191) on the top board. At the same time, Mary's co-leader after round 9, WIM Mahalakshmi M (2198) suffered a shock defeat at the hands of WFM Saranya J (2049) and slipped down to the joint third spot. WGM Bhakti Kulkarni (2256) of Air India retained her second place in the meanwhile, beating Michelle Catherina P (2182) in a queen endgame that arose out of a complicated Nimzo-Indian.
The top board game of the round resolved surprisingly fast in the endgame. Meenakshi Subbaraman, who had the white pieces in this game against Mary Ann Gomes, had reached a roughly equal position out of a Bogo Indian Defence. Having traded all minor pieces, the players reached an endgame where Subbaraman seemed to be treading on tightropes. On the 28th move, Subbaraman offered a queen trade and that was the last straw. Subbaraman lost a pawn just three moves after this and it all went downhill from there.
On the second board, disaster struck for Mary's co-leader, WIM Mahalakshmi M as she suffered a shocking upset against Saranya J, who is rated about 100 points below Mahalakshmi. With the white pieces, Saranya had essayed the 3.Nc3 variation of the Caro-Kann defence and had managed induced an early exchange of queens. An equal position arose out of the opening but after a few passive moves on Mahalakshmi's part, white got a strong kingside initiative.
Things went wrong for black after she played 23...Be6 here. Saranya immediately pounced at the opportunity with 24.Nh5. And after black went 24...f6 to defend the g7 pawn, there followed 25.bxc6 Rxd1+ 26.Kxd1 bxc6. And then...
This was simply a knock out punch. Black has no defence now. If the bishop is taken, white has 28.Nxf6+ Kf7 29.Nxe8 and white's attack on the e6 bishop decides matters. Mahalakshmi went for 27...Kf7 here but after 28.Nxg7 Bg4+ 29.hxg4 Rxe1 30.Kxe1 Kxf6 31.Nf5, white was two clear pawns ahead.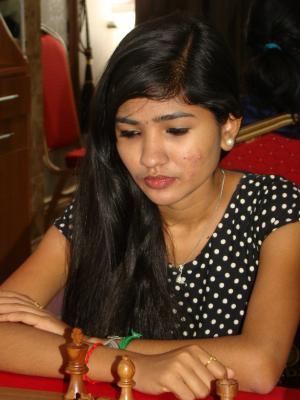 One board below, on the third board, Bhakti Kulkarni, who was half-a-point behind the leaders, made a strong comeback after her loss against Mary Ann Gomes in the previous round, and defeated Michelle Catherina with the black pieces. The game had turned razor sharp quite soon as Bhakti castled into a shattered queenside while Michelle castled by hand to get her king to g7. After the dust of the battle had settled, the players had reached a queen endgame with equal material. Bhakti had a slight pull in the position and persevered until the 65th move to bring home the full point.
With just one round to go, Bhakti will be in a must win situation in the final round to keep her chance of title contention alive. However, if Gomes, who is half-a-point ahead, wins her final game, she will be the one to run away with the title. Four players, including Vijayalakshmi Subbaraman (2365), Mahalakshmi M, Saranya J and Nandhidhaa PV (2240), share the third place at 7.5/9. If some results go their way, one of these players might also have an outside shot at the title.
Standings (top 10)
| | | | | | | | | | | |
| --- | --- | --- | --- | --- | --- | --- | --- | --- | --- | --- |
| Rk. | SNo | | Name | FED | Rtg | Club/City | Pts. | TB1 | TB2 | TB3 |
| 1 | 2 | WGM | Gomes Mary Ann | IND | 2286 | PSPB | 8,5 | 0,0 | 59,5 | 63,5 |
| 2 | 4 | WGM | Kulkarni Bhakti | IND | 2256 | AI | 8,0 | 0,0 | 59,5 | 63,5 |
| 3 | 1 | IM | Vijayalakshmi Subbaraman | IND | 2365 | AI | 7,5 | 0,0 | 61,0 | 65,5 |
| 4 | 11 | WIM | Mahalakshmi M | IND | 2198 | RSPB | 7,5 | 0,0 | 60,5 | 65,5 |
| 5 | 22 | WFM | Saranya J | IND | 2049 | TN | 7,5 | 0,0 | 55,5 | 59,5 |
| 6 | 6 | WIM | Nandhidhaa P V | IND | 2240 | TN | 7,5 | 0,0 | 52,5 | 56,5 |
| 7 | 8 | WIM | Srija Seshadri | IND | 2224 | DEL | 7,0 | 0,0 | 52,5 | 57,0 |
| 8 | 7 | WIM | Chitlange Sakshi | IND | 2237 | MAH | 7,0 | 0,0 | 50,0 | 54,0 |
| 9 | 23 | | Priyanka Kumari | IND | 2005 | JHA | 6,5 | 0,0 | 63,5 | 68,5 |
| 10 | 13 | WIM | Michelle Catherina P | IND | 2182 | TN | 6,5 | 0,0 | 58,0 | 62,5 |
Results of round 10
Round 11 pairing
Links
---