Nandhidhaa P V makes a historic shared first place finish at 47th La Roda International Open 2021
WGM Nandhidhaa P V makes a historic shared first place finish at 47th La Roda International Open 2021. In 46 editions of the tournament, no woman had ever shared first place or finished in top three of the event. That changed yesterday when Nandhidhaa, GM Boris Chatalbashev (DEN) and Karen Grigoryan H (ARM) scored 7.5/9 each. Boris won the tournament, Karen secured second place and Nandhidhaa was adjudged third according to the tie-breaks. They won €2500, €1500 and €1000 cash and a trophy each respectively as their prize. The total prize fund of the tournament was €12500. Photo: La Roda Open
Aniruddh scores an unbeaten 6.0/9
A total of 238 players including 5 GMs, 3 IMs, a WGM and a WIM took part from ten countries across the world. Only four Indian players took part in the event. Aniruddh Chatterjee, Ojas Kulkarni and Sudarshan Bhat, all three of them scored 6.0/9 each. Only Aniruddh remained undefeated throughout the tournament. He secured 25th place and gained 41.6 Elo rating points, the only Indian player to finish in top 25 after Nandhidhaa.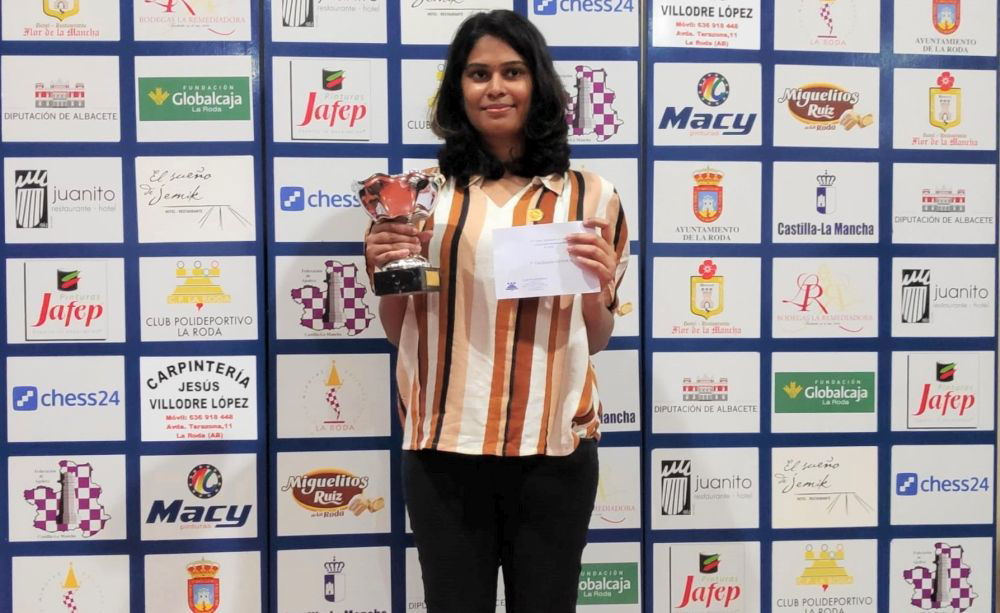 Round 6: Nandhidhaa - Santiago: 1-0
Nandhidhaa exploited the dark square weakness on the kingside of her opponent, Santiago Ano Tafall (ESP).
Black was almost forced to give up the dark squared bishop 25...Bxh6 26.Qxh6 and White eventually transferred the bishop from the long diagonal to h6 where it is much more effective and played a key role in getting the win.
34...Be8?? made way for White to play 35.Nxe6! and gain a lot of pawns.
Round 7: Fernando - Nandhidhaa: 0-1
In the seventh round, Nandhidhaa recovered well from a slightly uncomfortable position, waited for the right opportunity to strike against Fenando Fernandez Estremera (ESP).
Try to think like Nandhidhaa after 34.Nc4 and find out the winning continuation for Black.
Round 8: Nandhidhaa - Ruben: 1-0
In a sharp game, just when it seemed like things Nandhidhaa's opponent Ruben Fernandez Lopez (ESP) has equalized everything, he made a mistake.
Find out why 30...Qe3 is a mistake and what Black could have done instead.
Round 9: Larino Nieto - Nandhidhaa: 0-1
GM David Larino Nieto (ESP) went wrong early in the opening against WGM Nandhidhaa P V.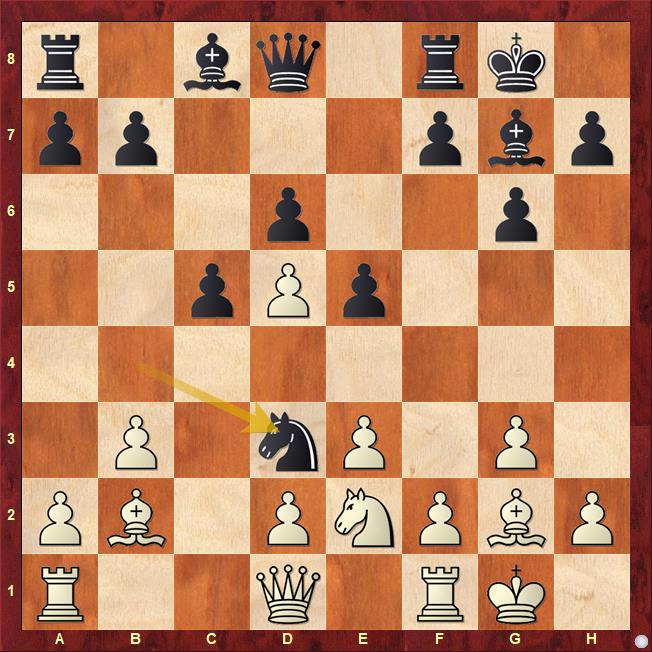 Black getting to bring her knight at d3 and keeping it there comfortably for the rest of the game means White has gone terribly wrong in the opening and could not make the correct strategy of getting rid of it immediately.
Photo Gallery
Replay Nandhidhaa's games
Replay Round 1-9 games
The tournament took place at La Caja Blanca at La Roda, Albacete in Spain from 4th to 8th December 2021. Every day there were double rounds, except the last round, which starts at 1:30 p.m. IST. Time control for the tournament was 90 minutes + 30 minutes increment per move starting from move 1.
Round 9 results
Final standings
| | | | | | | | | | | | | | | | |
| --- | --- | --- | --- | --- | --- | --- | --- | --- | --- | --- | --- | --- | --- | --- | --- |
| Rk. | SNo | | Name | Typ | sex | FED | RtgI | RtgN | Club/City | Pts. | TB1 | TB2 | TB3 | TB4 | TB5 |
| 1 | 3 | GM | Chatalbashev Boris | | | DEN | 2517 | 0 | DINAMARCA | 7,5 | 51,0 | 55,0 | 40,5 | 44,25 | 0,0 |
| 2 | 1 | GM | Grigoryan Karen H. | | | ARM | 2645 | 2637 | AND | 7,5 | 50,0 | 54,5 | 39,5 | 44,25 | 0,0 |
| 3 | 12 | WGM | Nandhidhaa P V | | w | IND | 2313 | 0 | INDIA | 7,5 | 45,5 | 49,5 | 36,5 | 40,75 | 0,0 |
| 4 | 2 | GM | Martinez Duany Lelys Stanley | | | CUB | 2520 | 2545 | GAL | 7,0 | 51,5 | 56,0 | 37,5 | 42,50 | 0,0 |
| 5 | 9 | FM | Alonso Garcia Aaron | | | ESP | 2367 | 2391 | MUR - Lapuerta | 7,0 | 49,5 | 53,5 | 37,5 | 40,50 | 0,0 |
| 6 | 6 | IM | Tejedor Fuente Enrique | | | ESP | 2430 | 2437 | CNT | 7,0 | 49,5 | 53,5 | 37,5 | 39,75 | 0,0 |
| 7 | 7 | IM | Martin Duque Jesus | | | ESP | 2416 | 2438 | MAD - Collado Villalba | 7,0 | 46,5 | 50,5 | 34,0 | 39,25 | 0,0 |
| 8 | 36 | | Munoz Avila Jose Luis | | | ESP | 2186 | 2191 | VAS | 7,0 | 45,0 | 49,0 | 36,0 | 35,00 | 0,0 |
| 9 | 43 | | Rodriguez Garcia Manuel Fco | | | ESP | 2162 | 2191 | EXT - Merida | 7,0 | 45,0 | 48,5 | 33,5 | 37,50 | 0,0 |
| 10 | 4 | GM | Cabrera Alexis | | | ESP | 2481 | 2470 | VAL - Mislata | 6,5 | 50,5 | 55,0 | 38,0 | 37,50 | 0,0 |
| 11 | 38 | | Fernandez Estremera Fernando | 1 | | ESP | 2179 | 2194 | MAD - Jaque Mate | 6,5 | 47,5 | 51,5 | 32,5 | 34,25 | 0,0 |
| 12 | 8 | IM | Carrasco Martinez Juan M. | | | ESP | 2382 | 2370 | EXT - Casareño | 6,5 | 46,5 | 51,0 | 35,0 | 35,00 | 0,0 |
| 13 | 25 | CM | Villar Perez Samuel | | | ESP | 2218 | 2224 | GAL | 6,5 | 45,5 | 49,5 | 34,0 | 33,25 | 0,0 |
| 14 | 98 | | Horcajuelo Rocamora Martin | | | ESP | 1976 | 2006 | MAD - Diagonal Alcorcon | 6,5 | 45,5 | 47,5 | 31,0 | 31,00 | 0,0 |
| 15 | 13 | WIM | Forgas Moreno Yaniela | | w | CUB | 2310 | 0 | CUBA | 6,5 | 43,0 | 47,5 | 33,5 | 34,00 | 0,0 |
Links
---