A huge pictorial report from the Mumbai Mayor's Cup 2018
The Mumbai Mayor's Cup is one of the biggest events in the Indian chess calendar and it has lived up to its reputation with some exciting games. 12-year-old WIM Divya Deshmukh has shown some excellent chess and is on 3.5/4. Leading the event with 4.0/4 are three players Vietnamese GM Tran Tuan Minh, top seed from Ukraine Martyn Kravtsiv and talented Indian IM Arjun Erigaisi. In this report we have some very nice games with interesting tactics and also pictures from ace photographer Amruta Mokal. A lot of nice photos! Don't miss them!
The 11th Mumbai Mayor's Cup kicked off from the 3rd of June 2018. The tournament is being played in three different categories: A category (2000+), B Category (1600-2000) and C category (Below 1600). There a huge number of participants playing in the B and C category, but the focus of course is on the A section where there are chances for players from India to make their norms and get their titles.
The A-group has not been so strict with their above 2000 criteria and half of the players from 216 participants are below the rating of 2000. That's why the organizers have decided to use the accelerated pairing system. This meant that the norm seekers met higher rated opposition in the first two rounds and had a better chance of making their norms. Of course, one can always question the logic of this system because rounds three and four are the ones where the players face lower rated opponents instead of one and two. One player who has made good use of the accelerated pairing system is...
Sohan Phadke vs Ziaur Rahman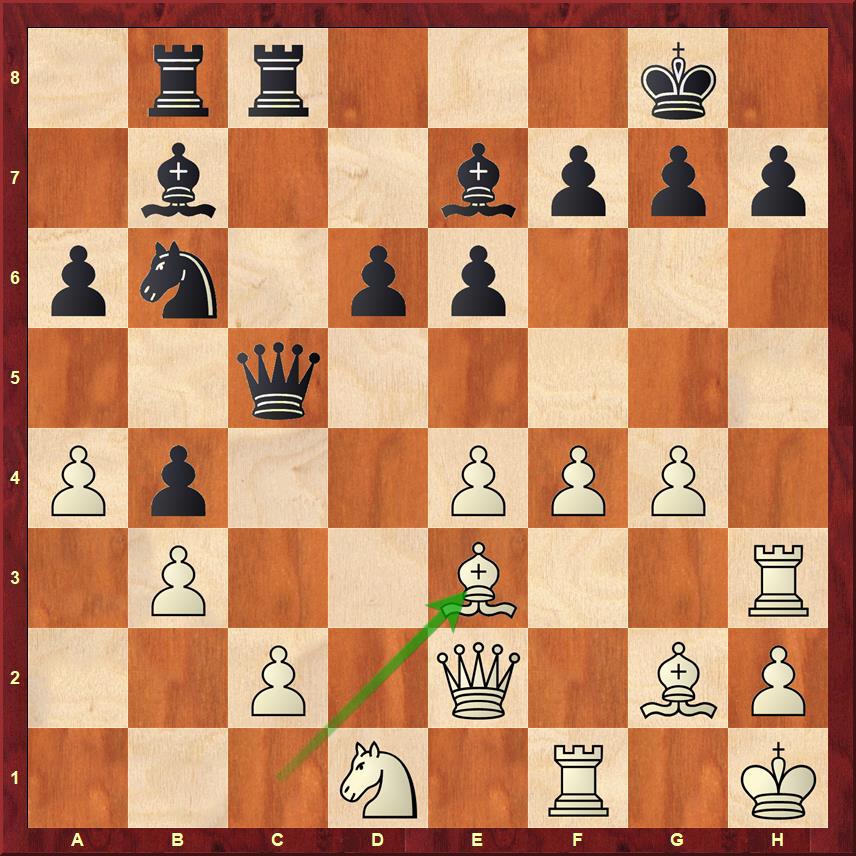 Sohan also played a fine attacking game against Hrishikesh Chavan in the third round. The knight sacrifice on f2 was thematic but also required a good attacking intuition:
Karthik Venkatraman vs Anniruddha Deshpande
A glittering opening ceremony: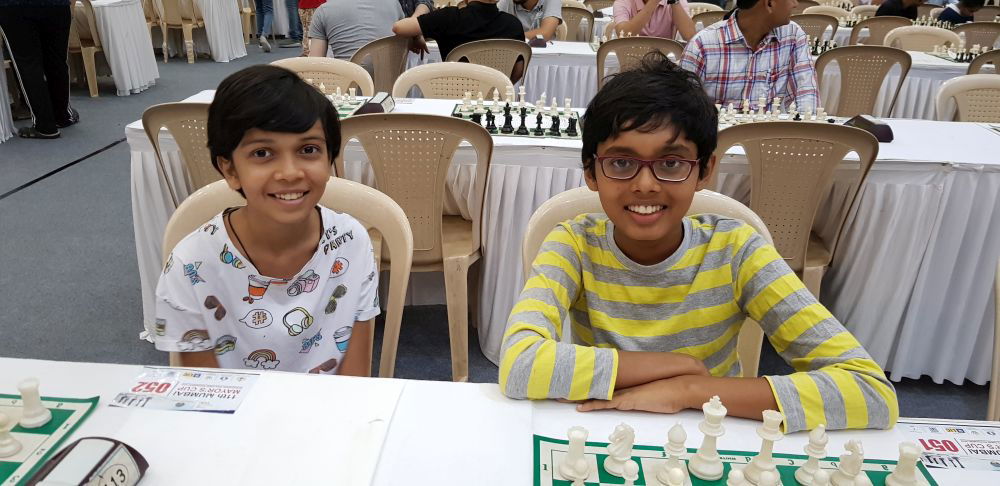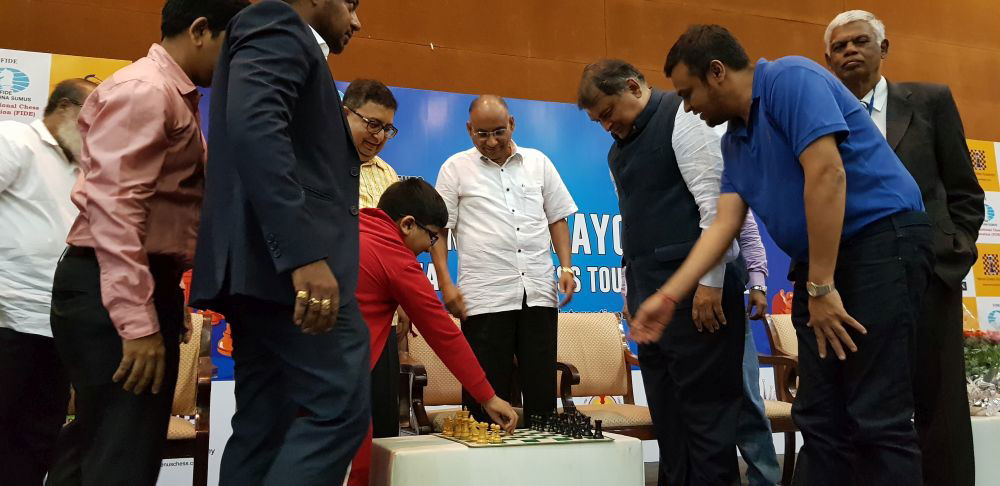 Video Gallery:
Pairings of round 5:
Standings after round 4:
| | | | | | | | | | | | | | |
| --- | --- | --- | --- | --- | --- | --- | --- | --- | --- | --- | --- | --- | --- |
| Rk. | SNo | | | Name | sex | FED | Rtg | Pts. | TB1 | TB2 | TB3 | TB4 | TB5 |
| 1 | 15 | | GM | Tran Tuan Minh | | VIE | 2514 | 4,0 | 0,0 | 8,0 | 10,5 | 10,50 | 4 |
| 2 | 1 | | GM | Kravtsiv Martyn | | UKR | 2662 | 4,0 | 0,0 | 7,5 | 9,5 | 9,50 | 4 |
| 3 | 16 | | FM | Erigaisi Arjun | | IND | 2505 | 4,0 | 0,0 | 7,0 | 8,5 | 8,50 | 4 |
| 4 | 6 | | GM | Sandipan Chanda | | IND | 2571 | 3,5 | 0,0 | 9,5 | 12,5 | 10,75 | 3 |
| 5 | 3 | | GM | Amonatov Farrukh | | TJK | 2605 | 3,5 | 0,0 | 9,5 | 11,5 | 9,75 | 3 |
| 6 | 18 | | GM | Neverov Valeriy | | UKR | 2492 | 3,5 | 0,0 | 9,0 | 11,0 | 9,25 | 3 |
| 7 | 4 | | GM | Rozum Ivan | | RUS | 2581 | 3,5 | 0,0 | 8,5 | 10,5 | 8,75 | 3 |
| 8 | 20 | | IM | Harsha Bharathakoti | | IND | 2471 | 3,5 | 0,0 | 8,5 | 10,0 | 8,25 | 3 |
| 9 | 10 | | GM | Tukhaev Adam | | UKR | 2557 | 3,5 | 0,0 | 8,0 | 10,0 | 8,50 | 3 |
| | 13 | | GM | Burmakin Vladimir | | RUS | 2528 | 3,5 | 0,0 | 8,0 | 10,0 | 8,50 | 3 |
| 11 | 74 | | WFM | Divya Deshmukh | w | IND | 2138 | 3,5 | 0,0 | 8,0 | 10,0 | 8,25 | 3 |
| 12 | 43 | | FM | Raja Rithvik R | | IND | 2296 | 3,5 | 0,0 | 7,5 | 9,0 | 8,75 | 3 |
| 13 | 30 | | IM | Tran Minh Thang | | VIE | 2383 | 3,5 | 0,0 | 7,5 | 9,0 | 7,50 | 3 |
| 14 | 19 | | FM | Karthik Venkataraman | | IND | 2475 | 3,5 | 0,0 | 7,5 | 9,0 | 7,25 | 3 |
| | 34 | | | Saravana Krishnan P. | | IND | 2359 | 3,5 | 0,0 | 7,5 | 9,0 | 7,25 | 3 |
| | 36 | | | Neelash Saha | | IND | 2333 | 3,5 | 0,0 | 7,5 | 9,0 | 7,25 | 3 |
| 17 | 121 | | | Parthasarathy R | | IND | 1916 | 3,5 | 0,0 | 7,5 | 8,5 | 6,75 | 3 |
| 18 | 32 | | IM | Sidhant Mohapatra | | IND | 2370 | 3,5 | 0,0 | 6,5 | 8,0 | 6,75 | 3 |
| 19 | 35 | | IM | Siva Mahadevan | | IND | 2346 | 3,5 | 0,0 | 6,0 | 7,5 | 6,25 | 3 |
| 20 | 11 | | GM | Ghosh Diptayan | | IND | 2536 | 3,0 | 0,0 | 9,0 | 11,5 | 8,00 | 3 |
---