Are you looking for a strong rating tournament in India next week?
Shri Maheshwaranand Saraswati All India Open FIDE Rating Chess Tournament is slated to be held in Pune, Maharashtra from the 25th to the 30th of September 2018. The tournament will witness its 15th successful edition this year, which will be held after a one year gap. The event will be headlined by the country's latest grandmaster, GM Karthik Venkataraman and includes a long list of strong participants in the fray. Here's all you need to know about the event. Along with it we also tell you about the Buddhibal Kreeda Trust (BKT), an organization in Pune that has worked tirelessly since years to ensure the growth and development of chess in the city and the state of Maharashtra.
Pune to host a strong Open FIDE Rating event!
After a gap of one year, Buddhibal Kreeda Trust is going to organize the 15th edition of Shri Maheshwaranand Saraswati All India Open FIDE Rating Chess Tournament in Pune from 25th to 30th September 2018. The total prize fund for this tournament is Rs. 3,60,000 with Rs. 1,00,000 being up for grabs for the title winner. Besides, there are also various consolation prizes. The tournament will be a 9 round Swiss league which will be played over a six-day schedule.
A total number of 275 entries will be accepted for this tournament. As of now, 100 players have confirmed their entries for the tournament which include 1 GM (Karthik Venkatraman is yet to get his title), 1 WGM, 10 IMs and 1 WIM. Out of the 123 entries received so far, 65 players are rated players. It will, therefore, be a great opportunity for unrated participants to get their initial rating while the rated ones have a chance to improve their Elo. So far, 10 players above Elo 2300 – including one player above ELO rating 2500 – have been confirmed their participation at this tournament.
Given below is the list of top 20 participants:
This is the 15th edition of Maheshwaranand Saraswati tournament. Naturally it has a rich history of some strong players playing in their event. Here are some paper cuttings that can make you nostalgic!
Making a difference - Buddhibal Kreeda Trust (BKT)
Buddhibal Kreeda Trust (BKT) is a well-known charitable trust which conducts regular Chess Tournaments and Chess Programs in Pune. It was founded in 1998 by Prakash Kunte, GM Abhijit Kunte, WIM Mrunalini Kunte-Aurangabadkar, Nityananand Mehendale (owner of Manohar Mangal Karyalay) and Raghuvir Apte. At the time of incorporation, the Kunte family had contributed Rs. 30,000 as corpus. Today, the corpus of the trust is more than Rs. 40 lakhs. The organization strives for promoting the game of chess not only in Pune, but also in Maharashtra and India. It also does its best to support talented players by providing financial help.
Since its inception, BKT has organized approximately 150 tournaments which include Women's National B, National Team Championship, 4 National Championships, more than 10 State Selection Tournaments, more than 13 All India FIDE Rating Tournaments and more than 100 local Chess Tournaments. BKT has also organized India's first ever knockout chess championship with a prize fund of Rs. 8,00,000 in 2006. In this tournament, most of the GMs from India had participated.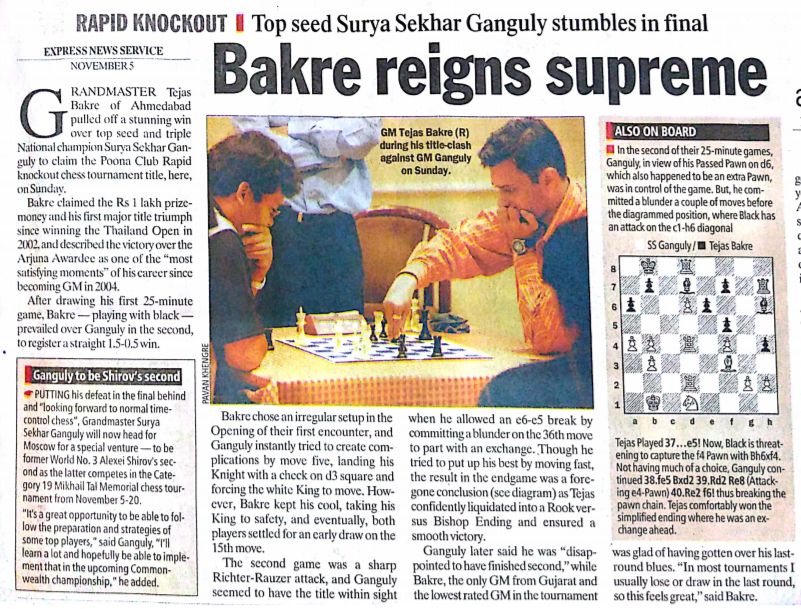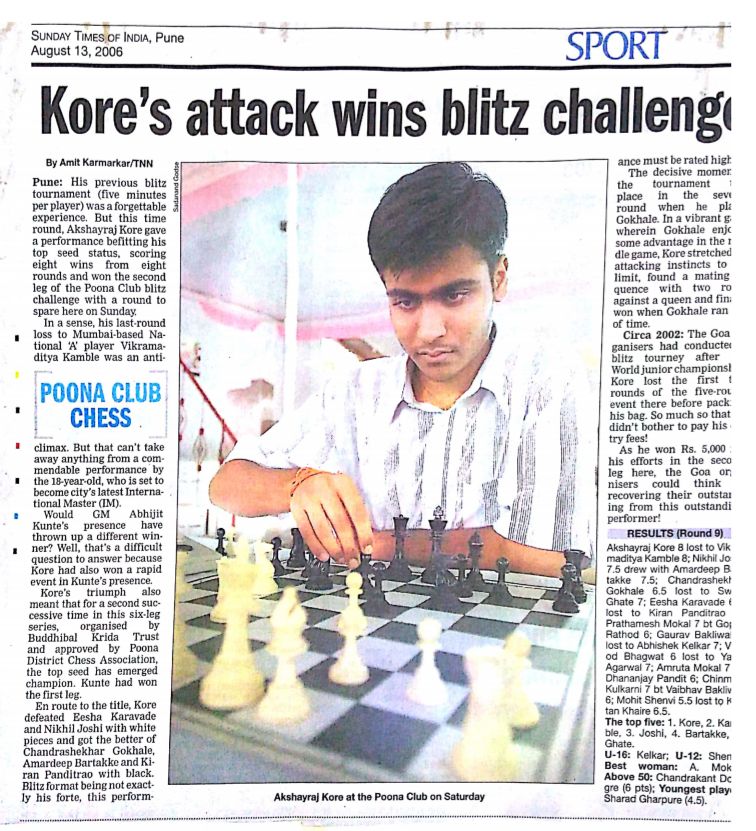 Further, BKT also contributed towards the organization of the World Junior Chess Championship in 2014 and Maharashtra Chess League. BKT has so far distributed more than Rs. 30 lakhs in prize fund or in different types of sponsorships.
'Laptop to Chess Players' is an initiative of the BKT which helps in developing the budding chess players. Under this scheme, more than 20 laptops have been distributed to chess players between 2006 and 2014. Many prominent personalities and organizations contributed towards this initiative. In 2007, the program was for Pune Players only. Given below is the list of players:
Other than organising different types of chess tournaments, BKT has also supported many talented and upcoming players from Pune and Maharashtra by sponsoring them for international tournaments. Given below are the names of few players which BKT has sponsored:
1. IM Prathamesh Mokal
2. IM Abhishek Kelkar
3. WGM Soumya Swaminathan
4. Aniruddha Deshpande
5. Chinmay Kulkarni
6. Pruthu Deshpande
7. GM Abhimanyu Puranik
8. IM Harshit Raja
9. WIM Aakanksha Hagawane
10. Nikhil Dixit (Sponsorship for a tournament in India)
11. IM Rakesh Kulkarni (Accommodation sponsored by BKT in Dubai)
12. IM Sameer Kathmale (Accommodation sponsored by BKT in Dubai)
Buddhibal Kreeda Trust has also participated in various All India National Team Chess Championships by fully sponsoring a 5 player team in open and women's categories. The BKT team won in the Women's category at the 2004 National Team Chess Championship. In these teams many promising players were part of the team such as Amruta Mokal, WGM Soumya Swaminathan, Sneha Ghatpande, Anuprita Patil, Devangi Patankar, IM Abhishek Kelkar, Omkar Patwardhan, Sohan Phadke and Aniruddha Deshpande.
Buddhibal Kreeda Trust has been providing sports scholarship to players of the Under-8 and Under-10 age categories of Rs. 6,000/- per year to the best player in Pune for last 6 years. The Trust also provided sponsorship to prominent players of Pune for their international open chess tournaments.
The current trustees of BKT are Mr. Prakash Kunte (Managing Trustee), Mrs. Mrunalini Kunte- Aurangabadkar, Mr. Chandrashekhar Nanivadekar, Mr. Ravindra Akolkar, Mr. Chandrakant Mokashi and Mr. Sanjay Adhav.
What Buddhibal Kreeda Trust (BKT) means to me?
By IM Abhishek Kelkar
"My chess career started in 1998! The trio Mrunalini Kunte Tai (coach), Abhijit Kunte dada (my childhood idol, mentor and inspiration), Kunte kaka (fatherly figure to me, my well wisher, supporter and financial source in my difficult times) whatever I am today is because of the existence of these 3 pillars in my life! They 3 formed Buddhibal Kreeda trust in 1998, in the same year when my chess kicked off. My 1st state championship U-7 catergory was organized by BKT. Since then I am following the fantastic journey of BKT. I have witnessed every initiative of BKT, whether it may felicitation functions or laptop distribution to chess players function.
Most of the tournaments organised by BKT I had participated; Lately I am assisting Kunte Kaka in the organization. I have won few of tournaments organized by BKT. I have participated in more than 10 editions of "Shri Mahaeshwaranand Saraswati Memorial" (a strong tournament) though never got chance to hold the trophy. Looking forward to change my luck in this year!
I thank BKT and Shri.Prakash Kunte Kaka for all his inputs and efforts, for spreading chess and supporting countless chess players, their families (psychologically and financially) in last 20 years. I pray to God his love and passion for chess may increase day by day as chess needs such an amazing person for its acceptance in the society on large scales. Kudos to Kaka. I request young generation to participate in this year's Mahaeshwaranand Saraswati All India Open tournament 2018". Wishing a grand success for the tournament & BKT in coming years."
Leave your travel worries to us!
If you are itching to play some chess, don't miss out on the 15th Maheshwaranand Saraswati tournament from 25-30 September. Travel to Pune is quite easy and the hotels nearby are quite affordable. ChessBase India Power can help you to arrange all your logistics related to the tournament.
Hotline and Whatsapp: 09106908500 (10 a.m to 8 p.m.)
Email: accommodations@chessbase.in
---