London Chess Classic 7+8: Nepomniachtchi's winning spree
Continuing his fantastic run, Ian Nepomniachtchi registered back to back wins in rounds seven and eight to emerge as the clear leader of the tournament as Fabiano Caruana went back to drawing his games. Vishy Anand, in the meantime, lost his second game of the tournament in round seven and settled for a risk-free draw in the eighth round and has now got nothing to play for in the tournament. The battle now is between Nepo, Caruana and MVL. Since the Frenchman is paired against Nepo in the final round, a win might just give him the champion's crown!
Rounds that rattled it all
The last two rounds of the London Chess Classic were an utter delight to watch. Stepping aside from the 'draws galore', the players went for blood in round seven and saw three decisive results. This round totally rattled the standings as Nepomniachtchi came within striking distance of Fabiano Caruana who had been leading with a +2 score. Another astonishing game that day was the one between Magnus Carlsen and Michael Adams. Adams should have won right out of the opening because of Carlsen's blunders but by the end of the day, the boot was on the other foot. It was Carlsen who miraculously managed to pull out a win.
In the subsequent round, the draws crept back in. There was only one decisive result. But this was the most important one. This was the one that changed the tournament leader; this was the game that gave Magnus Carlsen a fitting punishment for his sins of miscalculation. Ian Nepomniachtchi, by registering his third win in a row, had not only beaten Magnus Carlsen but had also snatched the lead from Fabiano Caruana. Going into the final round, the contest is getting intense!
Round 7
In stark contrast with the previous rounds, round seven of the London Chess Classic saw as many as three decisive games. With this explosion in its antepenultimate round, the tournament title was now within the reach of seven out of the ten players. The biggest result of the round was the game between Ian Nepomniachtchi and Viswanathan Anand which the former won and joined Fabiano Caruana as the tournament leader.
Playing from the white side of an English Opening, Nepomniachtchi played ambitiously from the very start of the game. On his seventh move, the Russian Grandmaster offered a pawn with the hope of generating an attack along the semi-open file that it would create. Anand accepted the offered sacrifice and felt his position was pretty good out of the opening.
But soon complications arose as Nepomniachtchi began his kingside attack along the g-file. In the opinion of the computers, this was still playable. From a human perspective, however, there were complications that needed to be taken care of and there was definite pressure on Anand's position. And as has been the case with Anand lately, he cracked under this pressure and misjudged the position on move 27. A blunder on the 36th move forced resignation on the part of the Indian.
At one point, Anand even missed exchanging queens, which could have helped his cause. Although, Nepomniactchi thought the queen exchange would have given him better prospects in the endgame.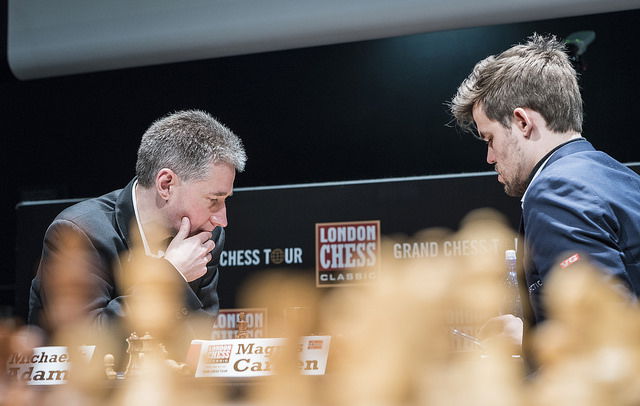 After his escape in the previous round against Hikaru Nakamura, Magnus Carlsen not only escaped another loss today but actually ended up winning from a dead lost position against Michael Adams. But a few slips by Adams allowed Carlsen to hang on for the time being.
Carlsen clearly wanted to stir things up against Adams who is one of the players at the bottom. Also, Carlsen had a dominating overall score against the English number one of 10 wins against one in favour of the world champion. So it's natural that he wanted to try and win this one, especially since he needs to win games if he wants to catch up with the tournament leader, Fabiano Caruana.
Perhaps, therefore, Carlsen opened with the Bird's Opening. Adams, however, was ready for the test it seemed as the otherwise solid English GM went for some complicated variations and sacrificed a knight early in the game in order to catch white's queen in a mouse trap. Soon, Carlsen's position began looking suspect and eventually it seemed the world champion was going to suffer his first loss of the tournament.
Whichever god Carlsen was praying to at this point, more than answered his prayers as Adams failed to find the right continuation and let Carlsen's queen off the hook. Soon afterwards, both players made back to back blunders and reached a positon where Carlsen had a rook and two minor pieces against Adams' two rooks. But in this endgame, Mickey began making inexplicable errors one after another and eventually ended up conceding a full point to the world champion.
"I obviously miscalculated pretty badly. I thought I was basically lost, or close to lost if he played 14…Rac8 and then played 15…Bd4+ after that. I mean I can fight on, like 15.Qxa7 Bd4+ 16.cxd4 Qxd4+ 17.Be3 Nxe3 18.Kh1, but even if he just makes quiet moves like 18...Bc6 or 18...Be6 or something I thought it should be basically lost. At least practically speaking I didn't think I could possibly hold this," said Carlsen about the initial phase of the game.
Vachier-Lagrave is one of the contenders for the top spot of the overall Grand Chess Tour and winning this event will put him ahead of the current leader, Magnus Carlsen. This was, therefore, a welcome victory for him.
Playing with the whites, Karjakin, given the way this tournament is going for him currently, made an almost suicidal decision of going for a sharp topical variation of the Sicilian Najdorf, an opening in which Vachier-Lagrave is a world-renowned expert. But amusingly, despite the players playing a sharp line, there weren't too many tactical skirmishes in the game.
Round 8
After a turbulent antepenultimate round, the London Chess Classic, which had begun at a glacial pace, is awaiting a thrilling finale. When the dust of the battles of round eight settled, Fabiano Caruana, who had been leading the tournament with a +2 score, was overtaken by the Russian GM Ian Nepomniachtchi who registered his third consecutive win last night.
One might think luck has smiled on Nepomniachtchi in this tournament. Be it his game against Adams in round 6 or this one, his position was far from winning. But his opponents fumbled inexplicably and conceded the full point.
Nepomniachtchi, in the penultimate round, was pitted against the world champion, Magnus Carlsen, who has been struggling with his form since the last few rounds. Carlsen, who had the white pieces in the game, resorted to an off-beat opening yet again but after a transposition of moves, the game entered the waters of the Semi-Slav Defence. Carlsen had the better position out of the opening but a missed tactic on move 25 made his advantage evanesce.
Things went downhill for the world champion pretty quickly after this. He miscalculated and dropped a pawn soon afterwards. The game was a complete debacle after this. Carlsen lost a piece due to a simple oversight and resigned a couple of moves later.
"I missed everything. There is not much else to say. I failed to predict a single one of his moves. You saw what happened," Carlsen said in a dejected tone after the game.
Talking about his opponent's sudden breakdown, Nepomniachtchi said: "Clearly Magnus is a little bit sick and this surely this disturbs his play. It's hard, when you have this sore throat and so on. I mean, I know it from my experience, that you cannot show your best level when you're fighting with some illness instead of fighting with your opponents."
Carlsen's result was also important for Maxime Vachier-Lagrave – who drew against Anand in his game – as he's chasing the world champion for the overall Grand Chess Tour title. In the final round, the Frenchman will be paired against the tournament leader, Ian Nepomniachtchi and will be in a must-win situation.
In his eighth game in London, he also had an oversight of sorts in a game that opened with one of the topical openings of today, the Italian. Giving up his light squared bishop for Anand's central knight, he tried to grab the initiative. But it turned out that he had missed the fact that Anand could force a repetition in his calculations. At the right moment, Anand played his repetition card after which, Vachier-Lagrave had to choose between splitting the point by repeating moves or accepting an inferior position. Given his tournament situation, Vachier-Lagrave chose not to risk too much and accepted the draw offer.
In the final position, Anand also had a chance to trap Vachier-Lagrave's rook. Doing that, however, entailed a huge risk as Maxime could have sacrificed his rook for a strong attack against Anand's king. Talking about this possibility, Anand said, "It felt very uncomfortable because my king is really vulnerable. I didn't want to get into this. I simply couldn't see that I could be better with this exchange because my king is so weak that even if he doesn't have anything forcing, I felt that he will have a very comfortable compensation. I didn't see the upside of going for this."
Giving his perspective on the game, Maxime Vachier Lagrave said, "You know, Vishy is always very well prepared so I was hoping to find a way to get some play. It seems I did, but then I messed up very quickly. So, that was not very nice."
Talking about his crucial last game, Maxime said it will be difficult to win with the black pieces but since he had won against Nepomniachtchi recently in St Louis, he is hopeful.
Hikaru Nakamura had been showing great creativity so far in London. But his penultimate round game against Fabiano Caruana turned out to be a theoretical slugfest. Out of a Nimzo-Indian defence, the players entered an equal looking endgame pretty quickly. Nakamura, who was on the white side of the board, had an extra pawn temporarily in the endgame but it was never really very serious. The players agreed to sign peace by the 43rd move.
Going into the final round, Ian Nepomniachtchi will have the white pieces against Maxime Vachier Lagrave. If Nepomniachtchi win this game, he will surely finish clear first (if he draws, Caruana can win and catch up with him). Maxime, on the other hand, if he wins, he will not only have a shot at the title prize in the tournament but will also take the overall Grand Chess Tour title. Anand hasn't got much to play for in this final round. But as he said in his post-game interview, he can now forget the tournament more or less and play the last game as an individual game.
Crosstable after round 8
About the Author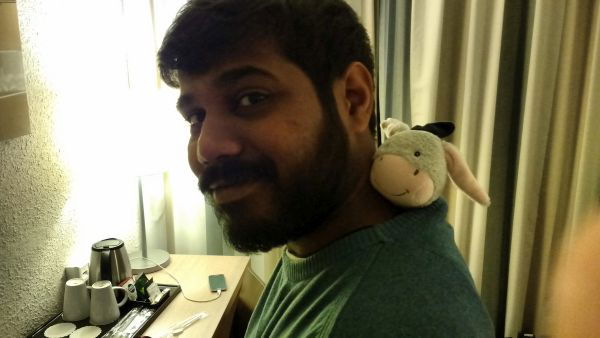 Aditya Pai is an ardent chess fan, avid reader, and a film lover. He has been an advertising copywriter and is currently pursuing a Master's in English Literature at the University of Mumbai. He loves all things German and is learning the language. He has also written scripts for experimental films.
Previous reports on the London Chess Classic
English
London Chess Classic 01: Anand surprises with an abrupt draw
London Chess Classic 02: Inspiring chess abounds, but a decisive result yet to be seen
London Chess Classic 03: Draws and missed opportunities
London Chess Classic 04: Caruana tastes first blood
Hindi
लंदन क्लासिक 01:आनंद का नाकामुरा से रोमांचक ड्रॉ
लंदन क्लासिक 02 :सिर्फ ड्रॉ! आज कार्लसन V/S आनंद !
लंदन क्लासिक 03 :आनंद नें नहीं उठाया फायदा !
Coverage on Firstpost
London Chess Classic 2017: Viswanathan Anand starts off with a draw after Hikaru Nakamura's overambitious play
London Chess Classic 2017: Viswanathan Anand fails to carve out a win despite best efforts against Mickey Adams
London Chess Classic 2017: Viswanathan Anand holds Magnus Carlsen; tournament yet to witness first decisive game
---