London Chess Classic 06: One win and four draws again!
It was a wild day at the London Chess Classic yesterday. Ian Nempomniactchi plunged within striking distance from the tournament leader Fabiano Caruana after pulling out a win against Mickey Adams. Nakamura inexplicably missed a winning opportunity against Magnus Carlsen. Anand was caught off guard by Karjakin's opening novelty and decided to sign the truce within 20 moves. Catch up with all the excitement of round 6 in this illustrated report.
( All Pictures: Lennart Ootes )
Round six of the London Chess Classic witnessed some nail-biting action. Yet again, one win and four draws were witnessed. Tournament leader, FabianoCaruana made a solid draw against MaximeVachier-Lagrave with the black pieces.LevonAronian went for a wild line of play against Wesley So from the black side of a Ruy Lopez. Hikaru Nakamura had Magnus Carlsen on tight ropes but let the world champion off the hook after "seeing some ghosts".VishyAnand went for a quick draw against Sergey Karjakin after being caught off guard by the Russian Grandmaster's opening. While the games of Nakamura, Aronian and Caruana got most of the attention, one game seemed to be sidelined due to its seemingly uneventful outlook – Michael Adams against Ian Nepomniactchi. However, as all of the exciting games ended peacefully, this was the one that finished as the only decisive game of the round.
The first game to finish was the one between ViswanathanAnand and Sergey Karjakin. Anand opted for the English Opening with the white pieces. After his loss in the previous round, this was a good opportunity for him to make a comeback in the tournament. He had had a day of rest and had the white pieces against another tail-ender at the event. Of course, it wouldn't be right to say Karjakin is an easy opponent. But considering all the other factors, this seemed like a good chance for him.
Karjakin, however, had come extremely well prepared for the game and Anand fell right into his opponent's preparation. After the game, Anand admitted to have been caught off guard by Karjakin's opening novelty on move 12. "I must admit he caught me a bit with Qa6. Obviously this is not the only line in the English I had to check so my work was a bit distributed. But Qa6 caught me off guard,"Anand said after the game.
Karjakin, who was making moves out of memory in this game, said that he didn't think he didn't think he had a better position and saw no reason not to go for a draw when Vishy began repeating moves.
MaximeVachier-Lagrave's game against FabianoCaruana was the next one to finish. The latter, who is leading the tournament after having won his two back to back games in the last two rounds, went for a more safe approach in this round. With the black pieces, he chose the ultra-solid PetroffDefence – or as the Americans might call it, the Russian defence – in response to his opponent's king's pawn opening. After a mass exchange of pieces right out of the opening, Caruana had absolutely no trouble holding Vachier-Lagrave to a draw.
After the game, Caruana stated that his preparation went until the 22nd move in the game but he hadn't analysed white's 23rd move in depth. He further added that he could have complicated the position on move 26 but chose not to since at the end of the variation, the position still looked equal . Therefore he went for the 'cleaner' approach and signed peace by move 36.
MaximeVachier-Lagrave tipped his hat to his Caruana for his preparation but also felt that he did not play in the most challenging manner with white.
Ian Nepomniachtch opened with the ambitious Najdorf variation of the Sicilian. However, when it all started, it seemed it was rather Adams who had the better position out of the opening and for the better part of the middle game. Nepomniachtchi, in the meantime, was busy improving the position of his clumsily placed knight. But as play progressed, Nepo was able to liquidate all pawns on the queenside and emerged with an extra pawn in the ensuing rook-and-pawn endgame.
For Adams, defending this endgame didn't seem to be much of an issue. In fact, he had defended a similar endgame against MaximeVachier-Lagrave in round three. Things were, however, slightly more complicated in this one and, therefore,Nepomniachtchi gave it his best shot.
"E and f versus g, it can be tricky sometimes; it's not like you can make any move. At some point you should play precisely. I think Michael was doing great but when he went with his rook to the h-file, in the most passive position, then it might be already lost,"Nepomniachtchi explained after the game.
As for Adams, he just regretted not forcing a draw when he could have. "I just made some very bad decisions in time trouble; I could have forced a draw when it was time to do it. But instead, I went for it and then I ended up in this rook-and-pawn ending. Maybe, I could draw with increment, but with delay I realized actually it was very difficult because I had to start playing fast because my time was running out," he said after the game.
->
The other two games of the round were extremely complicated. In the game between Hikaru Nakamura and Magnus Carlsen, the former avoided the dreaded Berlin Defence by going for the Scotch Opening. From the very start the game was filled with excitement. Carlsen gave up two minor pieces for a rook early in the game and caught Nakamura's king in the centre. Naka, too, got his share of attack as Carlsen's king on the queenside. As the dust settled, Nakamura emerged with an extra piece but Carlsen had three pawns as compensation.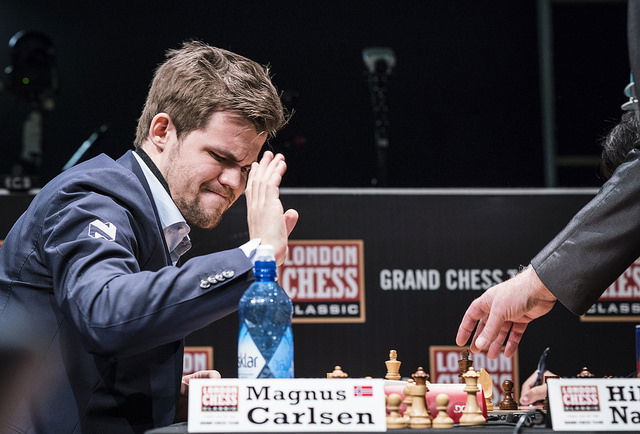 But as play progessed, the world champion dropped two of his extra pawns and the position looked dead lost for him. But in this seemingly easy winning endgame, the American failed to find the right plan and let Carlsen slip out with a draw.
But despite this miss, Nakamura thought he played a very good game overall but a few bad moves towards the end kept him from winning. "You know, it wasn't easy. And I kind of just couldn't find the right way. I just started seeing some ghosts there and, unfortunately, I think it's too late," he said, talking to GM Maurice Ashley.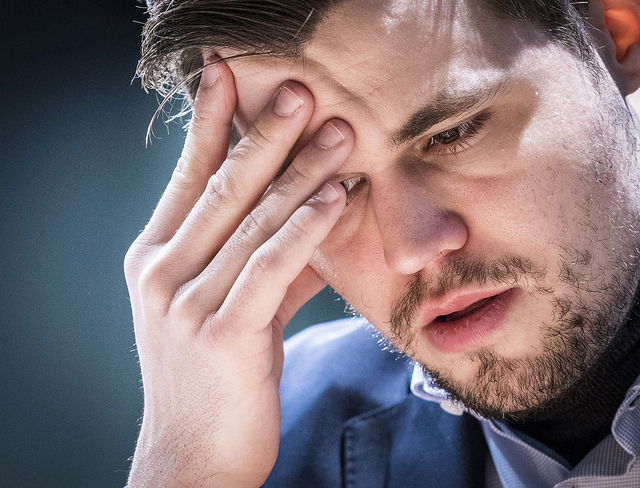 Carlsen was quite impressed by his opponent's play and praised Nakamura for his play and positional evaluation. "I thought it was very interesting from the opening. Obviously I was quite pleased to play a complicated position seeing as that I needed to win some games. I think he played very well and he evaluated the resulting position better than I did," he said.

White to move ?
In the game Wesley So versus LevonAronian, So ensured that he did not give Aronian any chance to play his favourite Marshall Gambit by going for the 8.a4 Anti-Marshall. But going into the middle game, Aronian happened to find an artsy line which began with giving up two minor pieces for a rook. As play progressed, the Armenian number one had sacrificed a full rook to get his attack going. To neutralize the attack, So had to give up his queen but had a rook and two pieces as compensation. Materially speaking, So's compensation was more than enough. However, the discoordination among his pieces allowed Aronian create a passed pawn and get the advantage. But then, Aronian got lost in variations and failed to find the winning plan. Eventually, the two ended up repeating moves and signing peace.
After his win yesterday, Ian Nepomniachtchi is hot under Caruana's heals just half a point behind the tournament leader. Nakamura, having missed his winning opportunity against Carlsen is on the joint third spot along with four others while Michael Adams has joined Anand and Karjakin at the bottom of the leaderboard after his sixth round loss.

राउंड 6 विडियो
Commentary by GM Yasser Seirawan, WGM Jennifer Shahade and GM Cristian Chirila, with GM Maurice Ashley reporting from London | Source: Saint Louis Chess Club on YouTube

About the Author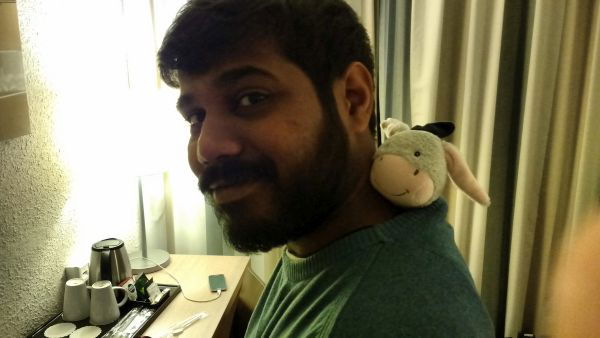 Aditya Pai is an ardent chess fan, avid reader, and a film lover. He has been an advertising copywriter and is currently pursuing a Master's in English Literature at the University of Mumbai. He loves all things German and is learning the language. He has also written scripts for experimental films.
Previous reports on the London Chess Classic
English
London Chess Classic 01: Anand surprises with an abrupt draw
London Chess Classic 02: Inspiring chess abounds, but a decisive result yet to be seen
London Chess Classic 03: Draws and missed opportunities
London Chess Classic 04: Caruana tastes first blood
Hindi
लंदन क्लासिक 01:आनंद का नाकामुरा से रोमांचक ड्रॉ
लंदन क्लासिक 02 :सिर्फ ड्रॉ! आज कार्लसन V/S आनंद !
लंदन क्लासिक 03 :आनंद नें नहीं उठाया फायदा !
Coverage on Firstpost
London Chess Classic 2017: Viswanathan Anand starts off with a draw after Hikaru Nakamura's overambitious play
London Chess Classic 2017: Viswanathan Anand fails to carve out a win despite best efforts against Mickey Adams
London Chess Classic 2017: Viswanathan Anand holds Magnus Carlsen; tournament yet to witness first decisive game
---