London Chess Classic 04: Caruana tastes first blood!
After three rounds of wait, round four of the London Chess Classic finally witnessed a decisive game. US number 1, Fabiano Caruana completely out-prepared Sergey Karjakin in the Sicilian Taimanove and forced the "Minister of Defence" to show the white flag after 42 moves of play. MVL also came very close to victory against Magnus Carlsen but slipped and conceded a draw. Levon Aronian succeeded in getting into the Marshall Gambit despite Anand's Anti-Marshall setup and managed to hold the former five-time world champion to a draw. A report with games, pictures and analysis.
The star-studded line-up of players at the London Chess Classic had taken off in a rather sluggish manner. Three rounds past, fifteen games into the fray, there wasn't a single decisive game. All players drew, all players led. Of course, it's not that the players weren't giving it a fair try; they were seen experimenting with their openings, going off the well-trodden or jaded paths, taking calculated risks, trying to pull out a little something to outfox their opponents with. Levon Aronian, in fact, let all hell break loose in his third round game against Sergey Karjakin. Hikaru Nakamura also took to the turbulent waters of the Sicilian Dragon against Maxime Vachier-Lagrave in round two. But all of this was to no avail as all roads led to draws, much to the disappointment of the spectators.
Grandmaster Alexander Yermolinsky rightly pointed out in his third round report of the event that this high number of draws could pose problems promoting the game to the casual chess fan. "As much as some commentators may fluff it, there's a sense of doom settling over the future of our beloved game. How do we get across to an average sports fan, when 100% of games are drawn?", he wrote.
Tournament's organizer, Malcolm Pein also pointed out – although jokingly – to the players before the start of round four that the object of the game is, after all, to checkmate your opponent or force resignation. All of this seemed to have had an impact as round four saw the first decisive game of the tournament. With the black pieces, Italian-American GM Fabiano Caruana spilt first blood yesterday in his game against GM Sergey Karjakin.
In his round four game, Caruana completely out-prepared Karjakin in the Taimanov variation of the Sicilian Defence. Barely shredding any time on the clock, Caruana was able to win a pawn right out of the opening on move 23 as his opponent struggled to regroup his pieces. Within a few more moves, the American number one had connected passers in the centre and an error by Karjakin on the 35th move forced the exchange of queens. Barely seven moves later, the Russian had to throw in the towel.
After the game, Karjakin said that it would have been much better for him had Caruana played any line instead of the one he played. "Yeah, I was surprised, of course. I hadn't expected it. Basically, any line instead of this would be much better," he said talking to GM Maurice Ashley.
"It really came down to good opening choice. I actually wanted to play this against Nepo (Nepomniachtchi) yesterday. But he played Nf3 on the first move; and then I thought briefly about playing c5 to king of tempt him into a Sicilian but I figured he wouldn't go for it. And it worked out today. So, I think it worked out for the best that I didn't play it yesterday, when it might just have been a draw or something," said Caruana after the game.
In the game between Viswanathan Anand and Levon Aronian, the latter sort of found a way to get into the realms of his favourite Marshall Gambit despite Anand's Anti-Marshall setup. Anand did get an extra pawn out of the opening thanks to Aronian's gambit but it turned out to be hard to make anything of it due to black's piece activity. Anand returned his extra pawn on the 23rd move whilst trading a pair of bishops and by the 30th move, peace was signed.
After the game, Anand pointed out that he had played against Aronian in a similar fashion in the Candidates tournament of 2014. Talking about if Aronian's 15th move surprised him, Anand said, "It is exactly the move he played against me [at the 2014 Candidates] – without the inclusion of a4 and a6 – so it shouldn't have. But, I don't know why, at home, I felt this was… well, not much of a pawn but still something extra for white. But at the board, it turned out to be very hard to prove anything."
Talking to Maurice Ashley about whether this was a good result for him, Aronian replied, "Absolutely! And, generally, you shouldn't fight the inevitable," referring to the insane amount of risk he took against Sergey Karjakin in the previous round.
*Special thanks to Tanmay Srinath for annotating this game
Like Aronian in the previous round, Wesley So, in round four, seemed to be in the mood for some risky play (but not quite as much as Aronian in the previous round). With the white pieces, he essayed the Reversed Benko Gambit and sacked a pawn early in the game. Michael Adams, his opponent, responded in the most solid manner. Unable to find a clear way to gain an advantage, So decided to recover his pawn and exchanged a lot of pieces in the process. The ensuing endgame didn't offer much to either side and a draw was agreed soon after.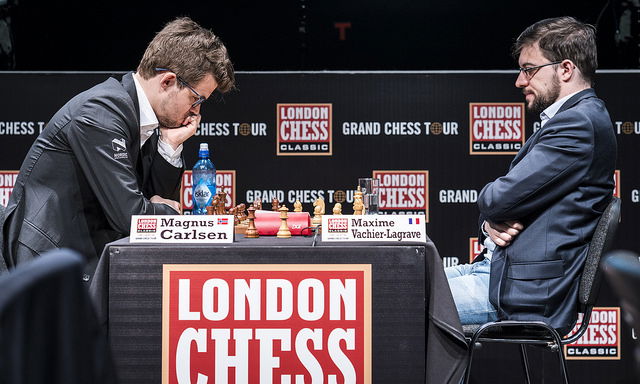 Maxime Vachier-Lagrave's game against Magnus Carlsen was the most significant encounter of the round as the former is trailing the latter on the overall Grand Chess Tour Standings for the top prize. Vachier-Lagrave was also able to get a better position out of the opening along with an extra pawn but some inaccuracies on his part allowed Carlsen's pieces enough activity to hold to a draw.
After four rounds, Fabiano Caruana is leading the event with 2.5/4. Anand, along with eight others is half a point behind on 2.0/4 while Sergey Karjakin, after his loss today is at the bottom of the table with 1.5 points. In round 5, Anand will be playing the tournament leader, Fabiano Caruana with the black pieces. Given that Caruana has won the only game of the tournament so far and has the white pieces, this will not be an easy outing for the Indian.
Crosstable after Round 4
About the Author
Aditya Pai is an ardent chess fan, avid reader, and a film lover. He has been an advertising copywriter and is currently pursuing a Master's in English Literature at the University of Mumbai. He loves all things German and is learning the language. He has also written scripts for experimental films.
Our Coverage of the London Chess Classic
English
London Chess Classic 01: Anand surprises with an abrupt draw
London Chess Classic 02: Inspiring chess abounds, but a decisive result yet to be seen
London Chess Classic 03: Draws and missed opportunities
Hindi
लंदन क्लासिक 01:आनंद का नाकामुरा से रोमांचक ड्रॉ
लंदन क्लासिक 02 :सिर्फ ड्रॉ! आज कार्लसन V/S आनंद !
लंदन क्लासिक 03 :आनंद नें नहीं उठाया फायदा !
Coverage on Firstpost
London Chess Classic 2017: Viswanathan Anand starts off with a draw after Hikaru Nakamura's overambitious play
London Chess Classic 2017: Viswanathan Anand fails to carve out a win despite best efforts against Mickey Adams
London Chess Classic 2017: Viswanathan Anand holds Magnus Carlsen; tournament yet to witness first decisive game

---