Kolkata 2018 Round 3: And then there were eight!
Top seed Nigel Short, along with seven others are leading with a perfect score at the end of round 3 of LIC 3rd Kolkata International Open Grandmasters Chess Tournament 2018. Short extracted water out of stone when his opponent Shyam tried too hard in a seemingly equal position in the endgame. Aravindh had an unusual day as he missed a clear win in time pressure against strong IM Rathnakaran Kantholi which was evident by his repeated nodding. We have photos, videos in-depth analysis, interviews and tactical positions from round 3 in this report. Try your hand at solving the first four positions in the report - tactics that were executed by the masters and see if you can match them! Photos: Amruta Mokal
Test your tactics with champions:
Let's begin the round three report with four positions. These are not particularly difficult but finding them will ensure that you are in good form and can aim to play at the same level as these top GMs and IMs.
Rahul Sangma - Adam Tukhaev
Farrukh Amonatov vs Rithvik Raja
Vantika Agarwal vs Arjun Erigaisi
Nikhil Dixit vs S. Nitin
Short's squeeze!
Nigel Short would have been pretty happy with a draw after the position that was reached late in the middlegame. It was round about even. But Shyam Nikhil started to go wrong and Short took full advantage of it and brought home the full point.
Srinath Narayanan's antidote against the King's Indian
Srinath Narayanan's victory over Kaustuv Kundu was a classy game with a lot to learn from it. Especially for the opening aficionados. Srinath played the same opening as his opponent a few months ago at the National Team Championship 2018 against Surya Shekhar Ganguly. The Chennai GM learnt from that game and decided that it is important to try out this new idea with white. That's how flexible these top players are. Once they learn something, they use it immediately.
Surya Sekhar Ganguly - Srinath Narayanan, National Teams 2018
Srinath learned from his opponent's innovation and tried it in the third round of the Kolkata GM Open 2018 against Kaustuv Kundu. There were a lot of interesting moments that you can know about from the video as well as the game analysis.
Rithvik Raja as black played the Petroff Defence and was better out of the opening against Farrukh Amonatov. However, just like yesterday in his game against Abhijeet Gupta, the youngster from Telangana didn't take his chances and slumped to a defeat. The final tactic was quite nice.
This was one of the test positions at the start. The right answer is Rxa5 Rxa5 Qb6! winning a piece!
Vantika's opponent Arjun Erigaisi was extremely alert and played the move...Qxh3+! The queen cannot be taken with the king because of a mate in one and after Bxh3 Nf3+ was a lethal fork.
The craziness between Aravindh and Ratnakaran
Ratnakaran is well known to unleash chaos on the board in each and every game that he plays. Aravindh on the other hand is never shy to indulge in a fist fight. What followed next is a mad game filled with sacrifices, unusual moves and pretty tactics. In the end the game concluded with a draw, but Aravindh might be more upset than Ratnakaran for not converting his advantage. I have deliberately left the game unannotated (Only actical Analysis by ChessBase 14) so that you can check the game and analyze it on your own.
Vignesh's pure Catalan:
It's not everyday that you will get to see a game where White wins in such a clean manner in the Catalan. It was a brilliant positional effort by Vignesh to Rajdeep Sarkar with the white pieces and making use of the minute advantages that he got.
Photo Gallery: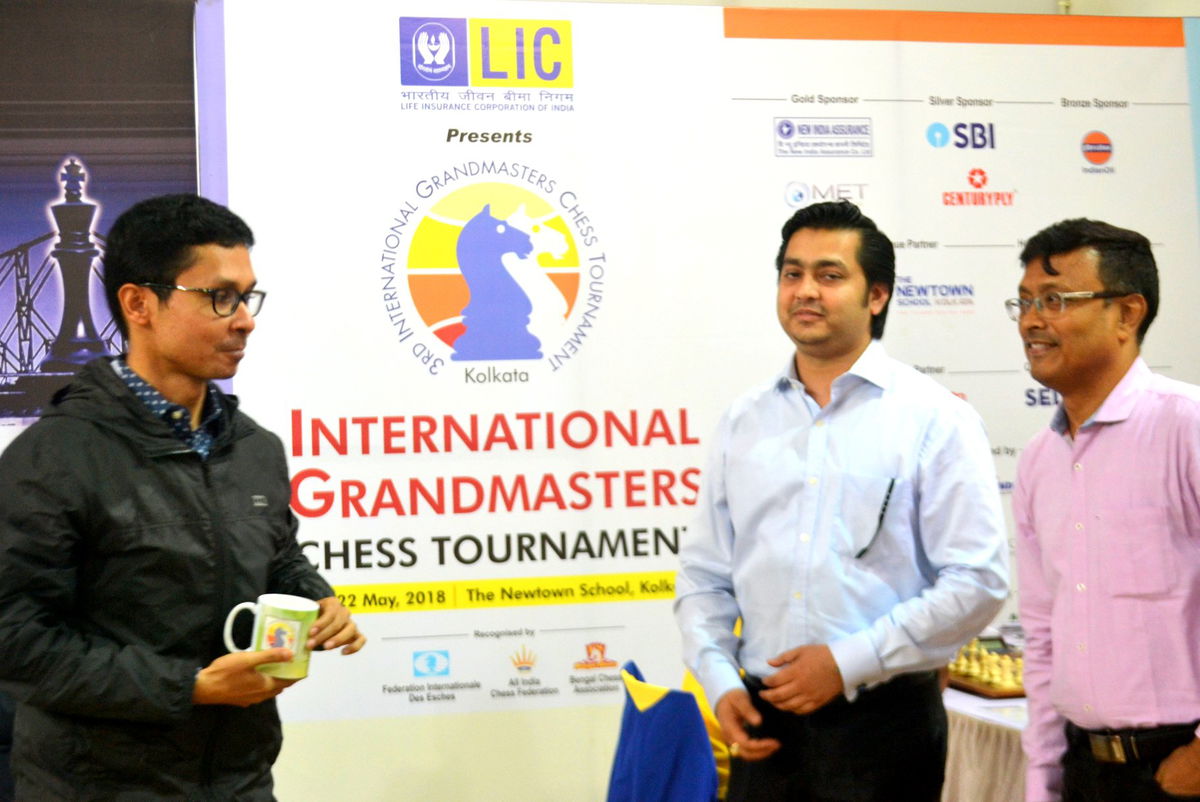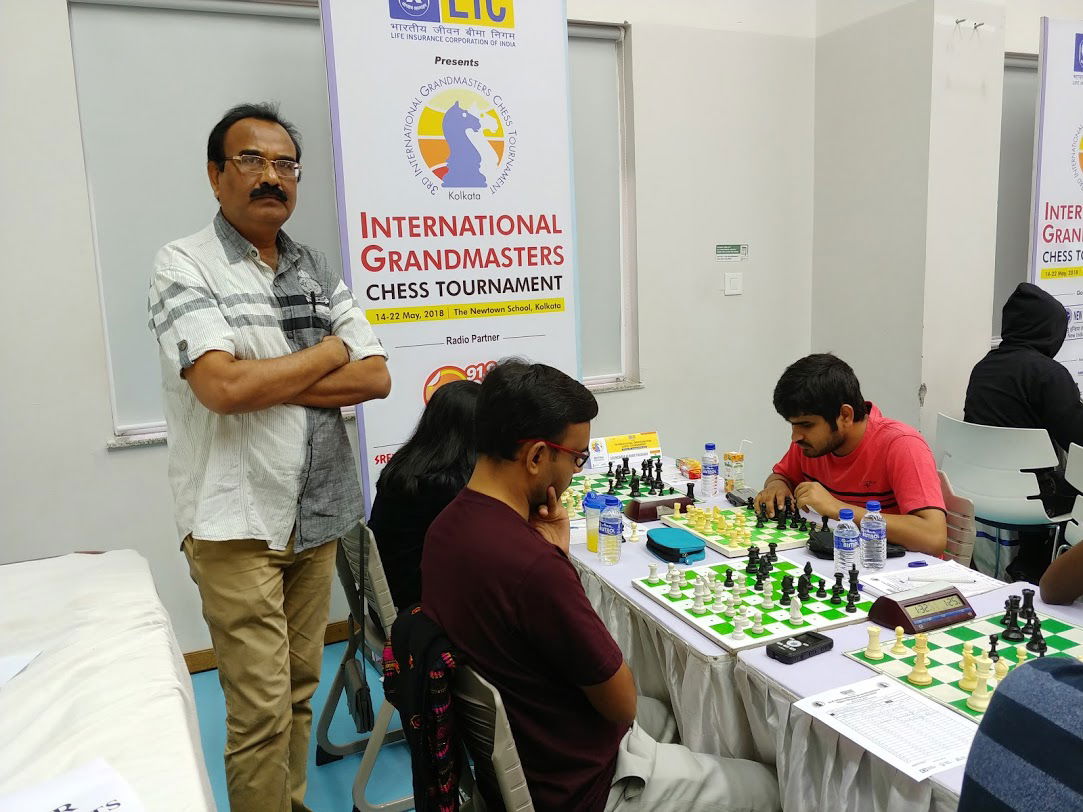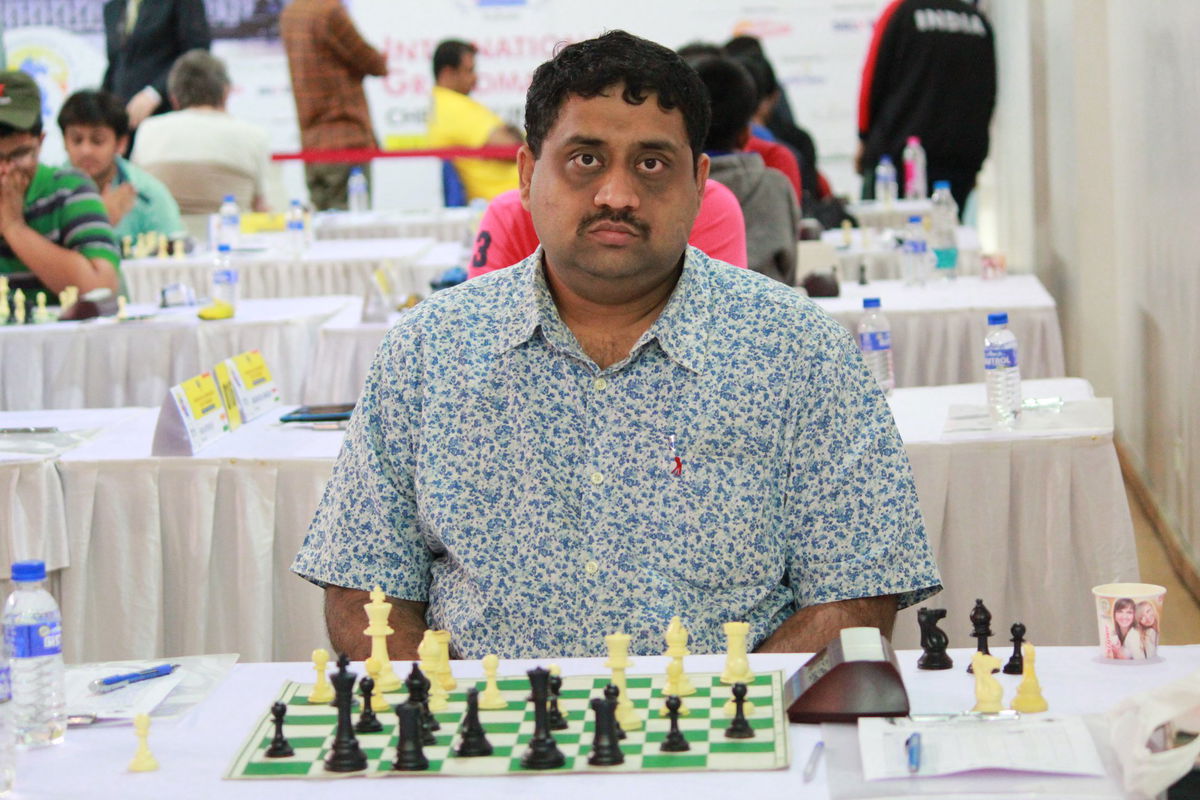 Video Gallery:
Special thanks to Shahid Ahmed for the photos, videos and more that have been contributed to this article from his end.
Articles related to the tournament:
Live Games from 3rd International Open Grandmasters Chess Tournament 2018
FIDE Presidential candidate GM Nigel Short headlines LIC 3rd Kolkata Open 2018
Round 1: Short's last holiday event before campaign
Round 2: Vantika Agrawal shows how to beat a 2600+ GM
---