Kolkata 2018 Round 7: It's Deep, Short and Srinath!
No sole leader has been able to sustain for more than a round at the Kolkata Open 2018. Ivan Rozum raced ahead with 5.0/5, but then lost his game to Adam Tukhaev. Tukhaev with 5.5/6 was the sole leader, but in the seventh round was beaten by Nigel Short in a fine game by the English GM. Deep Sengupta showed his class and outplayed Tajik GM Farrukh Amonatov, while GM Srinath Narayanan was extremely lucky to win his game against Karthikeyan Murali. We have a pictorial report on not just round seven but also on the dinner party that was held after the round.
Why can't GMs win winning positions?
One of the most basic problems faced by chess players all around the world is winning won positions. "The hardest thing in chess is to win won positions!" But you might expect grandmasters to win them, right? After all they spend multiple hours in their lab studying the intricacies of the game trying to understand how to become better at this complex sport. Yet, when they sit opposite their opponent on the board, it is a completely different ball game altogether.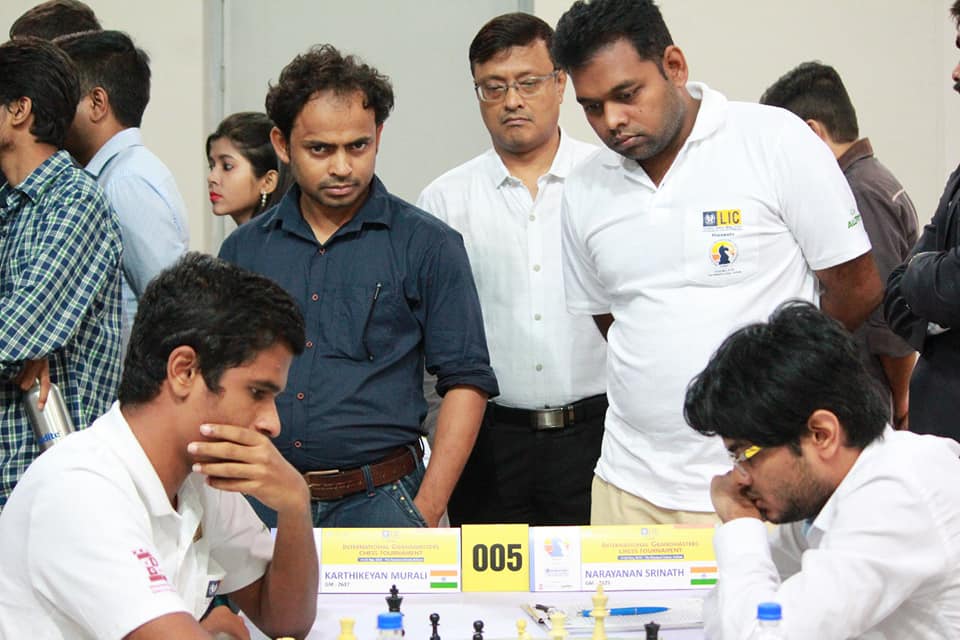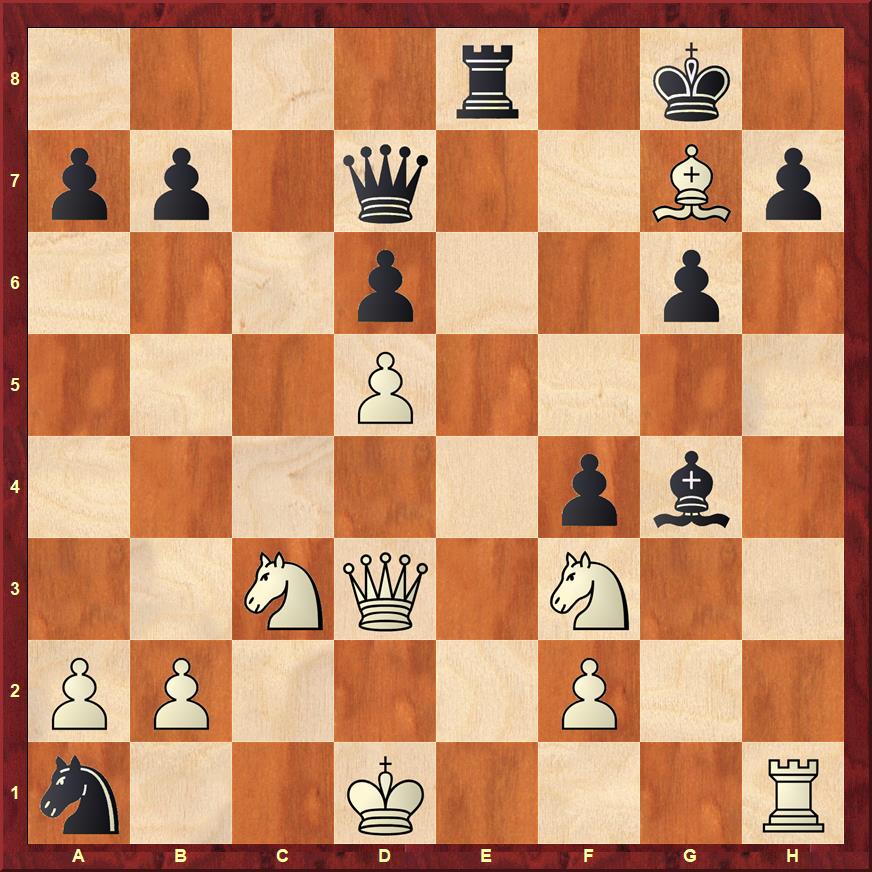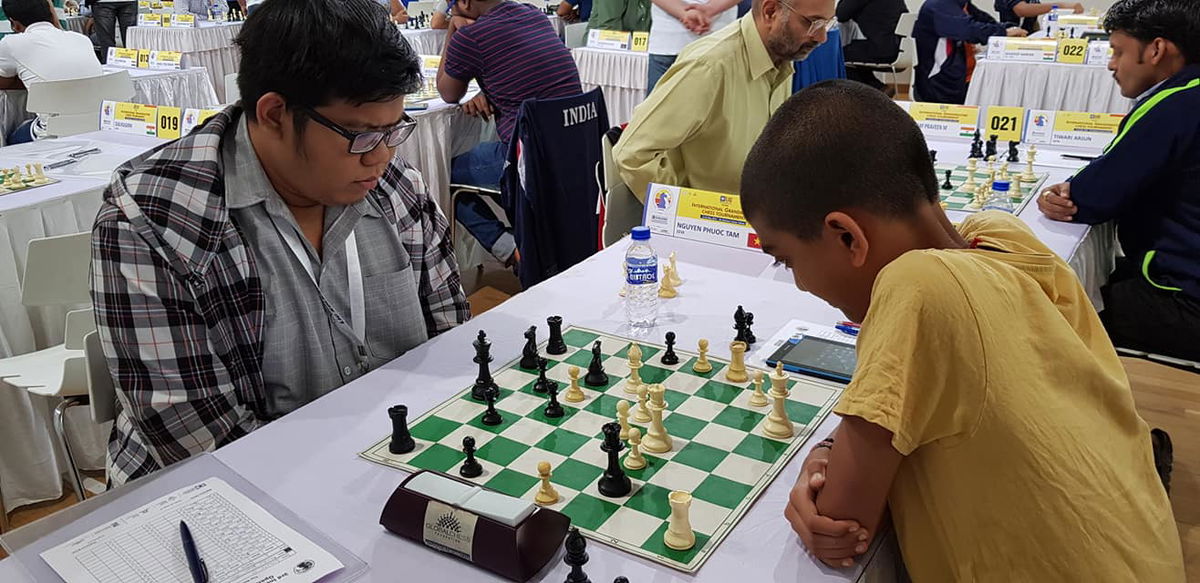 Dinner party at the Calcutta Club:
The story has it that the Viceroy during the pre-independence times went to the Bengal club with an Indian friend. Such were the terrible rules that an Indian was not allowed to enter into the premises of that club. Even the viceroy was not allowed to bring his Indian friend. Angered by this treatment, the viceroy decided to build another club where Indians would be given an entry and that was named as the Calcutta Club. It was the venue of the dinner party at the 3rd Kolkata Open 2018 after the seventh round.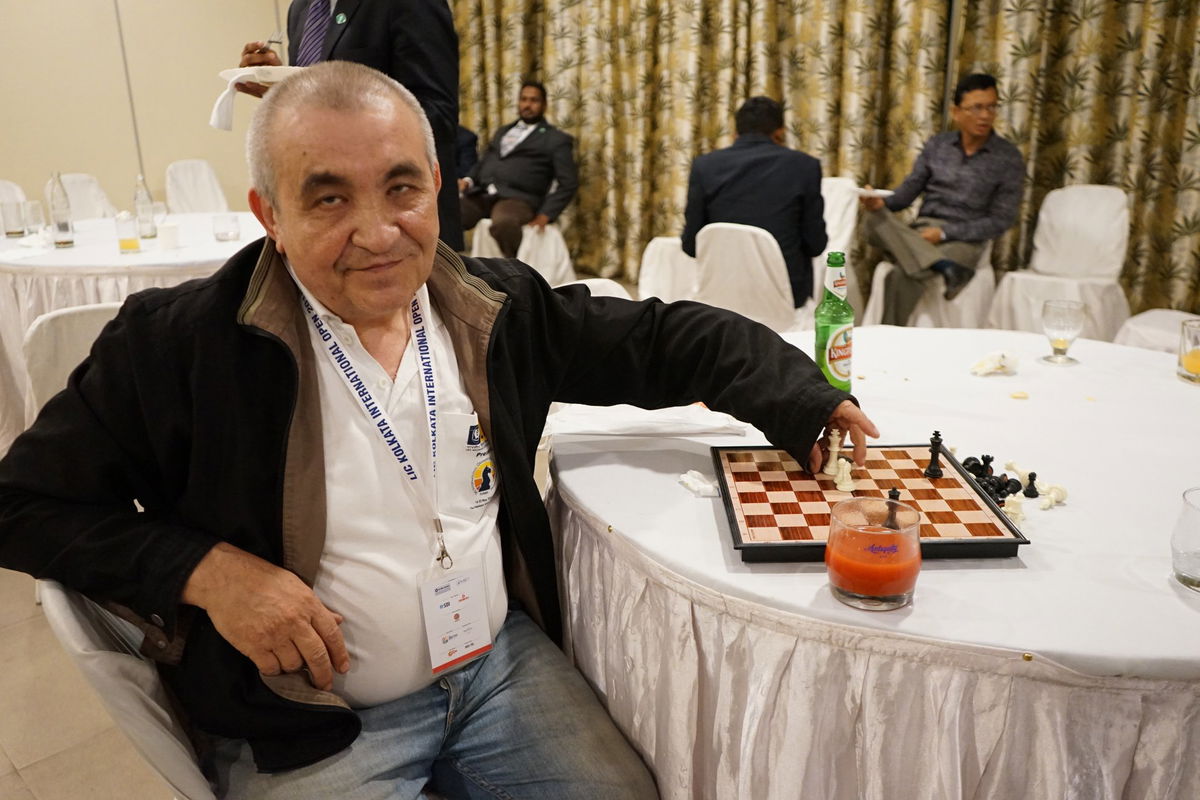 Results of round 7:
Standings after round 7:
| | | | | | | | | | | | | | | | | | |
| --- | --- | --- | --- | --- | --- | --- | --- | --- | --- | --- | --- | --- | --- | --- | --- | --- | --- |
| Rk. | SNo | | | Name | sex | FED | Rtg | Club/City | Pts. | TB1 | TB2 | TB3 | TB4 | TB5 | w | we | w-we |
| 1 | 1 | | GM | Short Nigel D | | ENG | 2656 | ENG | 6,0 | 0,0 | 29,0 | 32,0 | 27,25 | 5 | 6 | 5,34 | 0,66 |
| 2 | 14 | | GM | Narayanan Srinath | | IND | 2525 | AIR INDIA | 6,0 | 0,0 | 27,0 | 30,0 | 25,25 | 5 | 6 | 4,16 | 1,84 |
| 3 | 8 | | GM | Sengupta Deep | | IND | 2563 | PSPB | 6,0 | 0,0 | 27,0 | 30,0 | 24,50 | 6 | 6 | 4,64 | 1,36 |
| 4 | 6 | | GM | Rozum Ivan | | RUS | 2581 | RUS | 5,5 | 0,0 | 30,0 | 33,0 | 24,75 | 5 | 5,5 | 4,77 | 0,73 |
| 5 | 9 | | GM | Tukhaev Adam | | UKR | 2551 | UKR | 5,5 | 0,0 | 28,5 | 30,5 | 22,75 | 5 | 5,5 | 4,68 | 0,82 |
| 6 | 7 | | GM | Sandipan Chanda | | IND | 2573 | WB | 5,5 | 0,0 | 27,5 | 31,0 | 24,00 | 4 | 5,5 | 5,12 | 0,38 |
| 7 | 21 | | FM | Erigaisi Arjun | | IND | 2488 | TEL | 5,5 | 0,0 | 26,0 | 29,0 | 20,75 | 5 | 5,5 | 4,58 | 0,92 |
| 8 | 12 | | GM | Lalith Babu M R | | IND | 2531 | PSPB | 5,5 | 0,0 | 25,5 | 28,5 | 21,50 | 4 | 4,5 | 3,85 | 0,65 |
| 9 | 15 | | GM | Shyam Sundar M. | | IND | 2518 | TN | 5,5 | 0,0 | 25,0 | 28,5 | 22,50 | 4 | 5,5 | 5,22 | 0,28 |
| 10 | 16 | | GM | Deepan Chakkravarthy J. | | IND | 2516 | RLYS | 5,5 | 0,0 | 25,0 | 27,0 | 20,25 | 5 | 5,5 | 5,16 | 0,34 |
| 11 | 10 | | IM | Nihal Sarin | | IND | 2551 | KER | 5,5 | 0,0 | 24,0 | 26,5 | 21,00 | 4 | 5,5 | 5,39 | 0,11 |
| 12 | 13 | | GM | Burmakin Vladimir | | RUS | 2528 | RUS | 5,5 | 0,0 | 23,5 | 26,0 | 19,50 | 4 | 5,5 | 4,93 | 0,57 |
| 13 | 30 | | IM | Das Sayantan | | IND | 2437 | WB | 5,0 | 0,0 | 28,0 | 31,0 | 22,50 | 3 | 5 | 4,91 | 0,09 |
| 14 | 20 | | GM | Rahman Ziaur | | BAN | 2495 | BAN | 5,0 | 0,0 | 28,0 | 31,0 | 19,75 | 4 | 4 | 3,81 | 0,19 |
| 15 | 4 | | GM | Amonatov Farrukh | | TJK | 2608 | TJK | 5,0 | 0,0 | 28,0 | 30,5 | 19,75 | 4 | 5 | 5,35 | -0,35 |
| 16 | 17 | | GM | Tran Tuan Minh | | VIE | 2512 | VIE | 5,0 | 0,0 | 26,0 | 29,5 | 19,50 | 4 | 5 | 5,03 | -0,03 |
| 17 | 29 | | GM | Laxman R.R. | | IND | 2444 | RLYS | 5,0 | 0,0 | 26,0 | 28,5 | 18,75 | 4 | 5 | 5,10 | -0,10 |
| 18 | 2 | | GM | Gupta Abhijeet | | IND | 2619 | PSPB | 5,0 | 0,0 | 26,0 | 28,5 | 18,25 | 4 | 5 | 5,70 | -0,70 |
| 19 | 57 | | IM | Ravi Teja S. | | IND | 2338 | RLYS | 5,0 | 0,0 | 25,5 | 27,0 | 17,50 | 4 | 4 | 3,29 | 0,71 |
| 20 | 41 | | IM | Raghunandan Kaumandur Srihari | | IND | 2400 | KAR | 5,0 | 0,0 | 25,0 | 28,0 | 19,75 | 4 | 5 | 4,48 | 0,52 |
Pairings of round 8:
Articles related to the tournament:
Live Games from 3rd International Open Grandmasters Chess Tournament 2018
FIDE Presidential candidate GM Nigel Short headlines LIC 3rd Kolkata Open 2018
Round 1: Short's last holiday event before campaign
Round 2: Vantika Agrawal shows how to beat a 2600+ GM
Round 3: And then there were eight
Round 4: Gukesh beats Aravindh Chithambaram
Round 5: Ivan Rozum shows you what the art of being means
Round 6: Momentary lapse in concentration costs Rozum the full point
---