Ivanchuk's endgame sorcery overcomes Nihal's youthful magic!
The 32nd Edition of the Leon Knockout Tournament kicked off with a bang! In the first of the two matchups, the World's youngest 2600 was paired against the Sphinx of Lvov himself. Nihal Sarin gave a good account of himself in the 4 rapid games and did obtain numerous chances to take the lead, but Chucky's inexhaustible experience and subtle endgame play tilted the balance in his favour, and he won the matchup 2.5-1.5. In this detailed report from Leon, Tanmay Srinath analyses all 4 rapid games in detail, and points out subtle ideas that were missed by both players.

The traditional annual knockout tournament of Leon is into its 32nd year, and how better to celebrate it than to call upon 4 of the most exciting talents in the world - the evergreen Vassily Ivanchuk, the former World Junior Champion Parham Maghsoodhloo, the Indian Sensation Nihal Sarin and local hotshot Jaime Santos Latasa. Chucky last won the tournament in 2008, and he will be looking to repeat his success this year, against players who are more than two generations younger to him! For the other 3 , it is a valuable opportunity to play against one of the greatest of the game, and make their name in an illustrious tournament that has seen Garry Kasparov and Vishy Anand among its winners. Besides the GM knockout, an open tournament, a blitz event, a scholastic meeting and many other chess-related side activities kept the spectators busy. Let us now get down to business.
Before going into the games, it is worth mentioning the tournament format : The two semi-final matches will take place on Friday and Saturday, with the pairings decided on Thursday, during the opening ceremony. Ivanchuk will have white in the 1st game against Sarin and Maghsoodloo moves first versus Santos. The winners of each tie then play the final on Sunday, July 7th. Each match will consist of four rapid games (20 minutes for the whole game, with 10-second increments from move one), which, in case of a draw, will be followed by blitz encounters (5 minutes + 3-second increments).
On the 1st day, the pairings were eye-watering for any chess lover - Nihal Sarin, one of the most promising youngsters, and the youngest 2600 in the world currently, took on perhaps the strongest player never to have become World Champion - Vassily Ivanchuk. Chucky has dropped below 2700 in the standard format in the last year and a half, and pushing past 50 appears to be well past his peak. However, he still remains stronger than his young opponent, as illustrated in their 4 game match which he comfortably won 2.5-1.5.
Game 1:
Ivanchuk had the White pieces, and opted for 1.Nf3, which soon transposed into an e3 Queen's Indian. Nihal handled the position measuredly, and soon had the chance to go for more than just a comfortable position:
Ivanchuk- Nihal Sarin
Chucky's play in the opening seemed unnatural to me - he exhanged dark squared bishops on a3, then spent 3 tempi bringing the knight to d2 and finally lands his queen on the long dark diagonal without challenging Black's buildup. Nihal should have taken the opportunity to centralise with 16...Ne4! preventing the rooks from doubling on the c-file due to the pseudo sacrifice Nxf2! (The bishop on d3 is loose). After an improving move like a4 from White he can then continue maneuvering with Nf8-e6, with a slightly better middlegame. Instead, 16...Nf8 was too automatic.
Ivanchuk soon liquidated both rooks on the c-file and eased the pressure, but he didn't go for a slightly ambitious recapture when given the chance:
With such a first game, the confidence must have been sky high for Nihal. The match now heats up.
Game 2:
Nihal emulates his senior by going 1.Nf3 as well. This results in another Queen's Indian, this time the Kasparov Variation. He had a good chance to stabilise a small advantage on move 13:
Nihal Sarin-Ivanchuk
The players soon entered an IQP position, and Nihal started pressing on the kingside. An untimely queen exchange hindered his winning chances though:
Game 3:
This game decided the fate of the match in the Ukranian GM's favour. Chucky again went for the closed openings, and this time Nihal essayed the Vienna Game, currently Anand's drawing weapon at the top. The game soon reached a Slav structure, where Black remained solid enough. Chucky was first to err, and missed a neat move transposition that would have given him a slight advantage:
Ivanchuk-Nihal Sarin
Nihal however committed one of the most subtle inaccuracies when he allowed his kingside to be vandalised without much in return:
The players soon reached an endgame that was deceptively equal in appearance, but the Indian greenhorn had not seen enough:
This endgame appears to be holdable for Black, but I tend to disagree with the engines here. Why? I remember Ulf Andersson, one of the games' greatest endgame experts, crushing a fellow GM with a similar structure as white, only both sides had rook instead of queen.(That endgame, is annotated excellently by Jacob Aagaard in Excelling at Technical Chess, and the reader is referred to it for more information regarding such structures.) What is the difference? I feel that Black's defense only gets harder with queens on as his king will be perennially weak. The combination of Q+K is known to be stronger than Q+B and here the knight has targets to attack as well. In a rapid game, I'd take White any day, and Chucky proved me right, slowly squeezing the life out of Nihal and winning a fine technical game.
Game 4:
Chucky, needing only a draw to progress to the final, played the Bogo Indian against Sarin's Queen Pawn. Soon, he found himself in trouble, but Nihal missed out on keeping more pieces on the board:

Nihal Sarin-Ivanchuk
After this miss, Nihal did try and conjure up a kingside attack, but soon allowed the Ukranian Wizard to obtain dynamic equality:
Chucky was better in the final position, but chose to repeat and win the tie.
Nihal is strong for his age, and perhaps strong enough to compete for such titles already, but what he lacks is endgame expertise and maturity, things that only come with time. These factors were fully exploited by Ivanchuk, who possessed superior opening preparation as well. With such a valuable learning experience under his belt, Nihal will definitely be stronger than before, and scaling new peaks soon enough!
About the Author: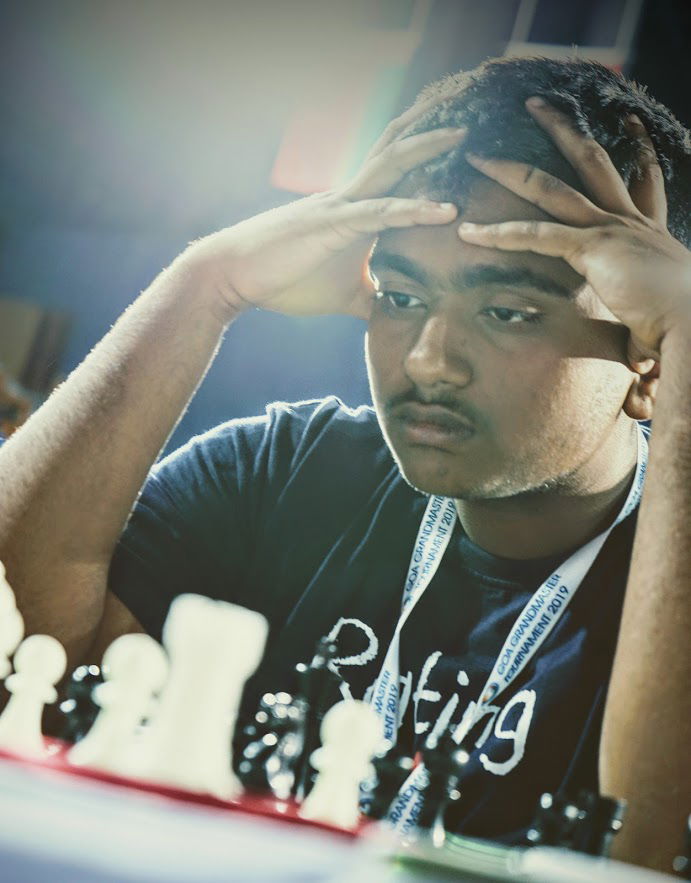 Tanmay Srinath is an 18-year-old chess player from Bangalore, Karnataka, currently pursuing both chess and engineering at BMSCE Bangalore. Tanmay is also a Taekwondo Black Belt, who has represented the country in an International Tournament in Thailand. He is a big fan of Mikhail Tal and Vishy Anand, and sincerely believes in doing his bit to Power Chess in India!
---