Know your World Champion: Jishitha D
Jishitha Dhanumuri of Rajahmundry, Andhra Pradesh, daughter of Dhanumuri Venkata Subbarao and Rama Jyothi. Father's occupation is Aquafarming and mother is a homemaker. Jishitha has travelled insane distances for chess training and proved the naysayers wrong by defying all odds and winning World Youth Chess Championship 2017 in under 14 girls category in Montevideo, Uruguay. She played a World Championship for the first time and she won it. We hope that through this interview you get to know Jishitha better, because as we see it, the girl is not going to stop anytime soon!
Interview with World Under 14 Girls Champion: Jishitha D
Jishitha lost in the 4th round against top seed of her group, WFM Assaubayeva Bibisara of Russia who is 335 Elo points higher rated than her. But that did not shatter her confidence. Jishitha said, "I didn't lose any hope at that time. I was very confident that I would get in top 3." She then lost another game and was at 4.0/6. But she won all her last five rounds and became the World Under-14 Girls Champion. Confidence, self belief and determination are the pillars that led to Jishitha's success. ChessBase India interview after her World Championship success.
Here is a transcript of the interview:
Shahid Ahmed (SA): Congratulations Jishitha for winning Gold in World Youth Chess Championship in under 14 Girls. Tell us how are you feeling about it.
Jishitha D (JD): First of all thank you very much. I am so happy for achieving this. Actually this is my first tournament at world level and I am glad that I could win the title.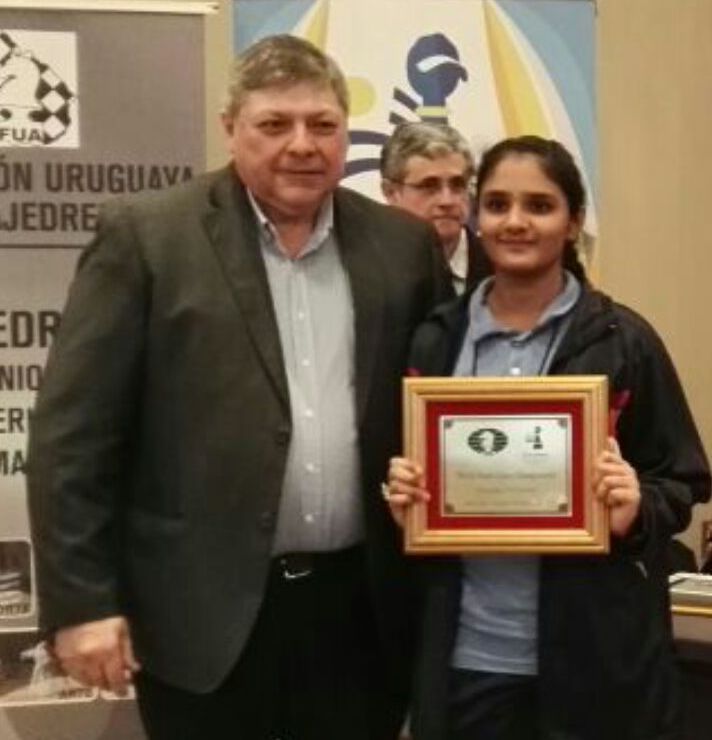 SA: Wow! That's an amazing feat. Not a lot of players can claim that. What was going through your mind after losing the 4th round against Assaubayeva Bibisara?
JD: I didn't lose any hope at that time. I was very confident that I would finish in top three. I lost that game in the opening, so I realized not to repeat that again.
SA: In the sixth round you lost against Lehaci Miruna-Daria and then made a strong comeback by winning the crucial last 5 rounds. How do you prepare for these difficult situations?
JD: Actually I was under severe time trouble in the sixth round because of which I lost that winning game. So I decided not to get into time trouble for the last 5 rounds. I prepared with the guidance of my coach for every round.
SA: Whom will you give the credit for your medal winning performance?
JD: Undoubtedly my coach, Mr. Narahari Ramaraju Sir.
SA: Which school do you study in?
JD: I study in the ninth grade in Trips International School in Rajahmundry.
SA: How much support do you get from school to cope with studies and manage tournaments?
JD: They support a lot. I don't go to school regularly. When I am free they arrange special classes.
SA: That's wonderful. What is your parents' reaction after you won the Gold Medal?
JD: They are proud of me for getting a medal for India.
SA: You seem to have played the same opening English with white and Sicilian with Black pieces against all opponents. Do you think in this day, it is a good idea to stick to one opening in all the games?
JD: Yeah, because I am experienced in playing Sicilian well. English is my new opening. I feel very comfortable to play English, so I thought to play those openings in this World Championship.
SA: Do you think it is easier or difficult to play in a new unknown country as this was your first World Championship?
JD: Neither easy nor even tough. I don't think about all those things. I always try to give my best.
SA: What are your future plans?
JD: My future plan is to become a WIM and then WGM.
SA: Who is your favorite chess player?
JD: Mikhail Tal and Bobby Fischer. Among women, Judit Polgar.
SA: I would like to wish you all the best in your future endeavours and may you bring more glory to the country.
JD: Thank you very much.
Here is Jishitha's favorite game from World Youth Chess Championship 2017, which she has annotated for the readers of ChessBase India:
A short conversation with Mrs. Rama Jyothi
Usually we speak with the players who have won medals for the country. But I find it equally important to interview the parents. It's because of the right approach and attitude of the parents that their kids have managed to win medals and bring laurels to their country. Here's a short chat with Mrs. Rama Jyothi, Jishitha's mother.
Shahid Ahmed (SA): Congratulations Mrs Rama for your daughter's glorious achievement of winning Gold Medal in World Youth Chess Championship. Tell us how are you feeling about it.
Rama Jyothi (RJ): I am so proud of her achievement. She made my dream come true and she fulfilled my faith.
SA: What do you do when she loses a game in a tournament?
RJ: When Jishitha loses a game, it is of course very depressing. But each and every moment from that point onwards I try to encourage her.
SA: How many hours does she devote for chess every day?
RJ: She devotes more than eight hours each day towards her chess practice.
SA: Wow! That's a lot of time. How does she manage studies then?
RJ: On a daily basis she takes home tuitions.
SA: At what age, did she start playing chess?
RJ: She started chess at the age of nine years, but she took professional coaching from the age of ten.
SA: When did you realize that she has a real talent for chess?
RJ: She got a rating of 1400 within a short period of time when she was a hobby player. That's when I realized that there is something special about her. When she was nine years old at her very first attempt in the state tournament she was selected for nationals!
SA: How much do you think chess has helped her in studies or vice-versa?
RJ: Thanks to chess she has increased her grasping ability, memory and patience. These qualities are very useful everywhere.
SA: When she plays a tournament for a long time, it definitely takes a toll on her. How do you deal with it?
RJ: She doesn't feel any strain. She wakes up early at 5 a.m, then she does some exercise and later yoga, meditation to relieve any kind of stress.
SA: When she is not playing chess, what does she like to play?
RJ: Jishitha's favourite sport after chess is Badminton!
SA: What is your advice to the parents who have their sons and daughters playing chess?
RJ: Encourage your children in the field that they have their passion. This would be my advice to all the parents.
SA: What was her friends and relatives reaction towards her winning the World Championship?
RJ: Before getting these achievements, everybody used to criticize us for spending so much money and for travelling far away from our village to Hyderabad for coaching. Now they are proud of her.
SA: What is the next tournament you are looking forward to her participating in?
RJ: We are just happy with this performance right now. We haven't planned anything yet.
SA: Thank you Mrs Rama for speaking with ChessBase India. I wish you all the best in your future endeavors and I hope she makes the country proud.
RJ: Thank you.
---