Interview with 16-year-old IM Soham Das
16-year old Soham Das became the latest IM of India when he secured his final IM norm at Šahovska Akademija Šampiona 2018 GM Tournament in Serbia. In this in-depth interview we talk about the rise of Soham, what challenge he faced on his path to success and how he overcame them and many more things. It also contains few of his best games annotated by him. Soham talks about how much important is to be both physically and mentally fit to do well in chess. This is the story of an underdog who was unable to perform well in tournaments due to his bad physical condition, he overcame all odds and triumphed. Photo: Soham Das
His parents sacrificed everything and it paid off
An interview was conducted after Soham returned back to his home in Kolkata.
Shahid Ahmed (SA): Congratulations Soham for becoming an IM. How does it feel to become an International Master?
Soham Das (SD): IM title gives me a mental satisfaction. That's it. I think I just crossed the first hurdle. I have a long way to go to reach my destination.
SA: How did you manage to balance your chess and studies?
SD: Balancing chess with education is always a very difficult stuff to deal with. Well my first priority is definitely chess, however I could not ignore education at the same time! I always believe in the famous quote of Dr. Jeff Hester "Knowledge is the key to the success". I think both of them are very important, because if someone who is at top, is not good in his educational background, it could be a big problem. For example you know only about chess but, when you are asked to answer or to discuss in some different field or topic out of the chess world in a conference or a cultural center or in front of the media and you cannot answer properly, you start to feel guilty of yourself and shy which could affect your career. So these are some of the situations I think one must avoid.
In order to balance studies with chess my parents along with my school plays a key role. My dad is a science teacher (he teaches Mathematics, Physics, Chemistry & Biology) and my mom did her graduation in Mathematics Honors. So they help me together a lot to make my base in Science strong. During my tour in foreign country, I used to read books when I was travelling in an ultra-long haul flight and even sometimes while waiting at the airport or train station. Sometimes if I would have some gaps between my tournaments, besides analyzing my games and rectifying mistakes which I did in the tournament, I also sometimes solved a bit of mathematics, just so that I wouldn't become too rusty in the numerical parts and it also keeps in touch with my studies which helps to keep a balance. Also sometimes solving maths, just to be getting out of the chess world for sometime, but calculating in a different way influences new interesting ideas into one's game! So this is one of my biggest advantages of getting two best teachers who are always ready to help me anytime I want.
Besides my parents, my school is helping a lot for me. Due to my travelling so often to abroad, maintaining regularity in School is always a very big problem and it is really very hard to cope up with that. However, my school, especially my Principal ma'am and my Rector sir, are really very positive about me and has great hope on my instinct. They are very sporting and want to see me one day at the top of the world. They take the project and oral examinations later for me only so that I would not miss my grades. I will forever remain grateful to them. As I study in an CISCE board school, the grades are very important. I have chosen the science group, attendance for the practicals is always very important. So when I am in India I need to go to school so that I can neutralize the attendance percentage. And as a good student, I try to do my level best during my examinations. Although I get a very short and limited amount of time for education, I try to use this time to my full potential. During the examinations I study for the whole night and try to do my level best in exams and I did manage to maintain an average percentage of 90% and above in my examinations.
SA: Who inspired you the most to reach where you are in chess?
SD: Well definitely my mom is the one who inspired me the most to reach where I am right now. And she always told me that this is just the beginning... you have to go a long way to reach your goal.
SA: Whom will you give credit for your success?
SD: It is not fair to mention any one name for my achievement in chess. No doubt my parents, specially my mom, is the ultimate pillar of my success, but at the same time quite a few people's unconditional support helped me strongly to get my IM title. Specially I want to mention the name of my maternal uncle. During all my foreign tours, he constantly encouraged me to keep my tempo up. It is needless to mention the role of Roktim sir's training session before each of my tournament. He always tries his level best to clarify my doubts.
SA: What is your goal in chess?
SD: My ultimate goal in chess is to become the World Champion. I know the meaning of it. I do believe myself that one day I will reach to that destination.
SA: Who is your coach?
SD: I am working with IM Roktim Bandyopadhyay for the past 4 years.
SA: What difference did you feel between achieving each IM norm?
SD: I got my maiden International Master norm at 35th Andorra Open 2017 and went on to get the next two in closed tournaments. One major difference that I felt between my maiden IM norm with the 2nd & 3rd one, is that its easier to get norm(s) in an open tournament rather than a closed one, simply because in open tournaments there is condition regarding points and if the tournament's average Elo rating is high and one plays well, achieving the norm is not so difficult. However in a closed tournament there were fixed conditions i.e. in Montenegro I had to score 7.5/9 to score an IM norm. Now those fixed conditions always create a must-win-scenario which puts huge mental pressure and sometimes turn out to be bad. One could not guarantee always that he/she could score 7.0 or 7.5/9. However as the same as the condition is fixed thus the norm too is fixed! So thus if one plays well, he/she can definitely achieve his norm because. It is not like a standard open tournament where rating performance and facing number of titled players plays a key role.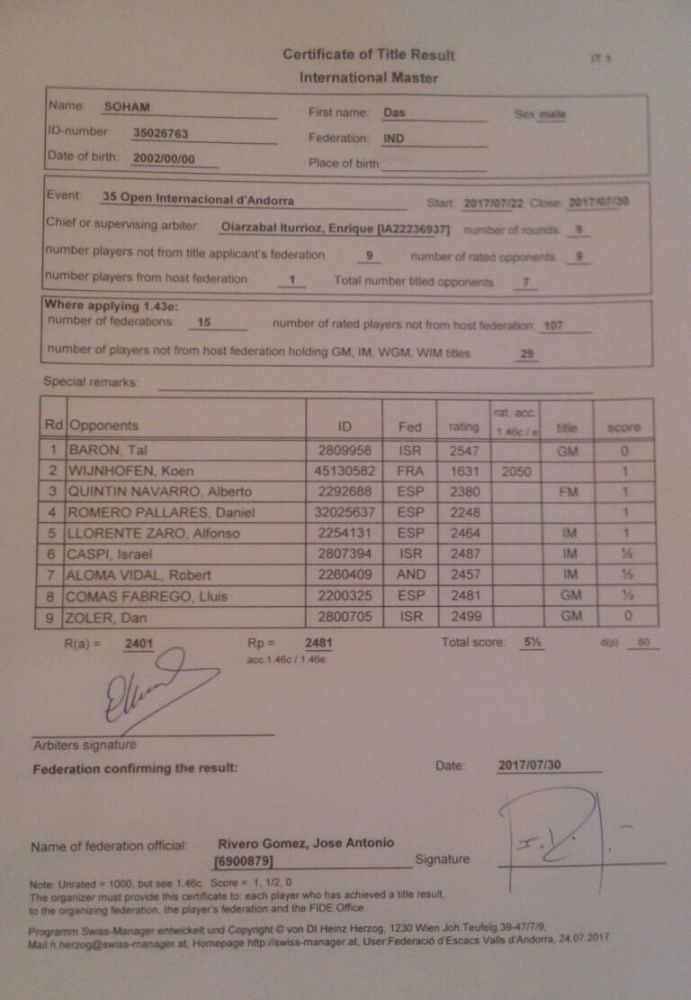 To get my maiden IM norm at Andorra in 2017 is of course a very special moment for me. Actually it was my first foreign tour so everything was new to me. The atmosphere was terrific at Andorra. My rating was just 2020 and I increased my rating by 152. Most important thing of that tournament was that I used to play football with my friends and roam about with my mom and after that in the afternoon I used to go to play the matches. In the evening I used to go for a walk and do some shopping too as well.
It helped me a lot to get rid of any sort of tension. I was totally relaxed throughout the tournament which helped me a lot to perform my best. It was one of my best tournament so far in my chess career. And finally I would like to say I really enjoyed very much at Andorra.
I was supposed to play in the closed-GM tournament. However, as a couple of players quit at the last moment, so I had to play the closed-IM tournament where the I needed a score of 7.5/9 to get the IM norm.
So my mom gave me this advice, "Don't think about norms, don't about points and not even about results. Just play the best game of your ability. Play round by round and enjoy the nature!" And this advice really helped me a lot to get my norm much easier as I was not under any pressure and thus could perform to the best of my ability. I am always grateful to my mom.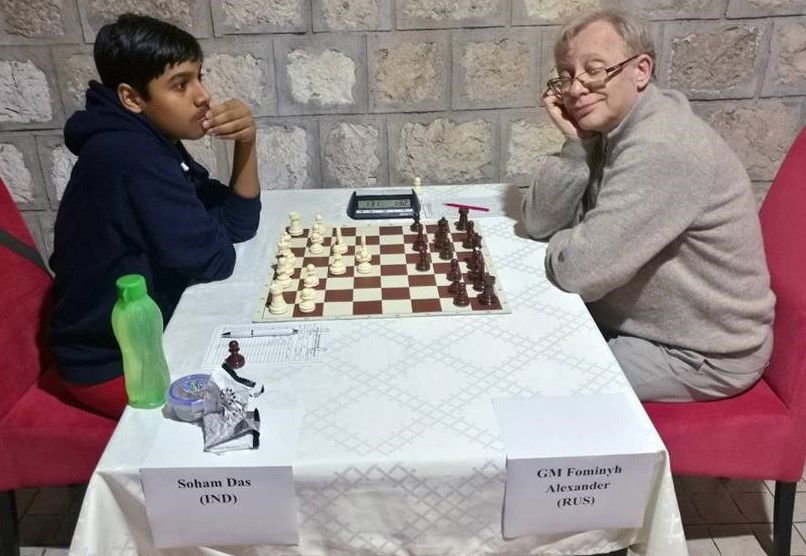 I was the joint champion of the tournament with FM Dejan Marjanovic from Bosnia and Herzegovina. I scored 7.5/9 points to secure my second IM norm and also increased my rating by 59 ELO points.
Despite being the last seeded of the tournament, I was able to show some great performance. I beat two very strong Serbian Grandmasters, Damljanovic Branko and Milanovic Danilo respectively within the first 5 rounds of the tournament and had a great chance for the GM norm. But in 6th round I blundered and lost a completely winning position against Djordjevic Vuk and lost my chance for the GM norm. Then I settled with a couple of draws to secure my final norm and I also went on to increase my rating by 26. However my final IM norm in Belgrade, Serbia, did not came as a big surprise to me as I played so well I could have even get the GM norm. I was expecting for the GM norm in the tournament. So I was not satisfied.
SA: How easy/difficult it is to play tournaments outside of India?
SD: Monetary issues are the nightmare to play in Europe. Every time my father was somehow able to manage. I always travel with my mother. It is always a great experience to play abroad. Not only you get the chance to play against the players of different countries but at the same time you get to know the culture, lifestyle, discipline, punctuality, concentration level and so on. I learnt a lot from them. Some of them I have included in my characters and daily routine too as well. One of them is their food habit. Before going to Europe, I was fond of eating delicious Indian spicy food, but now I realized how bad it is for health. Now I completely formatted those bad food habits and had installed a very good European diet in my meals. While playing in Andorra I realized that fitness is extremely important and right after that I started to workout - going to the gym and running.
SA: What was your first major breakthrough in chess?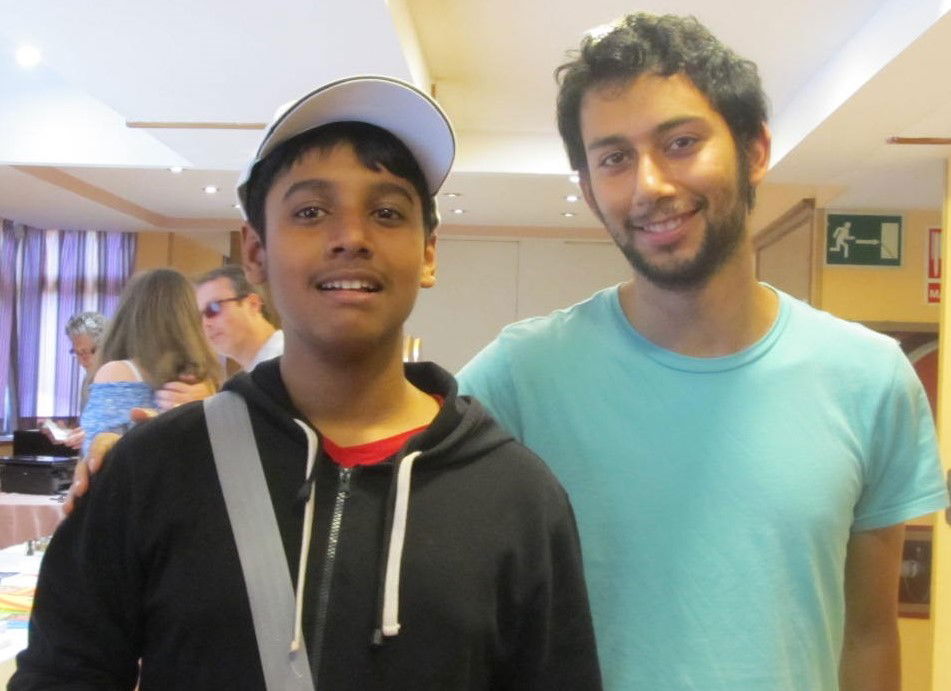 SD: My first major breakthrough in chess was in 35th Andorra Open 2017 where I scored my maiden IM norm. This was my first foreign tour and so everything was new to me. I started with the well known Catalan circuit and my first tournament was XIX Obert Internacional Sant Martí 2017 Group A, where I was not paired in the first round due to some technical problems and I had to play from the second round. So I wouldn't have any chance for norms according to the FIDE rules. Since I wasn't paired in the first round, I was demoralized and couldn't come out of that throughout the tournament and thus I did not play well.
In fact with the rating of only 2020, I lost 12 rating points which was very bad. By that time A.L. Kasi Sir (CEO of T Nagar Chess Academy), encouraged and boosted me a lot and said very confidently to me and my mom , "Soham will definitely play well in Andorra". I was astonished, how he could say so confidently like it does not matter and could have that much hope on my instinct. This somehow struck in my mind and I start to think about this. The more I think, the more I wondered that how he could be so confident about me than myself. And then I start to feel that there is something in Andorra waiting for me. Let's see!
SA: When did you realize that you should think about chess seriously?
SD: It was by the year 2012, I played a Qualifying tournament – 'Challenge the Grand Masters' organized by The Times of India in Kolkata For Kids event, to get qualified for the simultaneous event to challenge the Grandmasters. I won the final round and qualified for the challenge. I got a chance to play Grandmaster Dibyendu sir in a Simultaneous tournament. There were 10 players to play against him. I fought bravely and survived till the last. I was 10 years old and just 1300 rated at that time. Everybody was amazed. After the game, Dibyendu Sir told my father that, he should never give up chess. He has great potential. I think this incident had a great impact on me to take chess seriously.
SA: How do you prepare for a tournament?
SD: Well, all the opening repertoire, analytical work, I usually like to finish a week before the tournament and prefer to take rest. I give time to recollect ideas to give my best in the tournament. In that time I generally have quick warm ups (solving simple tactical puzzles), play some blitz games, have a look at chess news to get myself updated and that's it. Before my tournament what I mainly work on is physical fitness and mental toughness to get control on my mind. So to do that, early in the morning I used to do some light exercise and then do Yoga and Pranayam, both for my body and mind. Then I used to run long laps to increase energy as well as patience, or sometimes I used to do gym at my home when it was too hot outside. That's all about my fitness training. I also give special importance to my diet, couple of days before my trip! Along with that I used to do meditation which helped me to be calm even in very complex situation. These are the main stuffs I used to deal with, couple of days before my trip and was definitely one of the most important key to my success.
SA: What are your future plans?
SD: I do not like to make long-term-plans. I know my goal is to become world champion. In order to reach there, I have to go step by step. My sir always tells me to keep a small target and after reaching to that target, set the next one and so on. At present, my target is get the GM Title as soon as possible.
SA: Which book(s) have helped you?
SD: Bobby Fischer's My 60 Memorable Games and Jacob Aagaard's Grandmaster Preparation Calculation.
SA: How much your parents/teachers/school helped you in achieving success?
SD: My journey in chess has started. I do not know where it ends but in my journey I always get the moral and mental support from my Parents. I am very proud of them especially my mom. She has a great influence in my life. She devoted her whole time for me. Without her I would not be where I am right now. My parents always stand by me in my ups and downs. They always inspire me and help me to overcome any adverse situation. They try to make me mentally strong enough to fight against critical time.
However my Journey in chess is not smooth at all. I had to come across some bad phases during my Journey. In 2015, I had a major surgery of Gall–bladder stone (Laparoscopy) and for that I had to stop playing tournaments for near about 6 months. 2015 was the worst year for me so far. Immediately after my surgery, I had severe anaemia. Physically and mentally, I was so weak that I had to leave out few good tournaments in 2015. After recovering from the operation, I started to play chess again but I failed to get my rhythm back. During the tournament I used to feel so weak that I could not get expected results at all. It not only stopped here but after a few months I got acute anaemia and again I had to stop chess. By that time, I was mentally very disturbed. I was unable to concentrate in my chess but my parents again stood beside me and I got in touch with mental toughness trainer – Mrinal Sir (Mrinal Chakraborty).
I had a couple of session with him. I learnt from him how to get rid of any sort of disturbance and how to concentrate only in chess. I am really grateful to him. Then I realized that not only mentally but physically too as well I have to make myself strong. So I started doing Yoga, Pranayam, meditation & exercise with my physical trainer – Subir Sir. He has a great influence on me. Now I glad to say that I am mentally and physically strong enough to handle any sorts of hazards.
Apart from that I should not forget to give credits to my chess trainers who not only taught me about the game but gave me lessons which will help me throughout my life. I will forever remain grateful to them. My chess learning started with Mili ma'am (Mili Ghosh) in 2011. She is the first one, to take me into the chess world and to make me feel how interesting chess is. She inspired me to love chess and told me the famous chess quote of the Legendary - Bobby Fischer, "You can only get good at chess if you love the game."
For the last 4 years I am mainly being trained by IM Roktim Bandyopadhyay. He has a special role in my chess career. He is always very positive about me. Sometimes I could not perform well in some tournaments but he always stands beside me and encourage me. He not only taught me the core of analytical chess and calculation to the best of my ability, but most importantly teaches me how to be self-dependent, how to work and improve on one's skills on his own independently. As the legendary Garry Kasparov said, analysis of his own games is the key to his success. He inspired me in loving to analyze games or positions so much, that sometimes I overdid.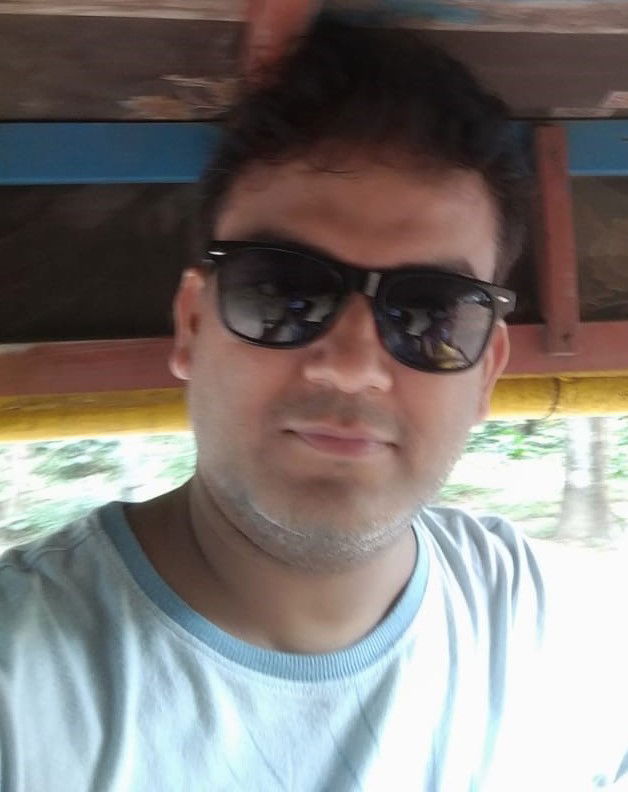 Even there were times, when I took a week just to analyze one single position which is a bit too extreme. Apart from chess he also gives me life lessons which will help me throughout my life. During my worst time so far in 2015, he stood beside me and told me a very important quote, "You must build up yourself in a such a way, so that you could start from zero". This lesson has greatly influenced not only in my chess carrier but in life also. Apart from them I would also like to give credits to my success to Rangan sir, Jaikar sir. I shall forever be grateful to all my teachers and will hope to make them proud someday.
SA: Who congratulated you first after becoming an IM?
SD: In Benasque, Spain, after crossing my live rating of 2411, IM Akshat Khamparia and GM Saptarshi Roy were the first to congratulate me.
SA: Which tournament is in your bucket list to play?
SD: Well, I am now busy for preparing for my Board examinations. Once the exams will get over, I will think of it. I will be glad to play in Tradewise Gibraltar Masters 2019.
Short games by Soham:
---