"Right Mood = Right Move" says GM Avetik Grigoryan, founder of ChessMood
Avetik Grigoryan was rated 2600+. He is a strong GM and was also the former national champion of Armenia. However, a couple of years ago, he made an important decision in life. He decided to give up playing chess, and develop a community called ChessMood. What started as just a Facebook Group, is now a full blown website with over 100 hours of training from some of the best grandmasters of Armenia. How did Avetik manage to create something so valuable as the ChessMood? What is the secret of inimitable enthusiasm and energy? We find out in this interview! ChessMood has opened up its website for 7 days due to the Corona virus outbreak and all of the premium content is now freely viewable until the 29th of March 2020.
In 2014, I was playing the very strong Kolkata GM Open. Being my first tournament after marriage, it was a memorable tournament for me. But it was made extra special by one individual whom I hadn't ever met before - GM Avetik Grigoryan. When I saw Avetik at the tournament hall, he always came across a fun-loving individual with absolutely no airs about him. Although he had a rating of 2583 and was one of the strongest players at the event, he wouldn't shy away from mingling with the commoners like me!
I got to know him better and we became good friends. When the tournament ended, Avetik came to Amruta and me and handed a bottle of finest Armenian whiskey. We were surprised! Apart from the fact that we didn't drink alcohol, we didn't really think that we deserved such a generous gift. Why us, we asked? To which Avetik replied, "You see I brought this bottle of whiskey with me because I wanted to open it when I won the tournament and celebrate the victory with my friends. Because I didn't win the tournament, I decided to give to my friends, so that they can go back home and drink it!" It was a gesture that I remember till date and every time I see the bottle (yes, we still have it with us!). It reminds us of Avetik, his enthusiasm and his big heart.
Time passed by and nearly five years after the Kolkata incident, I began noticing Avetik getting active on social media with his new initiative the "ChessMood". At first I felt it was just another Facebook page created by a GM who had free time for that period and wanted to get some new students with the help of some publicity. But on closer inspection I realized that Grigoryan was not there for the quick buck. He was actually interacting with the members of the group, answering their queries, talking to them and guiding them in the best possible manner as he could. The Facebook group, extended into a full blown website in a few days and now ChessMood has high quality chess content created by Avetik and his team members. I was curious as to why such a strong GM like him decided to get into chess training and why didn't he just train like the other GMs? What was the need to create an online community? This is the reason why I decided to interview him.
Interview with the founder of ChessMood GM Avetik Grigoryan
Sagar Shah (SS): Tell us a bit about you as a chess player. What were some of the biggest achievements of your chess career?
Avetik Grigoryan (AG): As a chess player probably I could achieve much more if when I was young, I knew how important it is to invest in yourself. And how to do that in a smart way. But as I said, I was young! The biggest achievements are, probably, becoming the champion of my country and passing 2600 rating.
SS: At what point did you decide to stop playing chess professionally and dedicate time to training others?
AG: When I got to my highest rating (2621), I started to work with 2 talented guys as a coach. Then I felt I enjoy it much more. I believe that all our emotions are calls to actions. And I took the action. In my heart I was confident with my decision, as I knew that I would achieve more as a coach than a chess player and I would bring more value to the world, coaching others, than playing myself.
SS: What was your experience as a chess trainer before the start of ChessMood?
AG: I worked with many students from different countries. Under my guidance 10+ chess players achieved GM title. But more importantly for me, I helped them to find their happiness in life outside of the chessboard too. I was also the head coach of the national team of Thailand (the country of my heart).
SS: What is ChessMood and how did it begin?
I had a Facebook group, where I was helping chess lovers from different countries. It was then when I realized how much chess lovers are struggling, finding good courses, good educational content. And they were right, telling that there are either some chess educational platforms with very low-quality material but with super nice marketing words, or websites where the content is good, but for chess lovers, it's very confusing to understand from whom to learn, which course to learn, where to start and where to end. Then I came up with the idea of creating a really good chess platform and to help chess lovers to unlock their full potential with a step-by-step program.
In ChessMood students know which course to learn first, which next. Also in ChessMood, we have the practical part. All our webinars, streams and lessons are based on the courses! So our students don't just gain theoretical knowledge. Of course, all of this could not have been created alone, and luckily my Grandmaster friends joined me.
SS: Who are the people involved with you in this project?
AG: From chess players, officially in our team are Grandmasters Melkumyan, Hovhannisyan, Ter-Sahakyan, Gabuzyan, Andriasian. We also collaborate with other Grandmasters and best coaches. Some of them will officially join our team soon. Apart from the chess team, we also have a technical team, designer's team and consultants. We don't have employees. They are our teammates and our friends.
SS: Why do you always say - right mood generates right move?
The mood is everything. Our subconscious mind is more powerful than most people think it is. Depending on our mood, we make different moves in life, in the same situations. The same is in chess. You can't play good chess, make right decisions, be a fighter, if your mood is not good and if there is a lot of trash in your mind. But when your mood is good, you are concentrated, focused, you are goal-oriented, and you are living the "now moment", there is more chance you will produce 100% of your potential. And all of us would play much better and stronger chess if we could do this. That's our slogan: Right Mood - Right Move! As right mood generates right moves in chess and in life.
SS: If one becomes a ChessMood PRO member what does he/she receive?
When someone becomes a PRO, he/she gets UNLIMITED access to 100+ hours of courses, all created by Grandmasters. He/she gets access to all the streams and webinars, which are based on the courses! (So they see not just the theory, but also the practical part). He/she gets access to all the recording of the previous events and to the private forum channel, where he/she can ask questions and get answers directly from Grandmasters. Also when someone joins PRO Members, he/she gets a 1-1 call with a Grandamster to get a personalized study plan, based on their level and the time they are willing to invest in chess. Just a dream, isn't it? :)
We put the price as low as possible. It's just 29$ a month. Many business people say to me, that for the amount of value we provide, the price is ridiculously cheap. But I want to keep it, so anyone who is serious about their chess, their goals and dreams, will without problems find a way to afford that. If I put 100$/M, yeah, not everyone can afford it. But I know what it is to have a dream! And in ChessMood we give everyone an option to make their dreams come true.
SS: At some point you had issues with piracy. All your videos were copied and uploaded for free and shared. How did you fight that situation?
AG: Yes...Unfortunately most of the people who use pirated content or share it, justify themselves by saying that they can't afford it, so they do that. But if you think about it deeper, it's nothing else than just stealing. They may also want to have a cool coat, a cool pair of shoes or a golden watch. But they can't afford it. Why don't they go to shops and steal them? Yeah, on the internet it's much easier. "I can't afford" is just a very bad excuse.
In ChessMood, we have a referral program. People can partner with us, get unique links, share it with their friends and get commissions making hundreds of dollars if not thousands. So there are two kinds of people. Ones who find a way to afford and ones who find easy excuses. Without piracy, there would be much more and much better chess content. Many great chess players, chess authors don't write books or produce courses, being afraid of piracy and that all their hard work can go under the water, after someone copies it and uploads it on some pirate website. Piracy is a big evil not only in the chess world. It's everywhere. But unfortunately, it will always exist, as for most of the people, it's easier to find excuses, than find a way to solve the problem.
Our lawyers now are working on shutting down the pirate chess websites. It takes a lot of work, a lot of smart work and a lot of money that I need to invest in that. But I believe it is worth it, as without pirate websites, the chess world will flourish faster, as there will be much more and better content produced.
SS: I see you interacting with people on social media, then also making videos almost daily, you also have a wife- how do you manage your time?
AG: Haha! Well, there are 3 secrets:
1 - I wake up very early.
2 - I never lay on the sofa doing nothing.
3 - I've learned to work productively.
Not all 10-hour works give the same results. Some people start their working day checking the news in the FB, then they answer the emails, then work a bit, then calls, then lunch, then work a bit again, likes in the Instagram... 10 hours have passed, the sun has gone home and now for them is also time to go home. And now imagine someone who works with a turned-off phone, with an organized list of tasks and knows which one is the 1st, which one is the last. The result would be totally different, despite the fact that both worked 10 hours.
SS: Tell us about the special offer during the period of Corona virus outbreak that ChessMood has come up with? And why did you decide to do it?
AG: Yeah, as now it's the 1st time in history when we can save lives by just staying at home, we decided to help people to do that. Beat the COVID-19 boredom by doing something useful and becoming better in what they love. So we unlocked ALL our courses for 1 week until 29th of March. All you have to do is make a free registered account and you can access all the content.
SS: What is your vision with ChessMood? What are your future plans?
AG: All our students and anyone who has seen the quality of material we have produced, say this content should be spread all over the chess world. But we are not good at marketing. We know how to produce the best content, how to speed up someone's growth in chess, but not how to do marketing! So probably, we will spend some effort letting people know that what they are looking for on the internet, already exists. At the same time, our chess team will constantly work on producing more material, maintaining our high-quality standard.
SS: Will we ever see you again at the chessboard?
AG: Yeah, sure. Give me a sec, I will make a selfie and send you.
AG: Hehe :) Just kidding! Well, right now I am very busy with ChessMood and my private students. I still need to push some of them to achieve their GM titles. But after a few years, I am thinking of playing chess again, but for fun. I love team tournaments, maybe I will play in some leagues.
SS: What is your opinion about Indian chess?
AG: I don't know exactly what is going on in many chess federations. I don't have all the info. But in my opinion, there are 2 countries, where chess grows super fast. These are Iran and India. Indian chess hero, of course, is Viswanathan Anand. (I've met him in real life and I am glad to know such a great person) But I also know how much impact your coaches have, the ones whose names everyone knows and the ones who stay in shadow. (very unfortunately). I know how much impact the sponsors have, who help talented and goal-oriented guys to chase their dreams. And India has heroes like you, who organize all that and spread within Indian chess world any value he finds, from anywhere, anytime. Sagar, I know how humble you are, and you would be shy to publish my words, but there are many people who can prove my words. Indian chess has a bright future and even Corona can't stop it! Your youngest talents train with living legends like Kramnik and Gelfand. You have people who organize this.
SS: Who have been some of your students in India?
AG: I have been working with many of them. I would love to mention two of them. Prithu Gupta, your 64th Grandmaster, who made it at 15 :) Yeah, he is super talented, super strong, but believe me, he is an even better person, than how strong he plays chess. Unfortunately, because of his classes, he doesn't have much time for chess now, but I hope he will be back. Indian chess needs people like him. And Narayanan Lyna Sunliduth. He was a kid when we started to work. It's been a while since he has been my good brother, not just a student. I love these two guys. Super humble and nice people.
SS: I have always seen you as a lively, excited and enthusiastic person. How do you manage to be always so high on energy? Tell us your secret!
AG: Life has all of the colors that painters use. And it's up to us, which color of life to see, on which to focus and which not. Some people see mostly white, some people - black, some people see purple. Recently I have shared on FB, one of the things I do. I have a Gratitude Box. It's a simple box of my favorite candies - Raffaello. You can take any.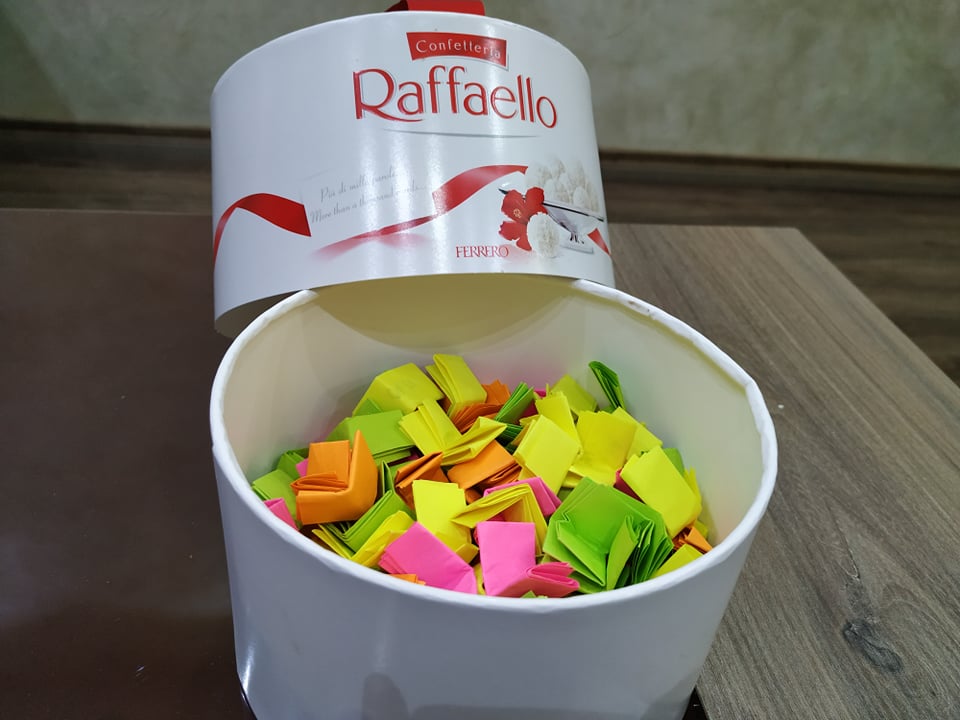 At the end of each day, on a sheet of paper I write down all the good things that happened with me that day and throw it into the box. It helps me to focus on the bright colors of life and appreciate everything I have, every moment I have had. Answering your question, how do I manage to keep high energy, well, now it's easier for me to do that. I have this cute girl in my life who brought so many new colors into my life.
Also, I am lucky to have a life that I don't need to deal with people, with whom I don't want. I don't do any business with people I don't like, I don't train anyone whom I don't believe, I don't hire anyone with whom I would not drink a cup of tea at the end of the day and I don't need to please anyone. I've created my wonderland and I live there.
SS: What is your advice to all the chess players out there?
AG: 1. Find out your "WHY?". Why do you want to become a Grandmaster? Why do you want to become a champion? Not just "That would be cool". No, you need to find a stronger answer. And if your answer to the "WHY" question is very strong, you will find a way for everything.
2. Always think about "HOW?". How can I afford that? How can I get that? How can I improve faster? How can I find a good mentor? How can I make my dreams come true?
3. Whatever you want to achieve in your life, 99.9% of the time, there is someone who has already done it. Try to find that person and ask for advice. It will be a big shortcut.
And the last - Never ever think about giving up on your dream!
You live once.
Try ChessMood:
ChessMood has opened access to its entire library of chess content for a week until 29th of March 2020 due to the Coronavirus situation. You can register for free from here, and start using its content. If you do enjoy it, then you can think about becoming a PRO Member from here. Applying the coupon code "CHESSBASEINDIA" will give you 10% off.
A gift from ChessMood for the readers of ChessBase India:
Let us know in the comments section below, as to why you liked ChessMood. The best comment decided by GM Avetik Grigoryan will get six months membership free from ChessMood.
---