Integral Coach Factory reclaims All India Railway Team Championship 2022
There are two secret chess tournaments that take place in Indian chess. One is between the Petroleum board and the other one is among chess players of Indian Railways. It goes without saying that both are strong events. To understand how strong the field was, a total of 17 teams comprising 84 players including 8 GMs and 19 IMs took part in the event, i.e. 32% of the participants were IMs or above. Integral Coach Factory won the 33rd edition of All India Railway Team championship. Eastern Railway secured the second place and defending champion Metro finished third. IM Vignesh N R of Southern Railway won the individual event, IM P Shyam Nikhil and GM Visakh N R of ICF secured second and third place respectively. Photo: Sureshkumar Janardhanan
Vignesh N R wins All India Railway Individual Championship 2022
Integral Coach Factory regained their All India Railway Team championship winner title after Metro Railway won the previous edition in 2019. A decade ago, ICF won the same event and went on to win the championship four more times (2015, 2016, 2017 and 2018) in the last decade (2011-20). Eastern Railway repeated their 2018 performance by securing a second place finish. Defending champion, Metro became the only team without a reserve player to make a podium finish this year. IM Vignesh N R of Southern Railway won the individual event, scoring 6.0/7. Integral Coach Factory claimed the remaining two podium places in the form of IM P Shyam Nikhil 6.0/7 and GM Visakh N R 5.5/7.
Integral Coach Factory won the team event as every member in the team made an important contribution. GM Visakh N R was the top scorer of his team 4.5/6, followed by GM Deepan Chakkravarthy 4.0/6. GM Laxman R R 1.5/2 and IM P Shyam Nikhil 3.5/5 also remained undefeated. GM P Karthikeyan scored an important 2.5/5.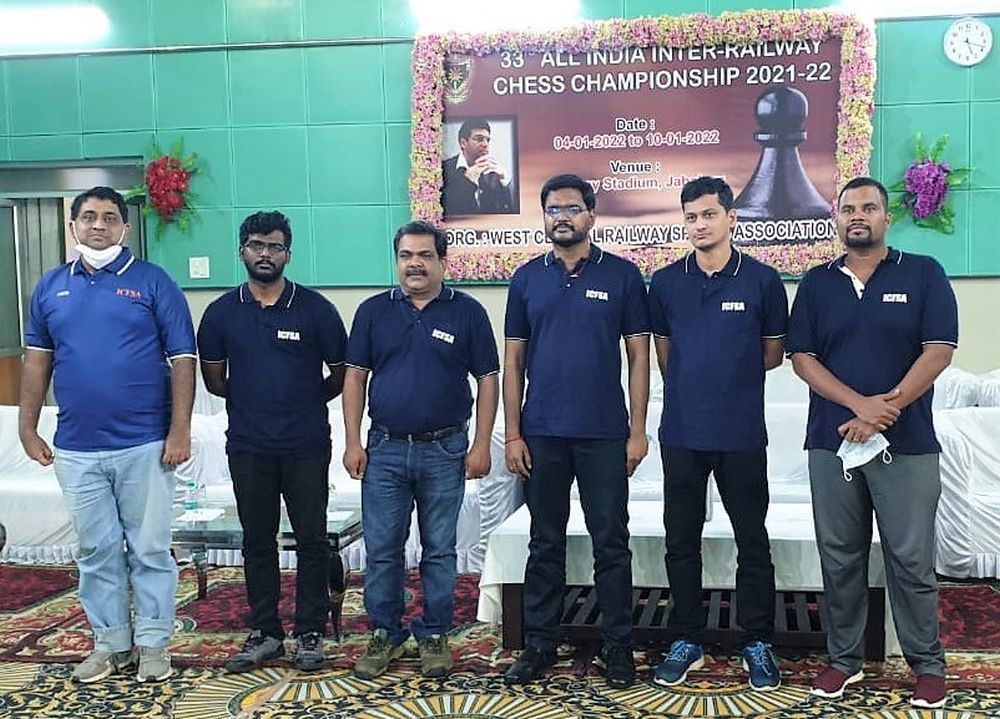 Debutant IM Sidhant Mohapatra scored an impressive unbeaten 5.0/6. IM Suvrajit Saha also scored a crucial 4.0/5 and also remained undefeated. IM Arghyadip Das and making a return to the team for the first time since 2012 - GM Saptarshi Roy contributed a valuable 3.5/6 and 3.0/6 each respectively. Well experienced Pradip Ghosh drew the sole game he played.
IM Sayantan Das was the top scorer of his team Metro. He made an unbeaten 5.5/6, followed by FM Joydeep Dutta who also remained undefeated 4.0/6. IM Somak Palit and GM Saptarshi RoyChowdhury scored an indispensable 3.5/6 and 3.0/6 each respectively.

The tournaments were organized by WCR Sports Association from 4th and 10th January 2022 at Railway Stadium, Jabalpur, Madhya Pradesh. The team event took place from 4th to 6th and the individual championship went from 7th to 10th January. The time control for each tournament was 90 minutes + 30 seconds increment each from move no.1.
Team final standings
| | | | | | | | | | |
| --- | --- | --- | --- | --- | --- | --- | --- | --- | --- |
| Rk. | SNo | Team | Games | + | = | - | TB1 | TB2 | TB3 |
| 1 | 1 | Integral Coach Factory | 6 | 4 | 2 | 0 | 10 | 16,0 | 216,0 |
| 2 | 4 | Eastern Railway | 6 | 4 | 1 | 1 | 9 | 16,0 | 216,5 |
| 3 | 6 | METRO | 6 | 4 | 1 | 1 | 9 | 16,0 | 216,0 |
| 4 | 5 | South Central RaIlway | 6 | 3 | 2 | 1 | 8 | 15,5 | 181,5 |
| 5 | 2 | Western Railway | 6 | 2 | 4 | 0 | 8 | 14,0 | 193,5 |
Individual final standings
| | | | | | | | | | | |
| --- | --- | --- | --- | --- | --- | --- | --- | --- | --- | --- |
| Rk. | SNo | | Name | FED | Rtg | Club/City | Pts. | TB1 | TB2 | TB3 |
| 1 | 7 | IM | Vignesh N R | IND | 2444 | Southern Railway | 6,0 | 28,5 | 31,0 | 25,00 |
| 2 | 8 | IM | Shyaamnikhil P | IND | 2442 | Integral Coach Factory | 6,0 | 27,0 | 30,0 | 25,75 |
| 3 | 1 | GM | Visakh N R | IND | 2522 | Integral Coach Factory | 5,5 | 27,0 | 30,0 | 21,50 |
| 4 | 12 | IM | Mehar Chinna Reddy C.H. | IND | 2422 | South Central RaIlway | 5,0 | 27,5 | 31,0 | 21,50 |
| 5 | 15 | GM | Karthikeyan P. | IND | 2396 | Integral Coach Factory | 5,0 | 27,5 | 31,0 | 21,25 |
| 6 | 3 | GM | Swapnil S. Dhopade | IND | 2495 | Central Railway | 5,0 | 27,5 | 31,0 | 20,50 |
| 7 | 5 | IM | Krishna C R G | IND | 2466 | South Western Railway | 5,0 | 27,0 | 30,0 | 20,75 |
| 8 | 23 | GM | Roy Chowdhury Saptarshi | IND | 2287 | METRO | 5,0 | 26,5 | 29,5 | 20,25 |
| 9 | 20 | IM | Ratnakaran K. | IND | 2316 | Southern Railway | 5,0 | 24,5 | 27,0 | 18,25 |
| 10 | 34 | FM | Mari Arul S. | IND | 2136 | Southern Railway | 5,0 | 22,5 | 25,0 | 16,75 |
---