Indrajeet Mahindrakar dominates Bhim Bahadur Tamang Memorial 5th Dolakha Rating Open 2023
Indrajeet Mahindrakar scored 8.5/9 to win Bhim Bahadur Tamang Memorial 5th Dolakha Rating Open 2023. He remained undefeated and finished a full point ahead of the competition. Vedant Nagarkatte scored sole 7.5/9 to secure second place. Three players - Mohit Kumar Soni, Y Dhanabir Singh and Soram Rahul Singh scored 7/9. They were placed third, fourth and fifth according to tie-breaks. The top three prizes were NRs. 100000, 60000 and 40000 along with a trophy each respectively. Indrajeet won approx. ₹62490. This was his first rating tournament triumph of 2023. The last rating event he won was in December 2022. Photos: FI FA CM Bhupendra Niraula/ChessBase Nepal
Indians claim nine out of top ten
Indrajeet Mahindrakar made a blazing start 7.5/8. His sole draw of the event was in the fifth round against Nepal's very own Purushottam Silwal. Indrajeet had a full point lead heading into the final round. A draw against second seeded Apollosana Mangang Rajkumar would have made him a clear champion. However, Indrajeet decided to go for maximum and become a dominant champion, finishing a full point ahead of the rest.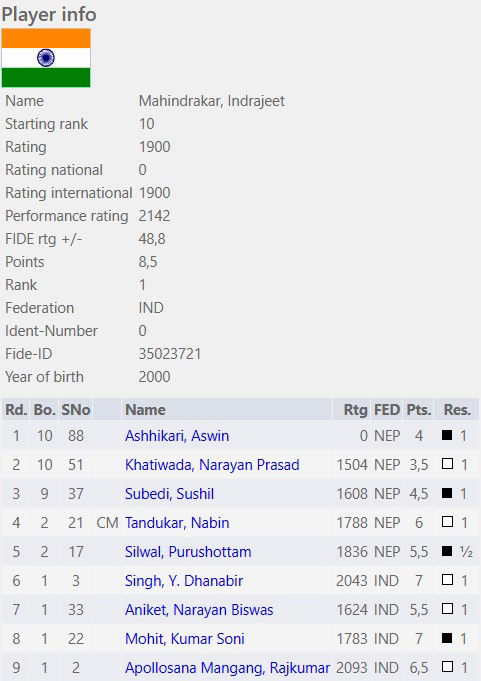 For more photos, please click here.
A total of 147 players including a WIM took part from India, Nepal, Sri Lanka and USA in this five-day nine-round Swiss league Rating tournament which was organized by Dolakha Chess Home Nepal in Dolakha, Nepal from 19th to 23rd May 2023. The time control for the tournament was 60 minutes + 30 seconds increment.
Final standings
| | | | | | | | | | | |
| --- | --- | --- | --- | --- | --- | --- | --- | --- | --- | --- |
| Rk. | SNo | | | Name | FED | Rtg | Pts. | TB1 | TB2 | TB3 |
| 1 | 10 | | | Mahindrakar, Indrajeet | IND | 1900 | 8,5 | 45,5 | 41,5 | 0 |
| 2 | 9 | | AIM | Nagarkatte, Vedant | IND | 1904 | 7,5 | 45 | 40,5 | 0 |
| 3 | 22 | | | Mohit, Kumar Soni | IND | 1783 | 7 | 51 | 45,5 | 0 |
| 4 | 3 | | | Singh, Y. Dhanabir | IND | 2043 | 7 | 50 | 45 | 0 |
| 5 | 16 | | | Singh, Soram Rahul | IND | 1843 | 7 | 46 | 41,5 | 0 |
| 6 | 15 | | | Priyanshu, Barua | IND | 1861 | 6,5 | 49,5 | 44,5 | 0 |
| 7 | 2 | | | Apollosana Mangang, Rajkumar | IND | 2093 | 6,5 | 49 | 45,5 | 0 |
| 8 | 32 | | | Anushka, Gupta | IND | 1649 | 6,5 | 48 | 42,5 | 0 |
| 9 | 19 | | | Kishan, Kumar | IND | 1802 | 6,5 | 47,5 | 42,5 | 0 |
| 10 | 1 | | FM | Jaiswal, Rupesh | NEP | 2145 | 6,5 | 47 | 42,5 | 0 |
| 11 | 11 | | CM | Chaulagain, Purushottam | NEP | 1880 | 6,5 | 46 | 41,5 | 0 |
| 12 | 39 | | | Anubhab, Gupta | IND | 1597 | 6,5 | 45,5 | 41 | 0 |
| 13 | 35 | | AIM | Subhabrata, Roy | IND | 1612 | 6,5 | 44 | 39,5 | 0 |
| 14 | 5 | | | Lama, Dawa | NEP | 1959 | 6,5 | 43 | 38,5 | 0 |
| 15 | 29 | | | Iftikar, Alom Mazumdar | IND | 1686 | 6,5 | 43 | 38,5 | 0 |
---