Hanumantha Rajanna (1959-2021): The man who resurrected Karnataka Chess
Every once in a while a person comes who brings people together, elevates talent and makes sure that the overall chess level of a region is uplifted. He does it all selflessly because his goal is not materialistic, he just wants to see people happy by working towards what makes him happy. Hanumantha Rajanna was one of those persons who gave his all for chess. From merely 40 rated players in 2006, the state of Karnataka now boasts over 2000 players. A major reason for this happening was Hanumatha. On 15th of April 2021, Hanumantha passed away due to Covid-19 virus. We have collected eulogies from Karnataka's top players as well as people who shared his memories on social media. We extend our deepest condolences to his family and loved ones.
Karnataka Chess pillar Hanumantha is no more
On Thursday 15th April, the entire chess fraternity of Karnataka and India received the shocking news of the demise of Hanumantha Rajanna. He was the current secretary of United Karnataka Chess Association and Chairman of AICF Events Committee. A visionary administrator who took Karnataka chess to the next level. In 2006 when he became the secretary of UKCA, the state had only 40 rated players. Now Karnataka boasts of over 2000 FIDE rated players. It was because of Hamnumantha and a few other like minded individuals that Karnataka has become one of the hubs for Indian chess.
ChessBase India reached out to some of the top players of Karnataka to share their memories of Hanumantha. We produce them below:
GM Thejkumar MS
I was shocked to hear the news of the sudden demise of Hanumantha. Personally, he has helped me a lot in my goal of becoming Grandmaster. He was the person who helped me to get sponsorship for participating in international tournaments. He was instrumental in getting airfare for foreign tournaments to me as well as other players of the state from the Department of Youth Affairs. I travelled with him many times for chess events and he was very friendly. He was very passionate about chess. He has worked very much for the development of chess in Karnataka. We, the chess players of Karnataka will miss him a lot.
GM Stany G A
Hanumanthu Uncle as I fondly used to call him was a man who dedicated his life for Chess. I knew him from the time I started playing chess which was around 2001. He helped me a lot at the initial stage of my career from participating Nationals to getting financial help from State Youth Service. He was my travel partner as well for a couple of International tournaments and I always enjoyed his company. When I became a GrandMaster he came to the airport to receive me and when I won the ekalavya Award he was there to share my happy moments, When I missed IM/GM norms he would talk to me and try to make me feel better. So he was part of the Highs and Lows of my career so far. Some of the best times I remember with him was in Indonesia when he came as a Manager for the Bangalore team to participate in Asian Cities Team Championship in 2011, any round the team wins 4-0 Hanumanthu Uncle would throw us a big party, all of us had great fun during that event. Whatever chess achievements the Karnataka players have done today, Hanumanthu Uncle's contribution is there in one way or the other, His sudden demise has left a big Vacuum in Karnataka Chess and it cannot be replaced. We are all going to miss him. My prayer & condolences to Jayanti aunty and Anjan, who were his pillar of Strength.
GM Girish Koushik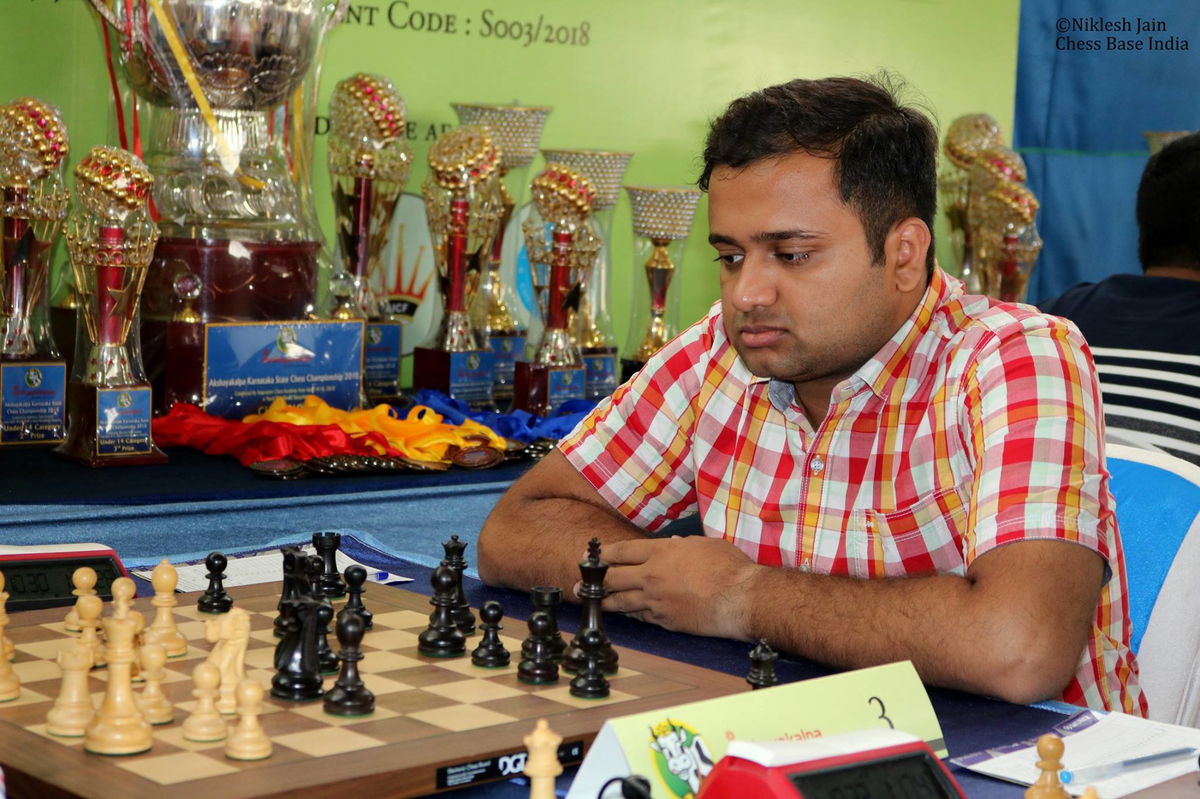 I have known Hanumantha sir for almost 17 years. When I first won the World Youth U-10 Championship back in 2006, he arranged a flight from Delhi to Bengaluru for my father and I from his own pocket. He has always assisted me with issues related to the DYES (Dept. of Youth Empowerment and Sports) and helped me secure funds for the tournaments. As a UKCA Secretary, he is single-handedly responsible for organizing many FIDE rated events and nurturing the growth of many young talents in Karnataka. I am shocked by his passing and offer my heartfelt condolences to his family. RIP.
IM D V Prasad
It is indeed shocking. I recall during my time in Bangalore, Mr. Hanumantha was always a soft spoken guy and was interested in the progress of the game in the state of Karnataka. This sudden demise is definitely very sad. Unfortunately I do not have a photo along with him, though I was associated with him during various chess activities in Karnataka.
IM Viani Antonio D'cunha
There is a collective feeling of sadness when we lose a person like Hanumantha sir. When I started playing chess, he was already a part of organizing state tournaments in Karnataka. Hanumantha sir, along with the team, had worked hard to increase the quality and strength of chess tournaments with high prize funds. He always encouraged players who were talented and had guided a lot of upcoming youngsters. He was very humble. When praised, he would divert the appreciation to his team members. He had also guided me to receive sports scholarships from Karnataka State for chess achievements. He would often remind me not to miss any strong tournaments held in the State. It is very sad to lose a wonderful person.
IM Raghunandan K S
Hanumantha sir was my first coach when I started playing chess, and even now a huge part of my play is mostly influenced by his lessons which we had when I was a kid. I learnt a lot playing in the monthly Rapid tournaments which he organized. Throughout my journey he helped us in many ways and he always supported me a lot and would motivate me to work hard to achieve my goals and I still remember the things he used to say in that matter. He also accompanied me and was the team coach for the World Youth Championship at Khanty-Mansiysk in 2016 and also to Iran for the Asian Youth championship in 2013 where I won gold. He motivated me to play well in these tournaments, another thing is that I usually wouldn't eat well during tournaments when I was young and in these tournaments he used to take care of that like my father would have. The news of him passing away was shocking. We would like to express our sorrow and condolences to his family. He will always be truly missed.
IM Pranav Anand
Hanumantha sir was a genuinely warm person. A very patient listener, soft spoken, a genuine guide and a friend to chess kids. Pranav had the good fortune to interact with him during multiple tournaments held in Karnataka. Hanumantha sir's demise is an irreparable loss to the chess community. We join in expressing our anguish on the demise of this noble soul. - Pranav Anand and his parents
WIM Isha Sharma
Yes, it was quite shocking news to hear of his sudden demise, and took quite some time to register that he is no more. He was always there for the chess players. Just two weeks back we had called him to inquire about confusions regarding the National Senior and he had assured us that there would be no problems as he was there and would take care of things. We knew of him quite vaguely before, but after he became the State Secretary, we had regular contact with him, met him in the State tournaments, and got to know more of him as a good and noble person. This will be a huge loss to the Karnataka chess fraternity and a greater one to his close ones. He will be missed.
Eulogies shared on our social channels
Sushrutha Reddy
Dear friends,
As I write this, I am yet to regain my poise after getting the devastating news that Hanumantha passed away. It was during the 90s that I got to know Hanumantha as a friend through his nephew Jayaram. It was the period when players from Karnataka were asked to go back home from various National Chess Championships - the State Chess Association was in a mess.
The 90s was a period when we were hardly having any Chess Tournaments being organized in Karnataka. It was Hanumantha along with Rajasekhar and Madhav (a genial and a very generous man) who did all the hard work by going to Court for several years to root out the corruption and eventually setting up the Association through the Court appointed Tahsildar in 2000. The whole objective was to have Events being organized in Karnataka and to ensure that the State Players do not suffer in the Nationals.
Additionally, he wanted the Players to be provided grants from the Department of Youth Services and Sports. The grants were not going to the players and the Association was dissolved by the Court which appointed Tahsildar to look after the day to day activities in Bangalore. It was Hanumantha and Rajasekhar who managed all this on their own. I would daily go to Hanumantha's house to draft various communication letters those days in the mornings at 630 am. Hanumantha's wife, Jayanthi, would daily serve Badam Milk with sumptuous breakfast. Over a period of time, both - me and Hanumantha - of us grew close and our bond grew beyond Chess.
As a teenager, I questioned Hanumantha during the 90s, "You are pouring most of your savings towards Chess to have Tournaments organized and for the sake of the Association. Please save money for your son's future too". His wife, Jayanthi immediately replied, "Sushrutha, the day he met me for the first time before marriage, he said that Chess will forever be his first wife and I was happy seeing his passion". Just before their marriage, Hanumantha's father - Rajanna - passed away. Jayanthi waited for a year to marry Hanumantha. She would always oblige me whenever I ask her if I could take Hanumantha to a restaurant to a movie. Jayanthi provided him support in every Chess Tournament he organized in life. During the 90s, she would write postcards to all players inviting them to participate in Chess Tournaments.
I must also mention before continuing further on how Hanumantha took up Chess. At LIC (Life Insurance Corporation of India), a colleague was playing Chess and Hanumantha was known to be a Kabaddi player. When Hanumantha approached his colleague to learn the nuances of the game, he was told playing Chess at a competitive level will be too much for a Kabaddi player. This challenged Hanumantha who took it upon himself to learn the game of Chess. What is even more commendable here is that he went on to represent LIC South Zone for many years at the National level.
Post 2000, we were eventually able to set up the Chess Association in Karnataka. The next step was conducting Chess Tournaments. I still remember that he made me the Chief Arbiter for all Chess Tournaments when I was still 19 years of age. Considering the age group Tournaments were receiving very less entries, Hanumantha understood that it is important to impart Chess training to Children. He brought in Durgesh upon my suggestion and both at that time trained under the banner of C.V.Raman Chess Club. He even tried to coach me to the best of his ability and I regret that I was not seriously involved at that time. My involvement with Hanumantha was related to drafting Press Releases, Press Reports, all communication related to the Association, Arbitering and going out together to movies and restaurants at least once a week. I must say that he strongly stood by me like a pillar of support when I was made the Arbiter. He supported me each time I made a mistake and it took me years to realize that I was transformed into a confident personality only due to Hanumantha.
In every Tournament where Hanumantha was at the helm as an Organizer, he would provide free food to all Parents and Chess Players. When I said let us do away from this, he said, "Sushrutha, no, it is wrong. They are like guests and we should treat them very well and make sure they don't go through the inconvenience of travelling to a Restaurant."
I must also state how much he was involved in ensuring that Chess should be played across all parts of the State. He would always stress with me that activities should be conducted to popularize the game. I have lost track of the amount that he spent from his pocket towards the Association. He would always say that Chess is something that brought him a lot of respect in life and it is perfectly fine if we give something back to the game that has brought us name and fame. Years later, I used the same principle thanks to the advice he provided to me.
Until 2009, I lived very close to Hanumantha's house. In 2009, I started drifting away from him after shifting to Koramangala in Bangalore. We spoke less and met less. However, he was always someone I was forever indebted to, considering what I went on to achieve in my Chess Career (As an Organizer, player and an Arbiter).
There have been many instances where he would go and sit at the DYSS office for a long time to initiate grants for the top players. I have lost count on this front. Since 1992, I never saw any other office bearer from Karnataka Chess Association or United Karnataka Chess Association work in such a manner - who would work so much for the benefit of the players. Growing up, I was only used to seeing people trying to take away the grants meant for the players. And then suddenly here comes a man who selflessly worked for many players in Karnataka. There has even been instances where he has even put his own respect on the line so that the Players could go abroad, achieve in International Events. All these Players I am referring to should be extremely thankful for having played in the era of Hanumantha.
The bond I shared with Hanumantha cannot be easily put in words. There always used to be an element of fondness from Hanumantha towards me - this even showed in the innumerable times he would call me in anger reacting to my various mischiefs about ten years ago. It was akin to a father taking to a son who is going astray. This is a bond that I would cherish throughout my life.
Hanumantha took over the United Karnataka Chess Association (UKCA) as it's Secretary in 2005. He left us all today, April 15, 2021, as the UKCA Secretary. He remained loyal to Chess from the time he learnt the game and as his proud student, I take pride to say that Chess is my life and my entire livelihood revolves around Chess. This turned out to be the best ever gift given to me by Hanumantha, the person I loved the most in life.
Arvind Shastry
I don't have words to express my feelings now..shell shocked! He was there with me for last 30 years when I was 15 years and entered chess he was the person believed in my game ! Because of him i qualified for National A in 2001 in Jalandhar. I was hospitalised before the round during National B in Jalandhar. This person not only motivated me to play the tournament, he sacrificed his tournament, and was near my board with glucose in the bottle throughout the first round. I can never forget that incident as I finished 5th in the tournament without a loss. All this was because of this humble and caring person. He was always there for me. RIP !
Ankith Arun Ashwath
Really don't know what to say. He was my chess mentor since a couple of years. Due to 10th Standard Board Exams, I had to stop receiving further classes from him. Just yesterday the Board Exams were called off and my first thought was to join the academy again to learn from him. A complete shock to hear this horrifying news today. He will always have a high place in my heart and may his soul rest in peace! Condolences to the family too! This is a tremendous loss for chess in Karnataka and India as a whole.
Shashini Puvi
RIP Sir. It's a great loss for Chess. Still can't believe it. He is a legend and dedicated all his life for the benefit of Chess. Remebering the trophy received from the legend Mr. Hanumantha sir on 4th April 2021 in the Karnataka state open chess class championship. 🙏🙏🙏
Halsagar Chincholimath
He was a very a calm and composed person , who raised the bar of karnataka chess to the next level. When we were kids he helped with every little thing in chess. A very humble person. An irreparable loss. May his soul Rest in peace. 🙏
Sudhakaran Kongot
Shri Hanumantha sir was instrumental in the growth of chess in Karnataka during the last 30 years or more. I cherish the moments of association with him when he guided us in arranging state and national FIDE rated chess tournaments including the National A a few years ago in Mangalore. We miss him. RIP 🙏
Vardhan Taltaje
Way back in 1980s, he was a regular in Chess Academy in DVG Road, Bangalore. I used to meet him very often there. He was very enthusiastic about Chess and used to participate in tournaments at that time and later he was also coaching youngsters. Om Shanti.
Srikant Nayak A
Hanumantha sir was one of the best coaches in Bangalore India... And very a very organised and knowledgeable coach... Learnt a lot through him and his institution... What a big loss this is 😢
Nikhilesh Prabhakar
Mr. Hanumantha was my very first chess coach. I remember everyone knowing him back then for being the King of trap openings... I am deeply saddened by this loss. He was a truly great man. His personality and demeanour was very comforting and I enjoyed every lesson he gave me. May his contributions to Karnataka Chess never be forgotten and may his soul rest in peace... 😢 I will miss you sir
Abhijit S P
Very sad news. He was my coach when I was playing chess during my school days. I'd like to recall an incident that was not just a chess lesson but was a life lesson for me and I can never forget this. I was playing a state level tournament in Mysore and in the penultimate round I was paired against the state champion. The moment I saw the pairing I mentally decided that I'll lose the game and I went and told him this. This was when he said "Never underestimate or overestimate your opponent. Just play your game." The way he said it was so convincing that all the fear just vanished, I went and played the game and had an emphatic win! This was not really about the win but it was the advice he gave me. This was a practical life lesson and I apply this even today when I'm overwhelmed with the situation I'm in. I'll continue to use this and I'll always remember him especially for this among everything else he has helped me with. RIP sir.
---