The boy who is in a hurry to become a GM - Arjun Kalyan
Arjun Kalyan is a 16-year-old who hails from the chess capital of India - Chennai. The boy was somewhere in the 2300-2350 zone towards the end of 2017. He quickly scored two IM norms, studied for his 10th grade examinations, aced it with a score of 93%, came back to the chess board, scored his 3rd IM norm in Benasque Open 2018, became an IM and then as if all of this progress was not enough, he scored his maiden GM norm at the Biel Chess Festival 2018. Arjun's performance speaks for itself. But for us it was important to understand Arjun the chess player as well. For this we have four games annotated by the young lad himself. This article gives you all the information about this fastest growing 16-year-old in Indian chess right now!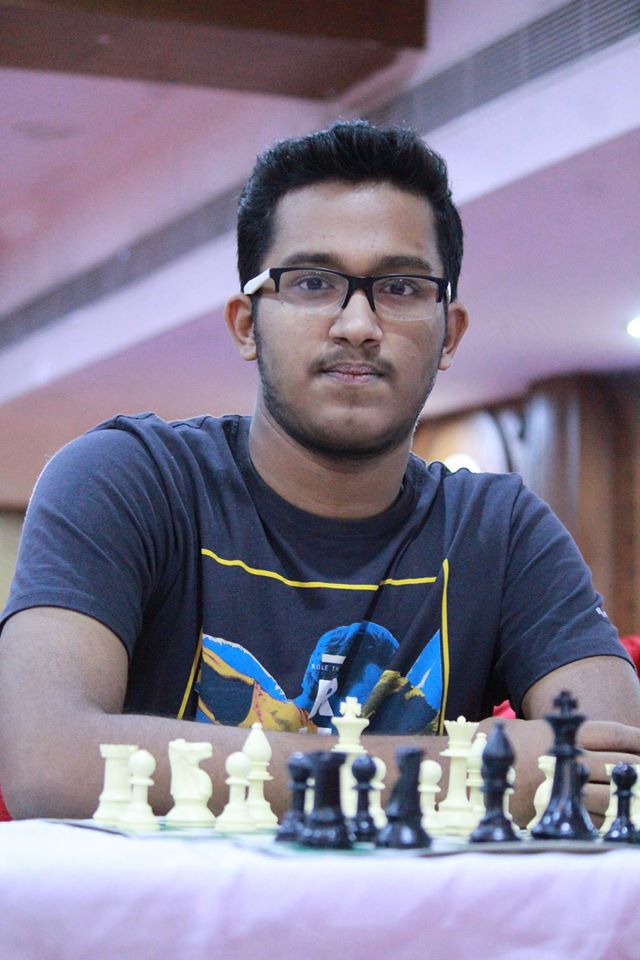 Starting late at the age of nine, Arjun Kalyan's passion and dedication for the game and unconditional support and guidance from his coaches AL Kasi, Rangan, Balasubramanian, Jaikar and Ravi at the T Nagar Chess Academy helped him progress gradually and steadily in learning and mastering the game. He got his FIDE rating at the age of 10. He began attending tournaments across India and overseas. The academy arranged GM coaching for Arjun and he was trained by Aleksander Goloshchapov along with the rigorous coaching in the academy.
Some of his impressive results include draws against legendary chess players Alexei Shirov, and Nigel Short. Arjun's inspiration in chess has been Viswanathan Anand and his most memorable tournaments have been Isle of Man tournament in 2017 where he played alongside Anand and Magnus Carlsen and Biel Masters 2018 where he achieved his first GM norm. Arjun Kalyan, at the age of 16 years has completed his IM norm formalities with the 3rd IM norm at the 38th Benasque Chess Open 2018 held recently (14th July 2018) in Spain. As if this was not enough, Arjun went on and made his first GM norm at the Biel Masters showcasing some brilliant chess.
In an interview with ChessBase India, Arjun mentions, "I am at the Biel Masters 2018 with my coach AL Kasi. He and the T Nagar chess academy have played a big role in my chess career. I have been with the academy right from when I was a young kid until today. I would like to dedicate this norm to my parents. They have always supported me in chess. Whenever I have lost, they have never questioned me as to why did I play this way and so on." A strong support system from his parents, and training academy have ensured that Arjun keeps progressing in chess.
From his first IM norm in August 2017 in Badalona, Spain to achieving his second IM norm in Isle of Man, UK in September 2017, Arjun Kalyan has come a long way. With eagerness to learn and hunger to succeed Arjun has showed all the qualities of a champion. His incredible strong character reflected on the board, when he returned after a short break (he was appearing for his class X board exams) to clinch the 3rd IM norm in Benasque, Spain in July 2018 to become an International Master. Arjun joined back in chess to pursue his dream after scoring a good 93% in his Class X exams, despite spending most of his time preparing for his chess tournaments.
Arjun Kalyan's immediate goal is to become a grandmaster and work towards making his dream a reality by achieving the World champion's title in chess in the near future. His younger brother S.Rohit at the age of 11 is also taking huge strides and is rated 1893 currently.
Understanding Arjun's playing style:
Arjun has sent us four of his games with annotations to help us understand his playing style. Let's begin with his game against GM Deepan Chakkravarthy that took place in the Dubai Open 2017. Deepan at that point was well known for his aggressive and imaginative towards the game of chess. Playing against him with the black pieces, Arjun not only controlled the tactics very well but also attacked Deepan's king without any fear when the opportunity was presented to him.
This game deserves a special mention because Arjun was able to outplay a very experienced and strategically sound GM from an endgame with equal material.
Arjun Kalyan vs Mihail Marin
What happens when your opponent catches you unprepared in the opening. Is it time to lower your ambitions and play solidly? Well, Arjun doesn't believe in that. He made logical and sound moves developing his pieces and just when the board was filled with complexities, he sacrificed material without any worry! His game against Nicholas Lubbe is something to learn from.
Arjun Kalyan vs Nicholas Lubbe
From the Biel Masters Arjun sent us his extremely complex game in which he beat GM Dan Zoler. The game was filled with great complications, but Arjun navigated them very well. He also speaks about some very nice possibilities that he missed in the game. Behind all of these annotations, you can get a feeling that Arjun is already close to grandmaster level. More exposure and tournaments and India should well get its another grandmaster!
There is a save button beneath all the games in the ChessBase India game replayer. You can click on that and replay the games in your ChessBase software as well.
A big thanks to Arjun for sharing all of his games and for Srinivasa Rangan his trainer from T Nagar Chess Academy for sharing some important details about the boy.
---