Hritik Roshan to act in 'Thej' - a Bollywood biopic on the life of India's 50th GM
We have all wanted chess to be featured in mainstream Bollywood. Now the dream is coming to fruition. A Bollywood movie is going to be released towards the end of 2018 or early 2019 on chess. And it is not on the life of Vishy Anand, but revolves around the inspiring romantic story of India's 50th and Karnataka's first GM M.S. Thejkumar. Kannada director Sunil Kumar Desai, with his chess background, showed a keen interest, to launch a Kannada movie. Bollywood picked it up from that and now the dream team of Hrithik Roshan, Katrina Kaif and Rakesh Roshan (director) will be featuring in the movie that is befittingly named "Thej".
It was a big moment in Karnataka chess when they got their first grandmaster M.S. Thejkumar. He also turned out to be India's 50th GM which made the title all the more special. When Thejkumar became a GM in September 2017, ChessBase India published a story of "How the love of his life inspired Thejkumar to become a grandmaster". In it we mentioned how Jayashree, Thejkumar's love and to-be wife, inspired him to work harder and from a 2200 rated player become a grandmaster. It was an amazing true story of love, dedication and hard work which we are used to seeing in movies. This one very much happened in real life.
A lot of people read the story published on ChessBase India and so did Sunil Kumar Desai. Followers of Kannada movies would be well aware of the name. Sunil Kumar Desai is considered to be one of the most influential and innovative directors in the Kannada film industry. And he is by no means new to the game of chess. His movie "Beladingala Baale" released in 1995 starring Anant Nag was a romantic thriller revolving around a chess grandmaster trying to find an unidentified caller who turns into the love of his life.
Speaking to Vijayavani, Sunil Kumar Desai said, "The story of Thejkumar's love is inspiring. It is a dedication to how love can inspire individuals to do something special in their lives. I have always been a follower of the game of chess and this story brought me back my days of directing the movie Beladingala Baale."
Things took an abrupt turn when director Rakesh Roshan showed a keen interest to work on the movie "Thej" and release it in Bollywood in Hindi. Talking to Bollywoodlife, an online news portal, Rakesh said, "Chess is a niche sport which has not been brought into mainstream Bollywood. Of course, a movie on the life of the superstar Vishy Anand is the most natural one, but Thejkumar's story has a romantic angle which will strike a chord with the Indian audience. Hrithik has always followed the game of chess with keen interest and I think he would be perfect for the role."
The team of Rakesh Roshan, Hrithik Roshan and Amisha Patel had given us a sensational Bollywood hit in early 2000s when "Kaho na Pyaar Hai" was released. So Amisha Patel was the natural choice to be starred in the role of Jayashree, Thejkumar's wife. However, the director took a bold decision to film Katrina Kaif. Our readers might remember that during the Maharashtra Chess League auction in 2016, Aamir Khan was asked, "Which Bollywood actress plays the best chess" and he narrated the incident where he had very nearly lost a game of chess against Katrina Kaif. It was heartbreaking for Amisha to lose the role, but it would be nice to see Hrithik and Katrina doing a film together! The popularity of chess is sure to rise.
One more thing which our readers may not know, is the fact that Thejkumar has six fingers in one of his hands, the same like Hrithik. This may not have been the most important detail, but it is a nice touch towards perfection that the film is trying to reach in narrating the events that took place in Thej's life.
Speaking to ChessBase India, Thejkumar said, " I am thrilled that a Bollywood movie is being made on my life! I am also looking forward to the Kannada one as I am a big fan of Sunil Kumar Desai. I am glad that the world thinks that my story is inspiring. Currently I am preparing for the celebrations of Kaustubh, my son's first birthday, which is tomorrow and I am also getting ready for the Karnataka State Champpionship starting from the 14th of April."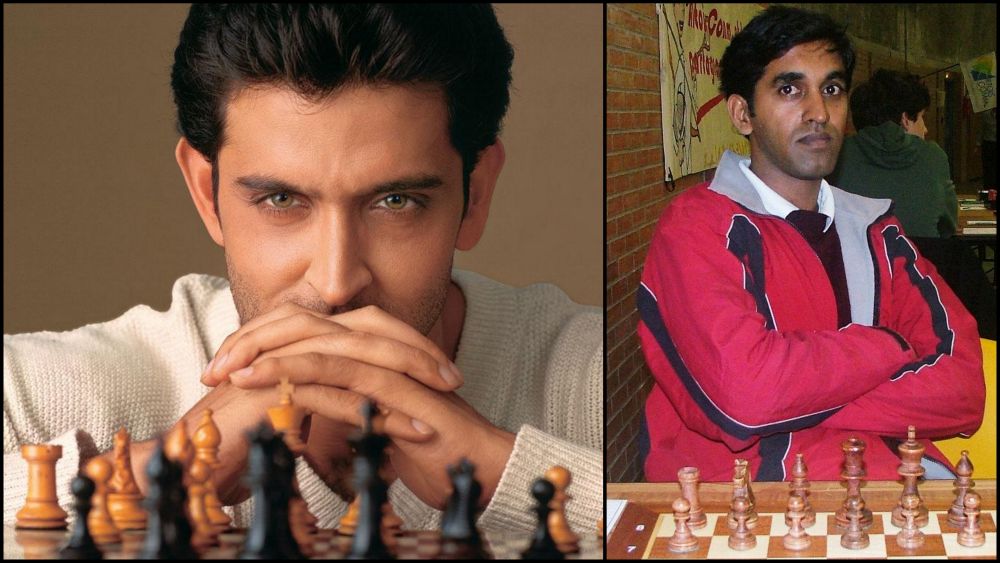 ---