The true path to chess improvement - GM Jesse Kraai
Top GMs more often than not advise amateurs to analyze their own games. But what does analyzing your own games actually mean? We acquaint you with one of the firm adherents of the concept of improving your chess by means of analyzing your chess games - GM Jesse Kraai. The American GM believes that analyzing his own games helped him reach where he is today and in this article we bring forth to you his method of analysis. It's mind boggling, it's jaw dropping but it is obvious that if you are ready to work as hard as Jesse does on his games, you will be moving along the path of chess improvement.
The Art of analyzing your own chess games
In January 2017 GM Jesse Kraai played a game against IM Michael Mulyar. Jesse was black and after holding the advantage for the majority of the game, the duel ended in a draw. After the game ended the following were Kraai's impression about his game:
"My memory of this game is that:
a) I played a mildly dubious opening
b) Then outplayed my opponent
c) Threw away the win in time pressure
d). could have perhaps create more chances in the rook ending "
He begins his analysis with the words, "Let's test this narrative."
Jesse belongs to the old school. According to him analyzing your game requires you to have three things - Pen, Notebook and a chess set. I would like to add that apart from this you also need time, patience, willpower, ability to self-interrogate and be objective. Kraai sat down to analyze his game and check out for yourself below - his analysis ran into 16 pages! I decided to put all of his analysis into a replayable board, so that you can play through the moves and his comments. You can also download the PGN file and play it on your ChessBase. Or better, try to play it out on a chess board! It took me quite a lot of time to punch in all of Jesse's analysis into ChessBase, sometimes the flow wasn't the easiest as he would move back and forth with his thoughts and ideas between the variations, sometimes his handwriting was difficult to decipher. But after finishing the work, one thing I realized was that Kraai truly wanted to get to the secrets of the position. He wasn't analyzing the game on a superficial level. He wanted to understand what really was going on and question just about every decision that he as well as his opponent made on the chess board.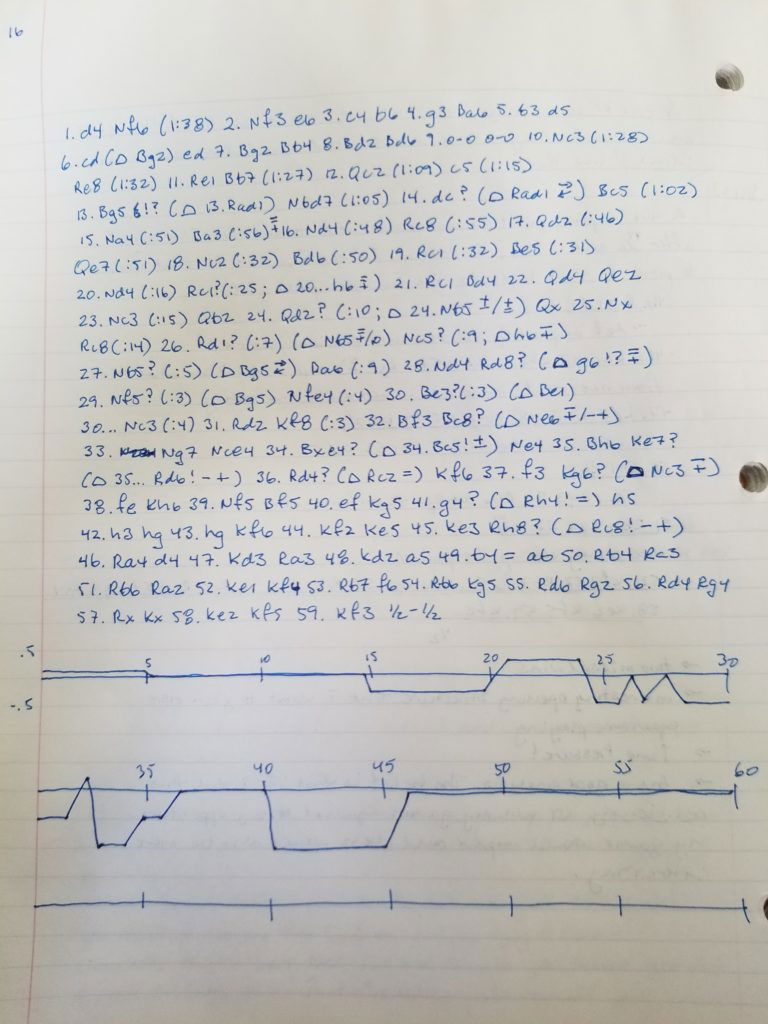 Replay the entire game
In order to understand this art of analyzing your own games better, we have invited GM Jesse Kraai, who will be the guest on a stream that will take place on 9th of October 2020 at 7 p.m. IST on ChessBase India YouTube Channel. You can tune in and ask him questions and get your doubts clarified.
Important links:
Follow Jesse Kraai's YouTube channel
Follow Chess Dojo YouTube channel
Perpetual Podcast interviews by Ben Johnson - Ep 44
Perpetual Podcast interviews by Ben Johnson - Ep 175
---