Nakamura makes a cameo in the critically acclaimed series Billions
Billions is an award winning and critically acclaimed drama tv series on Showtime Network about power politics in the world of New York high finance. Speed King Super GM Hikaru Nakamura made a cameo as himself in the second episode of the fifth season titled - 'The Chris Rock Test'. Nakamura retweeted a GIF image about his appearance on the show after the show aired on 10th May 2020, early morning 11th May in IST. This is the first appearance by an elite chess player since 2017 on an award winning American network show since Magnus Carlsen was immortalized in The Simpsons where he portrayed himself three years ago. Let's take a look at Nakamura's debut cameo in a tv series. Photo: Hotstar Stream
Speed King Nakamura appears as himself in Showtime's Award winning Billions
Without divulging any plot details for the second episode of season 5 to avoid spoilers for the fans of show, let's take a look at the part where the five-time US Champion GM Hikaru Nakamura made his first cameo appearance on a television series as himself.
The Chris Rock Test - Season 5 Episode 2
Michael Prince portrayed by Corey Stoll throws a fundraiser event/financial conference 'The Mike' where GM Hikaru Nakamura was invited to play a simul against few participants of 'The Mike'.
The first board which was quickly glanced, Nakamura seemed to have a huge material advantage against a recurring character of the series.
Now most of the time see we chess on series or movies, there are some kind of technical errors. However since Nakamura is involved, you can be rest assured that board orientation, clock position, king's placement and most importantly a real practical position can be seen. Let's take a look at the first position which was quickly glanced on camera.
Nakamura - Recurring character
A wide-angle shot reveals that Nakamura is currently playing against eight opponents. There might be more but this shot reveals eight. Of course Nakamura has played against much more in an actual simul events, but for theatrical purposes the showrunner might have decided to keep it eight to keep in line with the plot and not create a plot hole.
When Nakamura is involved, you can not only expect all technicalities to be correct but also there has to be some tactical shot and like all drama wants the player to say checkmate for theatrics, this one was no different and you wouldn't be disappointed as the Speed King does a pretty checkmate against Oscar Langstraat (real name Mike Birbiglia).
Nakamura - Oscar Langstraat
Nakamura returns after Kxg7 to deliver double check with Nf5. You have to give credit to the nuances, they showed Nakamura to return to the board and leave after making the move, instead of directly cutting the scene to Nakamura making the next move which means they kept the simul continuity vibe in tact.
To show the entire combination, we see Black making the move Kg8.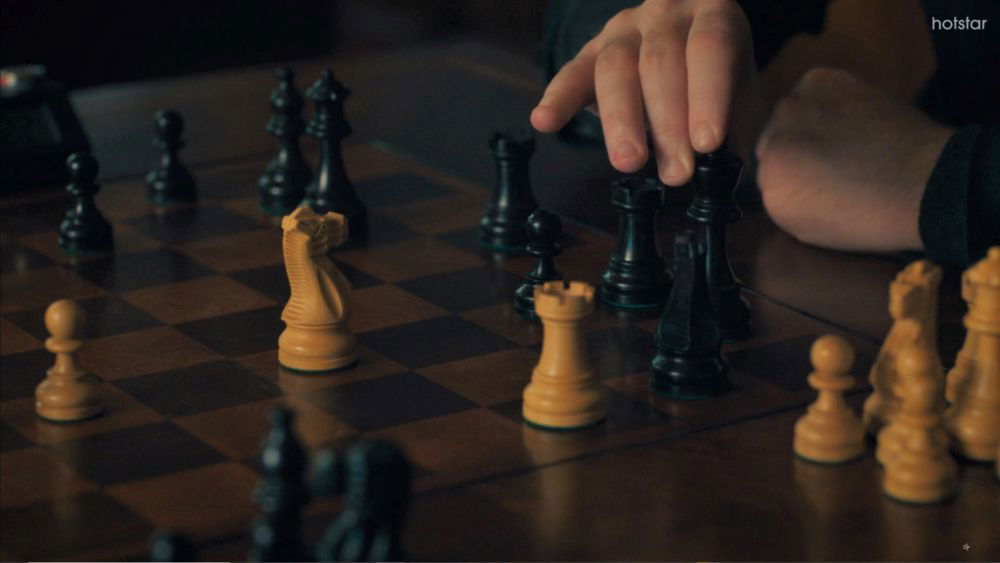 Since it was a clock simul event, we see the camera cut to the other side to show Black pressing the clock. Throughout the event the clock time was not shown so it is difficult to say how much time was allotted in the simul.
In the next scene, we see Black capturing the rook at g6 with fxg6, so Nakamura's Rg6+ was not shown on camera. Just like an amateur Black puts the captured rook down before pressing the clock.
The camera pans to Nakamura's hand delivering the final blow of Nh6# and then he utters the only words in his entire cameo: "Checkmate, good game".
Nakamura then puts his hand forward for a handshake.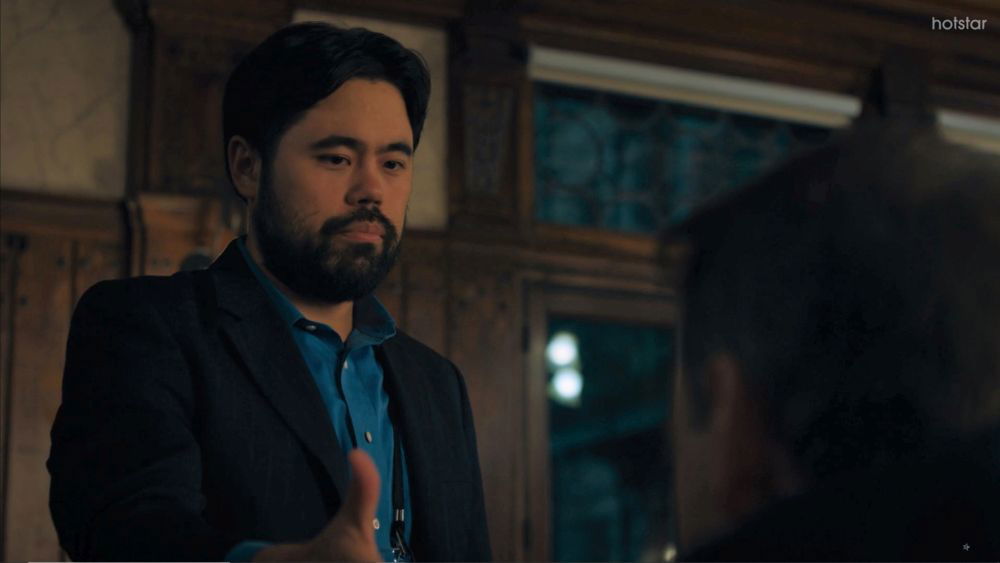 His opponent says, "Particularly quick, Hikaru" and then Hikaru nods and exits the frame. Thus comes the end of Nakamura's first television appearance.
Here is Nakamura's retweet of the show Billions tweet, mentioning the fact that it was his debut at a television show.
Hikaru also posted an image on his instagram with his co-star Asia Kate Dillon and wrote: "Just a random pic with the super talented @asiakatedillon on the set of #billions !!"
Actor Mike Birbiglia, the one who was checkmated on the episode, tweeted this
Overall Nakamura was quite impressive in his debut in just over a minute-long of his appearance. I don't follow Billions, although many of my friends do. They are quite big fans of it and they loved this episode too.
I think Super GMs portraying as themselves can make the general audience accept them better than the chess superstars playing the universally acclaimed popular characters. Then obvious comparisons will start and the hardcore fans might get upset. Which favorite chess players of yours would you like to see in a series or movie and what role would you like them to play? Let us know in the comments below
Watch the entire episode of Billions Season 5 Episode 2 - The Chris Rock Test on Hotstar. Play Speed Chess against Nakamura sign is first shown at 28:38
Links
Hikaru Nakamura on twitter, fb, instagram, youtube and twitch
---