Gukesh begins as the youngest participant at the Shanghai Haiwan Cup
The Shanghai Haiwan New Star International Chess Tournament 2019 is being held in China from the 3rd to the 10th September 2019. Four Chinese youngsters and four talents from all over the world - India, Iran, Russia and Armenia, will fight it out against against each other in a Round Robin event. While all the players are either born in 1999 or 2000, Gukesh is the youngest participant, born in 2006. Having recently been trained by 14th World Champion Vladimir Kramnik, Gukesh is on a high. It will be interesting to see whether he will win the event ahead of strong players like Haik Martirosyan, Bai Jinshi, Li Di and others. An introductory report with pictures from the tournament venue.
Chinese Chess has been investing in its top players by inviting players like Anish Giri, Wesley So, Sergey Karjakin and many others and organizing matches between them and Ding Liren or Yu Yangyi etc. Now the national association has decided to work hard on creating the right atmosphere for their youngsters as well. Four Chinese players - Bai Jinshi, Li Di, Liu Yang and Dai Changren will take on four world stars Haik Martirosyan from Armenia, D. Gukesh from India, Semen Khanin from Russia and Arash Tahbaz from Armenia in the seven game Round Robin event. Gukesh is nearly six-seven years younger than all other participants.
Starting rank list of players
The tournament brochure had a picture of all the players along with their achievements. We publish them here so that you get to know the players better.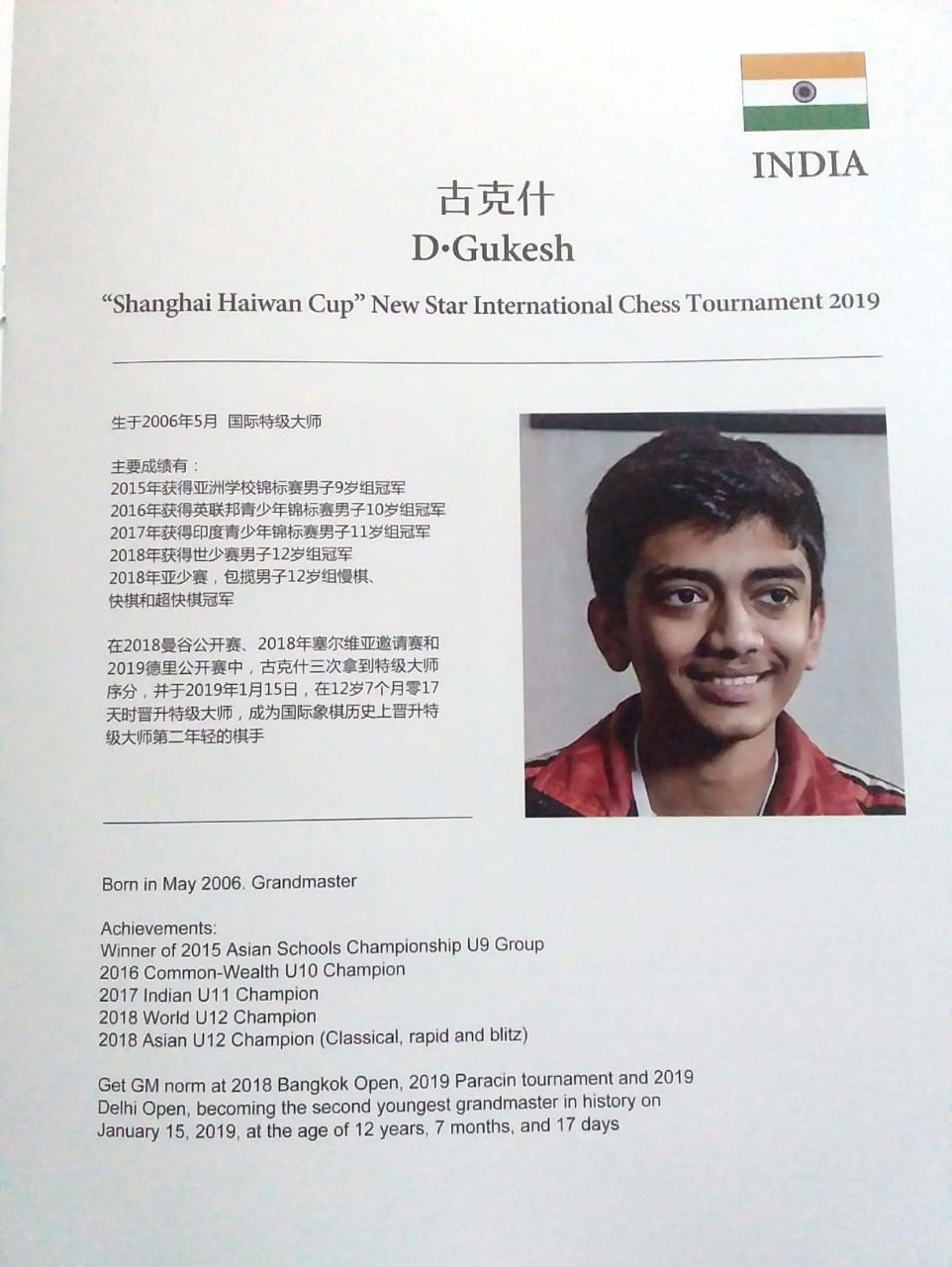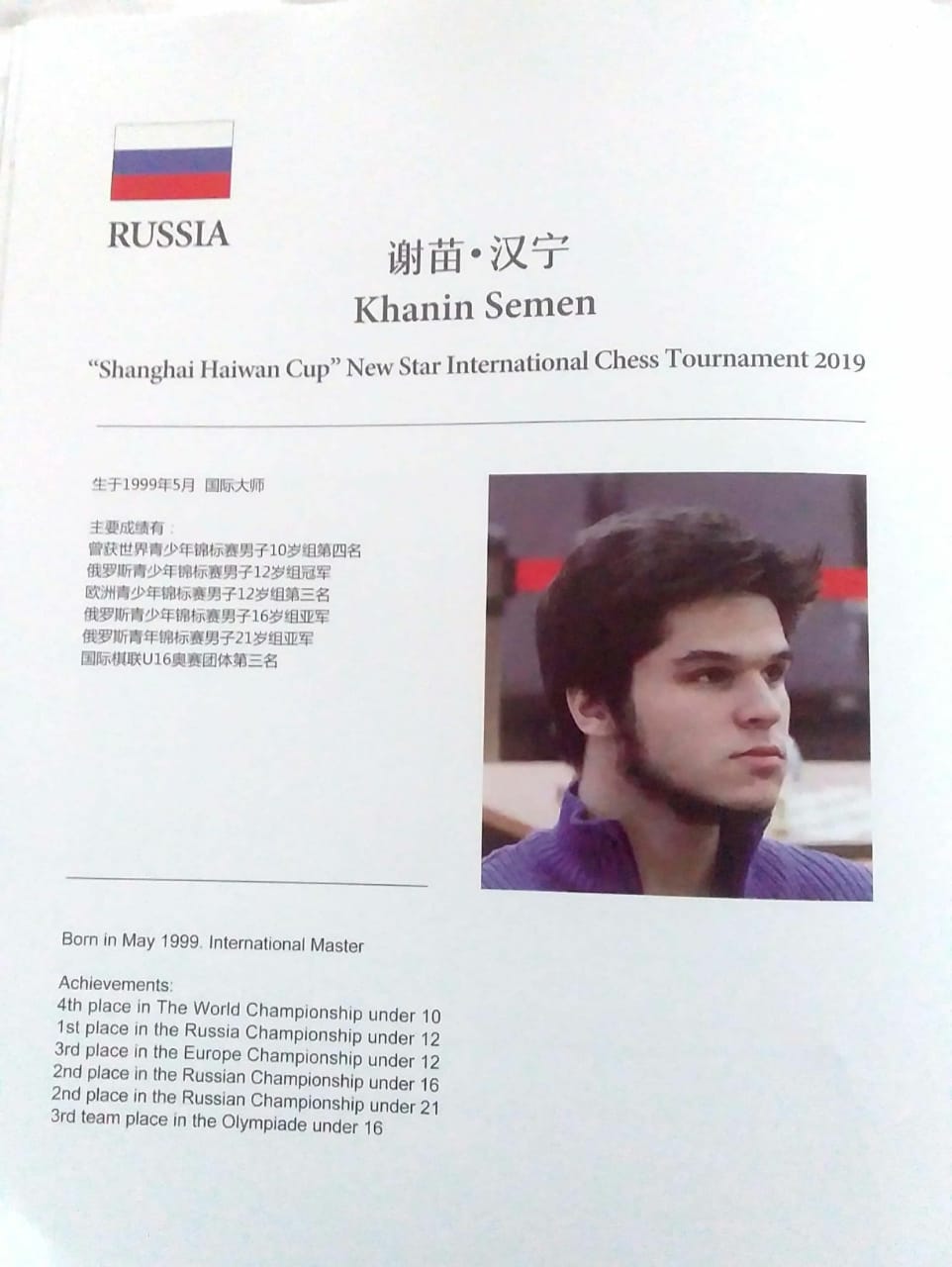 The game between Gukesh and Khanin was quite successful for Gukesh as he managed to equalize and score an easy draw with the black pieces.
The first round saw only one decisive game with Dai Changren playing extreme attacking chess to beat Li Di. The game was filled with ups and downs and finally it was White who came out on top.
Rank after Round 1
| | | | | | | | | | | |
| --- | --- | --- | --- | --- | --- | --- | --- | --- | --- | --- |
| Rk. | SNo | | Name | FED | Rtg | Pts. | TB1 | TB2 | TB3 | TB4 |
| 1 | 2 | IM | Dai Changren | CHN | 2512 | 1,0 | 0,0 | 1 | 0,00 | 0,0 |
| 2 | 1 | IM | Khanin Semen | RUS | 2503 | 0,5 | 0,0 | 0 | 0,25 | 0,5 |
| | 3 | GM | Liu Yan | CHN | 2524 | 0,5 | 0,0 | 0 | 0,25 | 0,5 |
| | 4 | GM | Martirosyan Haik M. | ARM | 2608 | 0,5 | 0,0 | 0 | 0,25 | 0,5 |
| | 5 | GM | Bai Jinshi | CHN | 2591 | 0,5 | 0,0 | 0 | 0,25 | 0,5 |
| | 6 | IM | Tahbaz Arash | IRI | 2471 | 0,5 | 0,0 | 0 | 0,25 | 0,5 |
| | 8 | GM | Gukesh D | IND | 2535 | 0,5 | 0,0 | 0 | 0,25 | 0,5 |
| 8 | 7 | GM | Li Di | CHN | 2538 | 0,0 | 0,0 | 0 | 0,00 | 0,0 |
Live Games begin at 10.30 a.m. IST
---