GCT Leuven: Anand makes a nice comeback; So's lead narrowed to half
Blitz is one of those time formats that unmasks the mortality of even the greatest wizards of the game of chess. In Leuven at the first leg of the Grand Chess Tour, the first day of blitz began with some ingenious attacks, mindboggling blunders and incredible saves. More than once, bigwigs like Anand, Aronian, So etc were seen leaving pieces en prise, hanging checkmate in one and missing elementary knight forks! We have an illustrated report on all the action.
Blitz Begins!

After a disheartening last-place finish in the rapid leg of the Leuven Grand Chess Tour, Vishy Anand made a nice comeback in the blitz. But despite this, Anand is still ranked eighth in the ten-player field with an overall score of 10/27. That is mostly because of Anand's dismal showing in the rapid leg, however. In the blitz, Anand scored 5 points out of his nine games and was the third highest scorer of the day along with Alexander Grischuk and Hikaru Nakamura who also scored 5 points apiece.
Former world championship challenger, Sergey Karjakin was the highest scorer of the day. He scored a whopping 6.5/9 and remained unbeaten in the first half. The current world championship challenger, Fabiano Caruana, however, finished the day miserably. He only managed to add 2.5 points to his score out of his nine games.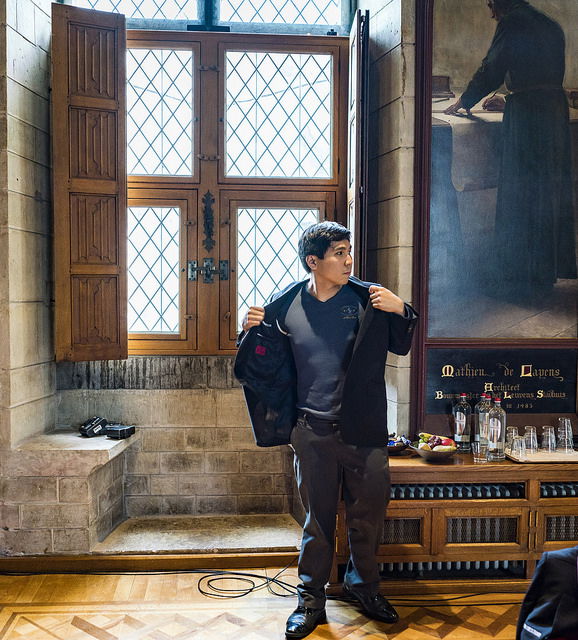 Tournament leader, Wesley So slowed down significantly in the faster time control. In his nine games, Wesley scored 4 points. He is still leading the tournament, but with a lead of only 1.5 points. His current overall score stands at 18/27. Aronian and Karjakin are his nearest rivals with an overall score of 16.5/27.
Anand overcomes his bad form
The very first round of the blitz saw as many as three decisive results. And the best of these, for the Indian fans, came from the game between Anand and Fabiano Caruana. Anand had the black pieces in the Rubinstein variation of the Nimzo-Indian Defence where Caruana grabbed space on the queenside with a pawn expansion on the wing. Anand reacted well planting his bishop on the c4 square. Eventually, this bishop was traded by Caruana for its white counterpart. This gave Anand a potentially strong passer on the queen's wing. And Anand made the most of this passer's potential. Establishing an iron grip on the queen rook file, Anand succeeded in penetrating into the enemy camp and push his passed pawn to the queening square. Caruana had to give up a full piece to stop this pawn but wasn't able to last too long after this.
Anand had definitely got the start he was looking for with this victory but the Indian ace wasn't able to keep up the momentum in the succeeding rounds. Having drawn his next two games against Shakhriyar Mamedyarov and Wesley So rather easily, Anand went on to lose shockingly against Sergey Karjakin. In an Italian Opening, Anand had the white pieces and a decent position when he miscalculated a tactic on his 18th turn and went down a full piece.
Anand vs Karjakin
Perhaps Anand missed that the knight on e7 was defending the queen given that he tried pinning the e4 knight after Karjakin replied with 18...Nxe4 by playing 19.Qc2. It's hard to believe someone like Anand could miss something so simple. But life is tough when blitz is the time control. It just took five more moves after this for the game to end in Karjakin's favour.
This game also began with the Italian opening but with Anand having the black pieces. Aronian misplayed the opening and Anand duly refuted his opponent's misplay with a nice tactical sequence that earned Anand a rook and three pawns in exchange for two minor pieces. But at the end of this sequence, all of Aronian's pieces were ready to take a plunge at the enemy king. In a longer time control, Anand would surely have found the best defence. But with the clock ticking down, Anand made a fatal inaccuracy on his 24th turn and this just spelt doom. Aronian gave up a full rook to break through to the black king and by the 32nd move, had hunted down Anand's king all the way on the other side of the board.
Nakamura had played a strange version of the Queen's Gambit Declined in which he had ended up with weak queenside pawns as the middle game approached. With clear targets to attack, Anand coordinated his heavy pieces on the queenside to win material. In his desperation to salvage the situation, Nakamura tried resorting to tactics but ended up miscalculating and dropped a full piece (just like Anand had against Karjakin!). Nakamura limped on for a few more moves but by move 33, it was curtains.
In his next game against Alexander Grischuk, Anand was a dead duck at several points in the game. Grischuk, however, missed all of these opportunities and allowed Anand to make a comeback multiple times. A big opportunity came towards the end of the game when Anand, on his 71st move, had blundered mate in 1! Grischuk at this point was expecting his king to be checked and had touched the king without correctly seeing what his opponent had played. And thanks to the touch move rule in chess, Grischuk wasn't able to deliver the mate. Dejected, he shook hands to sign peace immediately.
After this rollercoaster ride, Anand played a relatively calm draw against Giri in the penultimate round before finishing the day off in style by beating Maxime Vachier Lagrave in the final game of the day.
Meanwhile Wesley So also strode forward gallantly scoring four points out of his first seven games. But back to back losses in the last two rounds narrowed his lead down significantly.
His game against Nakamura in the final round was quite an incredible one. Theoretically, the endgame should have been drawn; Black (So) had a rook and knight against white's rook and pawn. But with little time on the clock, keeping an eye on all of the jumps of the crafty white knight turned out to be too difficult a task for So. In the position given below, he blundered catastrophically.
With seconds remaining on the clock, So answered Nakamura's 84...Ne3+ with 85.Kf2?? and was forced to resign after 85...Nd1+. On any given day, So would not have blundered like this. But as they say, there are no heroes under time pressure.
Currently, So's three-point lead has been halved to only 1.5 points and with 9 more rounds to go, it might even dissipate. As for Anand, he has no chance of coming anywhere close to the title but with his ongoing form, he can be expected to win a few more games and climb a few more spots up the leaderboard.
Standings
About the Author
Aditya Pai is an ardent chess fan, avid reader, and a film lover. He holds a Master's in English Literature and used to work as an advertising copywriter before joining the ChessBase India team.
Previous reports
Leuven Grand Chess Tour Day 1: Anand's shaky start puts him at the bottom of the leaderboard
GCT Leuven Day 2: Anand continues to struggle with form
GCT Leuven Day 3: Anand finishes at the bottom; So wins the rapid
Coverage on Firstpost
Leuven Grand Chess Tour: Viswanathan Anand off to disastrous start with two straight losses on Day 1
Leuven Grand Chess Tour: India's Viswanathan Anand Continues To Struggle On Day 2; Wesley So Keeps Lead
Leuven Grand Chess Tour: Viswanathan Anand Ends Rapid Leg At Bottom Of Table, Wesley So Tops Chart
---