Dubai 2020 World School: Velammal Nexus tops Group A
Velammal Nexus stormed into the Knockout stage by completely mowing the competition in Group A of Dubai 2020 World School Tournament. They topped the Group by winning all five of their games finishing with 100% score of 15.0/15. Saco Oliveros (PER) secured second place 13.0/15. Gujarat State Chess Association scored 11.0/15 to finish third in the same group and advance to the Knockout stage. Velammal Nexus and GSCA are the only two Indian teams in the KO stage, with the former being the star-studded tournament favorite. Mongolia is the only other country to have two teams qualified in the Knockout stage. Photo: Patricia Claros Aguilar
Gujarat State Chess Association also advances to the KO stage
A total of 81 children from ten countries - Czech Republic, Hungary, India, Israel, Mongolia, Peru, Spain, Turkey, United Arab Emirates and United States of America are taking part in the Final stage. Total 12 teams will play in the Knockout phase. The almost yearlong tournament witnessed the participation of over 2600 children from 54 countries across the world.
Velammal Nexus topped the Group A with 100% score of 15.0/15. D Gukesh, Praggnanandhaa and Leon Luke Mendonca are at 100% score 5.0/5, 5.0/5 and 4.0/4 each, IM Pranav V, Rindhiya V and CM Mrithyunjay Mahadevan contributed a valuable 2.5/4, 3.0/5 and 2.0/2 each respectively.

The only other Indian team to advance to the knockout stage is Gujarat State Chess Association. The team finished third in the same group with a score 11.0/15. WFM Dhyana Patel is the top scorer of the team 4.5/5, followed by Vrandesh Parekh 4.0/5 and Swayham P Das 2.5/3.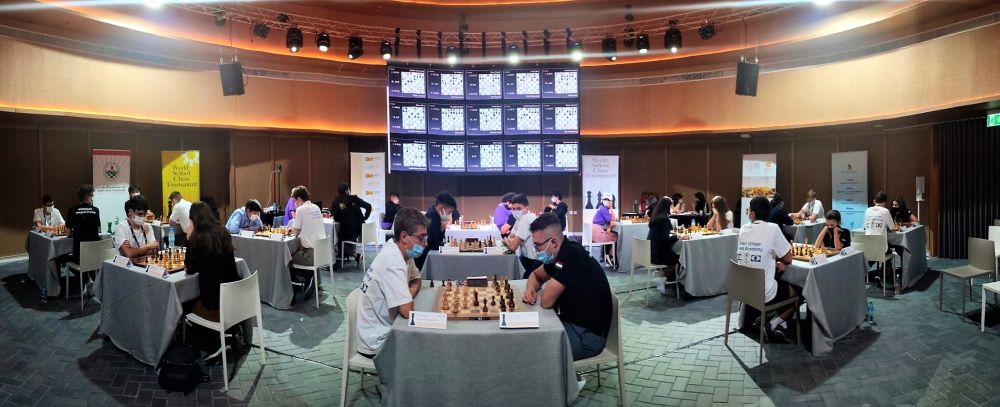 The time control is 20 minutes each + 10 seconds each. The Preliminary phase took place between 10th December 2020 to 5th March 2021. Qualifying stage was held from 6th March to 30th April 2021. Semifinals were held between 1st May and 18th June 2021. Until now, all stages were played online at chess24 platform. Now the Finals are being held at the Spanish Pavillion in Dubai Expo 2020 between 25th and 29th November 2021.
Replay Group A games
Replay Group B games
Group A standings
Group B standings
Links
---