Commonwealth 2022 R5-6: Mitrabha regains his sole lead
GM Mitrabha Guha regained his sole lead by defeating GM Venkatesh M R in the sixth round of Commonwealth Chess Championships 2022. He moved to 5.5/6. Currently GM Aravindh Chithambaram and IM P Shyam Nikhil are the only two players trailing by a half point at 5/6 each. Both Shyam and Aravindh halted GM-elect IM Pranesh M and CM Gaurang Bagwe's phenomenal run by defeating them respectively. WGM-elect WIM Sakshi Chitlange lost to GM Visakh N R after scoring a win against GM Neelotpal Das in the fourth round. WIM Bhagyashree Thipsay and Sakshi are currently top female scorer at 4/6 each. Round 7 in the Open section starts today at 4 p.m. local time and IST. Photo: Chess Federation of Sri Lanka
Lots of medal hopes
Indian kids are doing fantastic in all age groups. Multiple Gold medals might get confirmed with a round to spare if the children can continue with their current form.
Open Round 5: Pranesh - Iniyan: 1-0
GM-elect IM Pranesh M (2438) continued his great form as he defeated GM Iniyan P (2534) in the fifth round.
15...Bxd5 16.exd5 Rb8 would have been fine for Black. 16...Nb6 was an unforced error 16.Nxe7+ Qxe7 17.Bxb5 d5 18.a4 Nxe4 19.Nxe4 dxe4 20.Be3 Nd5 21.Bc5 and White got a decisive advantage which he had no trouble converting into a win.
Venkatesh - Deepan: 1-0
GM Venkatesh M R (2470) finished off GM Deepan Chakkravarthy (2461) in a 14-moves miniature.
Rithvik - Gaurang: 0-1
13-year-old CM Gaurang Bagwe (1965) beat his second consecutive GM of the event, Raja Rithvik R (2452).
Black is making a simple checkmate threat at g1. What is the best way to deal with it? The simplest one is to trade the queens. 38.Qxd4 Bxd4 39.Be1 would have negated any deadly threats. White blundered 38.Bf2 Qxf4+ 39.g3 Qd2 and White is about lose some more pawns. 40.e6 fxe6 41.Kg2 Bxf2 42.Nxf2 Ne3+ and it's over.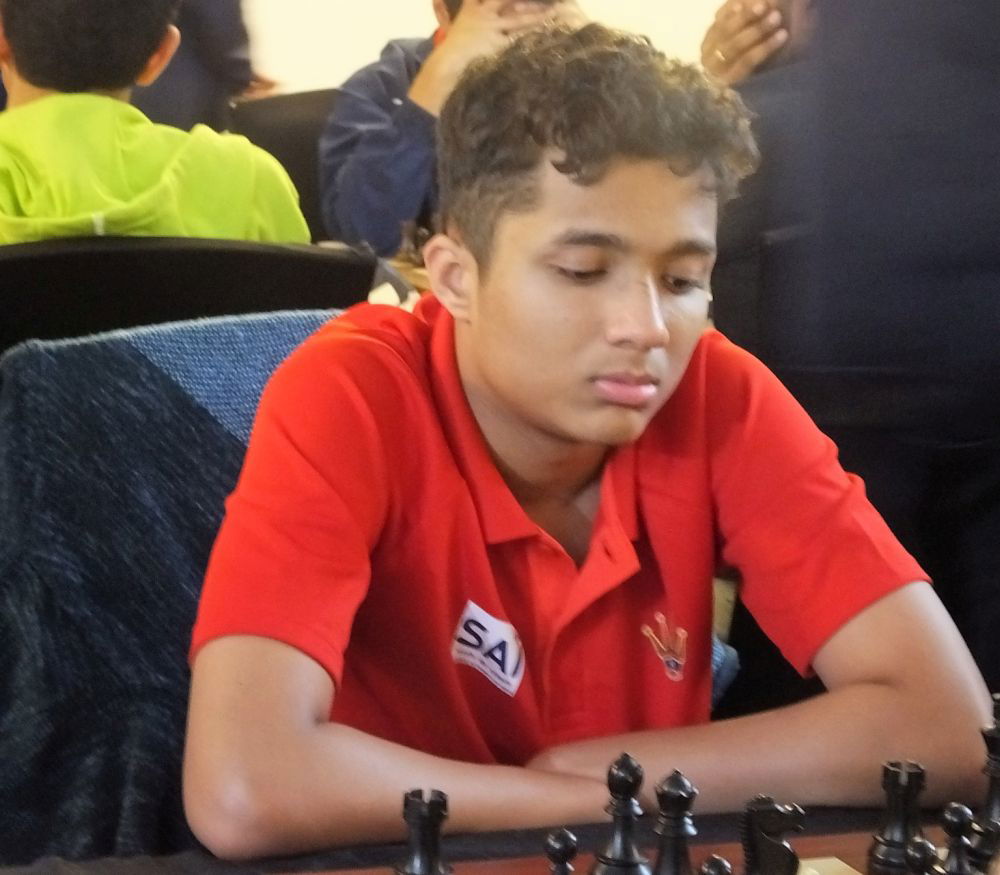 Sakshi - Neelotpal: 1-0
WGM-elect WIM Sakshi Chitlange (2208) thwarted GM Neelotpal Das' (2400) attempt to disintegrate her position. Instead, she used nice tactic to gain two pawns.
Try to find out why 23...c3 was a mistake. Sakshi correctly punished her opponent's mistake and won the game with precise play.
Round 6: Mitrabha - Venkatesh: 1-0
GM Mitrabha Guha (2474) got a substantial advantage when his opponent GM Venkatesh M R (2470) made an early positional mistake.
20.Nxe6! is a nice way to exploit Black's weak king. 20...Bb7 21.Nf4 Nxe5 22.Qb3+ Kh8 23.dxe5 Bg5 24.Bb5 Qe4 25.Qh3+ and Black resigned.
Shyam - Pranesh: 1-0
IM P Shyam Nikhil (2489) ended IM Pranesh M's (2438) fantastic unbeaten run at the event.
Sometimes the best thing to do is not react. Black did not require capturing on g4. 20...Qf7 would have held things together on the kingside. 20...fxg4 invited all trouble 21.Ne5 Bxe5 22.dxe5 Qf8 23.Qg6 and Black's position is falling apart like a house of cards.
A total of 94 players including 12 GMs, 7 IMs, a WGM and 3 WIMs are taking part from Bangladesh, England, India, Maldives, Pakistan, South Africa and Sri Lanka in the Open category. The nine-round Swiss League tournament is organized by Chess Federation of Sri Lanka from 14th to 22nd November 2022 at Citrus Hotel in Waskaduwa, Sri Lanka. The time control of the tournament is 90 Minutes + 30 seconds increment from move no.1.
Replay Round 5-6 games
Round 6 results in Open
Round 7 pairings in Open
Links
Chess Federation of Sri Lanka: Official site and facebook
---