Chesspa's journey to Indore!
Those of you who follow ChessBase India regularly, have definitely heard of "Chesspa in Chess Adventure Park." This is a passion project of Amruta Mokal, the COO of ChessBase India. She teamed up with Ketaki Kulkarni and Sagar Shah and together they created a book that is a very unique offering for young kids to learn the game of chess in a fun and interactive way. I took a few copies of the book while travelling to Indore for covering the MPL 35th National Under-9 Championships, intending to promote the book and spread awareness about this project! I'll try to write about my experience with the book itself below, and what people had to say. Photo: Himank Ghosh
The very first day
The shipment of books actually arrived at the venue after the 4th round of the MPL 35th National Under-9 Chess Championships, which was the assembly hall of Indore Public School. I decided to set up a small stall just outside the Entrance gate of the playing hall, which was also the volunteer Team's helpdesk.
My first order of priority was to give a short introduction to the players and parents about " Chesspa in Chess Adventure Park". But when exactly to do it? Doing it outside of the playing hall seemed impractical, so I talked about this the head of Organizing committee of the National Under-9 Championships 2022, IM Akshat Khamparia. He readily agreed in giving me a short slot to speak before the round alongside the chief guest! Even though the speech was just about a minute long, I was able to share some of the key points of the book, and invited parents and players alike to come outside and check our stall.
My schedule was usually the following: arrive at the venue around 1 hour before the round starts. set up the books in stall, go set up my workstation, and then it was a to-and-fro from the Bookstall to the playing hall throughout the round. IM Akshat Khamparia and Dr. Sunil Somani from the Organizing committee were kind enough to give their time for this picture!
Two other people I would like to immensely thank are Mr. Mudit Thakkar (Edupreneur, former Madhya Pradesh State-level chess player) and India's 3rd Grandmaster, Pravin Thipsay. I showed our book to them, and both of them were amazed by the idea!
The first person who brought a copy of Chesspa in Chess adventure park was actually the 2018 World Amateur Champion (U-2300 category), FM Arvinder Preet Singh! His son and daughter liked the book very much, and immediately delved into the journey to the Chess Adventure Park with Chesspa.
What did the players and parents think?
Since this is a classical tournament with the time control of 90 minutes + 30 seconds, each round lasted around 4 hours approximately. Since this is an Under-9 event, every player was accompanied by their parents, and they had plenty of space to wait while the round was going on. This was the time when parents and players who just finished their games would come to check out Chesspa in Chess adventure park!
The original cost of Chesspa in Chess adventure park is Rs. 799, but here we were selling it at Rs.499, at a 37% discount! These were some of the most-asked questions by the parents, which I'll also try to answer here:
What is this book about, and who has written it?
Chesspa in Chess Adventure Park is a passion project of Amruta Mokal, the COO of ChessBase India. She teamed up with Ketaki Kulkarni and Sagar Shah and together they created a book that is a very unique offering for young kids to learn the game of chess in a fun and interactive way. The Character of Chesspa will take the player in a fun ride through the Chess Adventure Park, learning all things about chess in a very creative manner, with vibrant colors and cool stickers!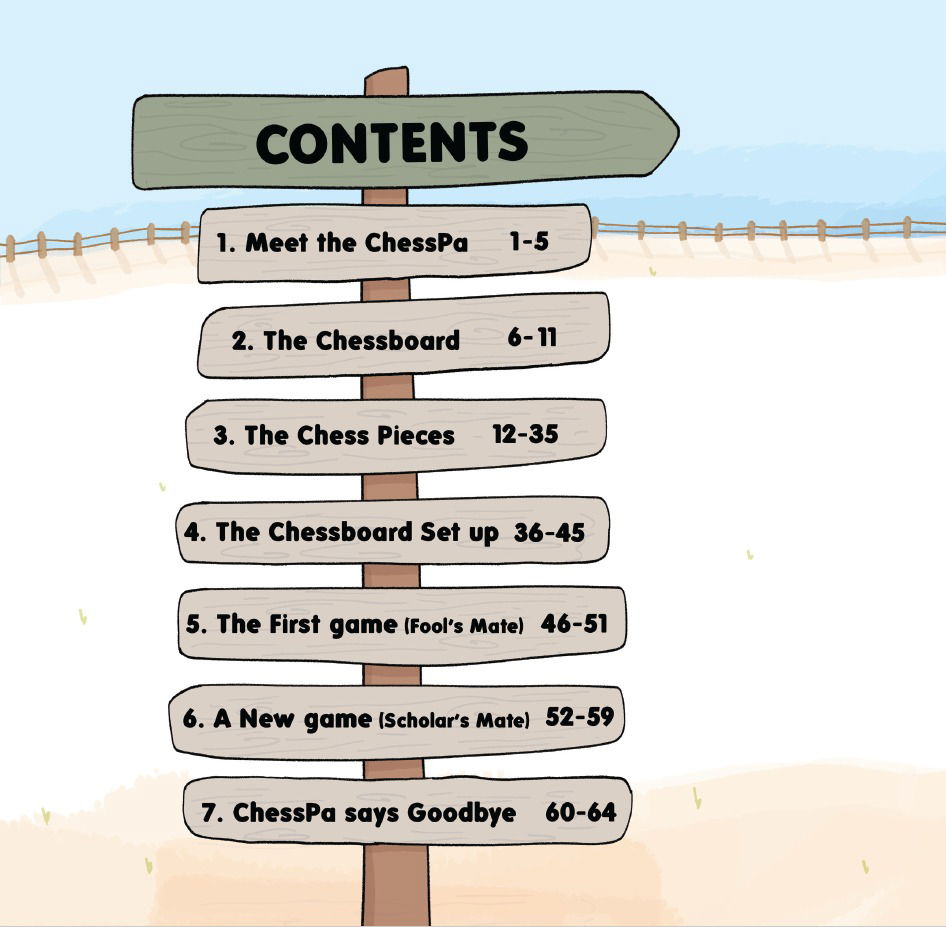 My children are already playing the Nationals. Will this be useful for them? This books seems to be for small children who are beginners.
It is true that the age demographic which we are targeting towards with this book is mostly small children who are not yet familiar with chess. But even then, there were lots of players coming up after finishing their games, glued over the characters of the book! It was a fun challenge for them to identify the pieces without looking at the descriptions, also following Chesspa through his journey. Even if this isn't the most instructive book for them, it was fun to read!
How will this book benefit a beginner?
While there are a lot of serious books being written about chess by great authors which will deeply improve your chess understanding, what we noticed was there is no book available for beginners to learn chess in a fun way. If a child is introduced to chess for the first time, it may come across as a boring game with complicated rules. That is exactly what we are trying to avoid, by creating a book which teaches chess to the player without delving into too much of technical jargon. The pawns and pieces are animated skillfully by graphic designer Ketaki Kulkarni, making them look like someone who the kids can be friends with, like a TV Cartoon character. Also, Chesspa's entertaining commentary keeps them hooked, thinking as if they are actually inside the Adventure park! This also helps instill a love for chess, which ensures they will continue playing the game for a long time. An altogether great option for promoting chess literacy!
This is a very small book. Isn't the price a bit much for a book of this size?
While this might seem like just a thin book, this is not overpriced at all. Here are some of the features of Chesspa in Chess Adventure Park:
1. 64 pages
2. Square sized book 8.5 x 8.5 inches
3. Foam padded cover
4. High quality premium pages
5. Interactive back cover of the book that can be used as a chess board
6. Two sheets of Reusable stickers with chess pieces and ChessPa
7. A perfect book to introduce any kid to chess from the age of 1 year onwards
If you consider the printing cost, the publishing cost and the amount of hardwork put in by Amruta Mokal and Ketaki Kulkarni in producing this book in just 9 months, working day in and day out, this is a very fair price for the book!
Thoughts of the tournament officials
I also showed the book to the Arbiter team and the organizing committee of the National Under-9 Championships 2022. A lot of them enjoyed the concept, and said this will be a super helpful book for a coach!
My own takeaways
This was my first time travelling to such a big event for media coverage, and it was also my first time doing any kind of sales work. Well, with a product this amazing, my job was very easy! I have to thank all of the parents and players who came to our stall and spending their valuable time. A big thank you must go to the volunteer team of the MPL 35th National Under-9 Championships 2022. Whenever I was going inside the playing hall to take some photos or shoot some videos, they took over the stall and would patiently answer people with whatever information I had given them about the book! Without their support, this would have never been possible.
The thing which I was the most happy about, is how the chess fever is spreading all across India. Parents and players are so much aware of what's going on in the chess world! And that is our ultimate goal with this book - who knows, someday a kid will read this book to start playing chess and go on to become India's next Grandmaster?
Important links
MPL 35th National Under-9 Championships Final report
---