ChessPa in Chess Adventure Park reviews
A lot of things at ChessBase India are community driven. That's the reason why when we launch something we are very keen to get the feedback of the people who have used it. We launched "ChessPa in Chess Adventure Park" - an illustrated children's chess book on 14th of November 2022, a year ago. We wrote to all our customers on what was their feedback with regards to the book. And many of them replied. We share their reviews with you!
ChessPa turns 1-year-old
Exactly a year ago on the Children's day - i.e 14th of November 2022, we launched the ChessPa in Chess Adventure Park - a children's book to introduce young kids to chess. Our hope was that parents would be able to teach their young ones chess at a very young age. And with this in mind we launched this book which could be introduced to a 1-year-old kid and could go all the way up to any age.
You can know more about the book from the article that we had published a year ago! We wrote to our customers who bought ChessPa in Chess Adventure Park over the last year and asked them for the review of the book. And this is what they had to say:
Reviews of ChessPa in Chess Adventure Park
"Loved it! My daughter absolutely loved the book and has a newfound interest in chess. It is very well written with attractive imagery and characters making it an easy and interesting read. Thank you". - Ruta Gupta
"Dear ChessBase, My daughter is 4 years old and I have read her the book a few times along with a physical chessboard on the side. She liked it as well as the process of arranging chess pieces on the board. We will continue with this and hopefully she will pick up chess later in life - we shall see. It is a good book and fun to read to children." - Somnath Basu
"It's such a great book introducing chess in a fun and engaging way to kids. My 5 year old loved it and we are looking forward to more such future books. I have taught chess to my kid at an early age, and I feel this is the right age to get started. But you have to be really creative with kids of this age, when introducing a complex game like chess. And I felt there was a dearth of comic books or content for 3-5 year olds. I can see a natural progression of this, extending to introducing tactical concepts like Pins, skewers, Forks etc. in a fun comical way. Also some good habits like staying focused, team work, decision making etc. which are some fundamental life skills that Chess teaches. Not all parents understand and appreciate these benefits of Chess as there is unawareness. But with the right content and message more parents will buy-in. This could potentially be an entire series with fun characters and stories, while planting chess concepts in a subtle way. Apart from this, quality was great and priced rightly. Great concept of stickers!! This targets absolute beginners. I believe there should be a good opportunity to have stuff for kids who are nearing intermediate level, but are still kids and can absorb chess with fun. Really appreciate all the stuff you guys are doing for Chess in India. More force to you all :) Thanks." - Abhishek
"Thank you for reaching out. Yes, I placed the order same day I got to know about its launch through Sagar in one of his live videos during a match. My Daughter Kiaara turning 4 years this April absolutely loved it. She has already learned the names of pieces and knows how a pawn can capture other pieces! She's liking the pics in book as well. Slowly will start reading it too. She has made us read multiple times though. Thank you for wonderful product". - Pankaj
"The book is definitely very creative amongst all other introductory chess books and is priced very well. My daughter loves it. It would be kind of amazing if chess-pa converts itself into some kind of monthly chess magazine for kids (just like champak) - explaining key concepts in simple fun way or some games etc…stories of kids…jokes on chess…the reason why I say so is because, ChessPa doesn't look like a one time character - it looks more like comic characters who has life and story of their own! There could be ChessPa chessboards, t-shirts etc…it's like chesspa world of chess and not just a book. I would love to see newer versions of this book coming" - Prabodh Prakash
"Hi ChessBase India, Firstly I must say the quality of Content in ChessPa is excellent. I gifted it to my neighbours' son who is 5 years old and he really liked it. Now he can identify the pieces and visualise the chess board. Thanks for all your contribution and wishing you all the best." - Prashanth Juluru


"It is good book. I applaud the great effort put by everyone to make it. A thought would be the book is a bit too long for kids below 5. It tries to introduce way to many concept in an attempt to educate about all of the basics. It is daunting task for a child. I would guess perhaps a book on all individual pieces might work better." - Nandan
"I have a 3 year old niece and I was looking for a way to introduce chess to her. From such a young age kids these days are subjected to repulsive yet addictive content like reels . That's why I was avoiding to introduce her to chess in form of videos or via mobile apps or internet. Your book came like a blessing to me . With its cute animation, stickers and rhymes it's a cute little collectables item. She has read it multiple times and obviously at such a young age just reading it wont make her pick up chess and that was never the point. It was just for her to fall in love with chess which I believe she is on her way to. Soon she will be able to make a choice for herself if she'd like to follow the path of chess. And i hope she does! I'd recommend it to everyone not necessarily just for chess but also for the habit of reading, and to introduce your kids to books in general so that they start to love books like they love other toys. In the age where all kids sooner or later will be subjected to the cringe content on the internet which is very addictive, your book and other books like it are a much better way for your kids to engage in entertainment activities. I'd give your product a 10/10. - Sagar Vaidya
"Hello ChessBase Family, I simply loved the book and appreciate the effort and the thought behind it. The presentation is awesome, most colourful book I have come across. I feel it's ideal for kids aged between 3 and 4." - Sanjay Sindhia
"I'm a chess enthusiast. Though I'm not a rated player, my 1 year 8 month old toddler is now able to tell the names of pieces , in a fun way , thanks to ChessPa. It will remain her first chess book. I wish she becomes a GM in the future (she most likely will), and I'll have to continue to thank Chesspa for the same." - Madhva Prasad
"I got the book to teach Chess to my daughter. I like that she has begun to relate to the pieces and visualizes them and their roles thanks to ChessPa. Looking forward to more kids chess material from you! Good job" - Jerome Rajan
"My 3-year-old niece loved the book, especially the graphics, I cannot say for sure (yet) that I could fulfill my evil master plan of her becoming the youngest GM. One thing I didn't expect was my brother also loved the book, he is around 27 years old and plays chess often and was able to learn the basics of chess which amateur players gloss over as they learn chess by playing, and not studying. Kudos to the team for the effort, job well done." - Atul Dhingra
"I thought I share my updated experience here I have been reading ChessPa to my 4 year old for a couple of months now. It was initially difficult for him and we were not able to get through the full book. But over time not only are we able to get through to the whole book but he wants read it over and over and is now able to follow a lot more. Also he's become a fan of ChessPa. I think having a character take you along is a great help. Stories seem to help build logic. I hope there are more adventures of ChessPa coming soon." - Nandan
"My daughter enjoyed the book. she finished the minute it arrived on one go. It was fun and informative. Hope to see more of these in future" - Sharanya
"It is such a beautiful experience as we read this book. Sagar and Amruta have very thoughtfully taken care of every small detail to ensure the kids have a very colourful, playful and adventurous experience with loads of learning as well. I would surely recommend each and everyone who wants to learn chess whether young or old to begin with this book! The perfect chess book!" - Sahil Parikh
"Bought this book for my son, he read it in one go and made me play a game of chess with him after he finished reading it. The storyline is interesting and the cute illustrations make it a fun read. A great gift option for kids. A must buy for chess beginners or non players." - Deepti
Picture gallery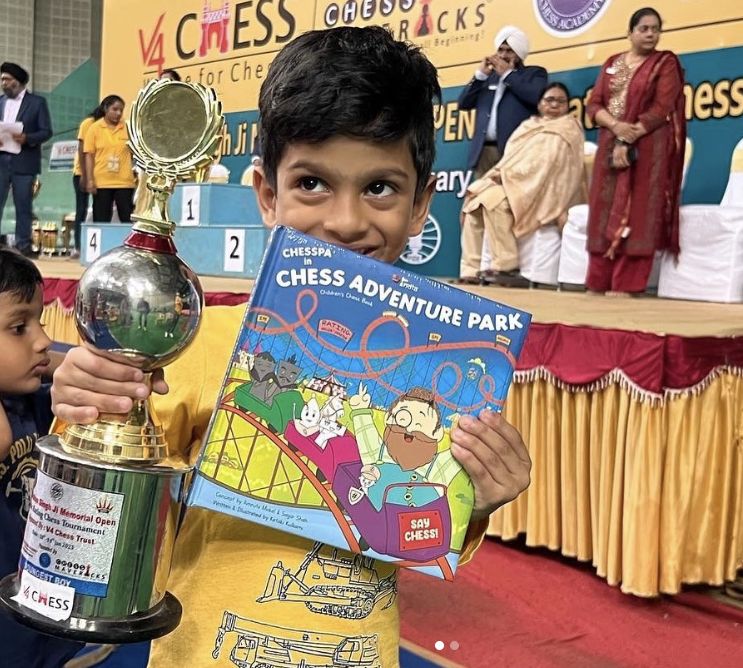 And now this Children's Day - 14th November 2023 we have something exciting coming up in the ChessPa world! :) Stay tuned!
Important Links:
Buy the book on ChessBase India
---