300+ hours of top-class Grandmaster training absolutely free - ChessMood
GM Avetik Grigoryan is one of the most positive and energetic grandmasters you can come across. In 2018 he founded ChessMood with an aim to revolutionize chess learning. Avetik saw that many people on the internet were not guiding a serious chess student in the right direction. With ChessMood he aims to bridge that gap. In last couple of years he and his team of grandmasters have created over 300 hours of chess content from openings, middlegames, endgames, just about encompassing every phase of the game. And now from 20th-27th July 2022 as a part of the International Chess Day offer, all of these premium courses are free for the 7-day period. Get to know more about this wonderful company called ChessMood.
Revolutionizing chess education - ChessMood
ChessMood is a chess educational platform created by GM Avetik Grigoryan. The company was founded in 2018 and the website was launched in 2019. To start ChessMood, Avetik used to wake up at 4 a.m. and work on a side project till 8 a.m., to cover the salaries of the team. From 8 a.m. to 8 p.m. he would work on ChessMood. This continued for 1 year, 6 days a week! Hardwork, dedication and positive attitude are some of the qualities of the Armenian GM.
In 2021, ChessMood raised US$250,000. The amazing thing about this fundraising was the fact that the investors were themselves students of the ChessMood platform. This is an extremely important fact as it allowed Avetik and his team to remain true to their vision of creating high quality chess content. In the present world, creating more clickbait videos or over simplified material does tend to lead to more views, but with the investors trust on their side, ChessMood could continue building high quality chess content.
Avetik mentions, "This year, we're planning to raise $1 Million, to reach out to the chess world, and help them with their chess dreams."
What exactly is ChessMood?
ChessMood is a chess education platform with 300+ hours of courses. They also have 50+ courses including opening, middlegame and endgame play. Talking about the advantages of ChessMood, Avetik says, "Usually when you go to a website, you have trouble figuring out which course to buy and where to start. However, at ChessMood everything is step-by-step. You start from video 1, then go to video 2, and so on. You don't pay individually per course. You pay monthly and get unlimited access to everything! You see the practical part of your gained knowledge from the courses. Our coaches stream playing only the openings they teach. You can ask questions in the Forum and get answered by community members or by Grandmasters. You are part of a supportive and fun community, where you can find training partners, ask questions, and have loads of fun."
International Chess Day Offer
What are the things you can do with this premium membership?
Here are a few things that you can do when you unlock all the lectures.
Tactics and Middlegame
This section is super helpful for below 2,000-level players. Tactic Ninja is ChessMood's most popular course. It's around 20 hours, explaining all the tactical motives, and then teaching how to find tactics during real games.
Openings
As below 2,000 players don't need to remember so much, ChessMood has recorded separate courses - Simplified ChessMood openings. And it starts with the Opening Principles course, one of the most important for beginners. So in less than 15 hours, you get a very strong, practical, and effective opening repertoire for below 2,000 level. They're also very easy to learn and fun to play.
Middlegame and Endgame Mastery
300 Chess Classics commented by Grandmasters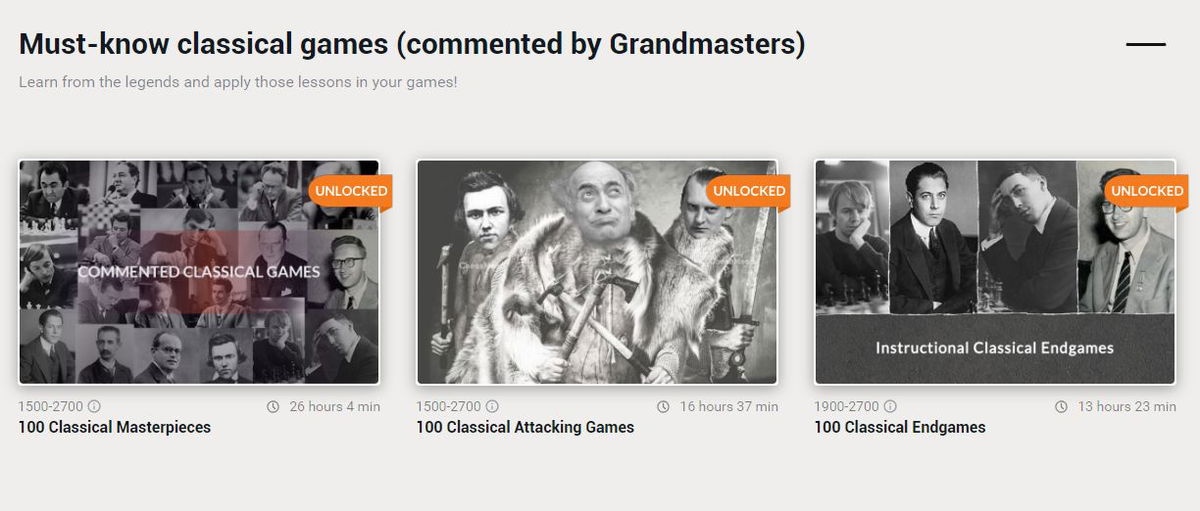 This is one of the most favorite parts of ChessMood's 1500+ students, where they learn the classics, from Steinitz to Kasparov, commented by a GM. The 1st one is Strategical games, 2nd - Attacking games, 3rd - is Instructive endgames.
Summary
ChessMood offers one opening repertoire, but very strong, effective and fundamental. Avetik says, "Our students can learn it and play for a lifetime. They're very very easy to learn and fun to play. We offer different courses for different levels, and we cover all aspects of the game openings, middlegame, and endgame."
Events
Five main types of events organized by ChessMood are:
1. Streams and speedruns, when they play only ChessMood openings.
2. Webinars and interactive lessons on different topics.
3. Ask a Grandmaster open sessions
4. 1-1 and simul games with a Grandmaster.
5. Bonus 1-1 call with a Grandmaster, when they join with the Yearly PRO Member plan.
Note:
Paid members get access to all the recordings.
Forum
"We have a very supportive community. They help each other, train together, post their games, have fun, ask questions, and get answers between them, or one of our Grandmasters answers it if others don't." - Avetik
Blog
"We have almost 100 articles, sharing our experiences and advice on different topics. Chesswise, psychology, improvement tips and much more. All the articles are written by Grandmasters!" - Avetik
Result and fun oriented
Says Avetik, "Our first metric is not how much we make. It's not how many students we have. And it's not our growth speed. Our first metric is how many of our students raised ratings and how much. We have crazy success stories, from raising 500 points in 1 year, becoming an IM in 1 year from 1,900 ratings, to Kevin Goh, who became a GM using ChessMood openings. You can read it all here. Lots of stories and feedback. All are real. We never faked any as many others do."
---