100,000 views: ChessBase India Youtube Channel hits a new high!
We all know how powerful Youtube is as a medium of not only information and entertainment, but also as a means of learning. The ChessBase India Youtube Channel started out small, but has grown massively in the last few days. The video of Bu Xiangzhi beating Magnus Carlsen has received 1,00,000 views and in the last 20 days the watch time on the channel has been more than 2 million minutes. Check out this article which gives you an idea about the type of content hosted by ChessBase India Youtube Channel. If you like it, we would be honoured to have you as a subscriber.
Magnus Carlsen sat opposite Bu Xiangzhi in the first game of the third round of the World Cup 2017. I was sitting in the press area which was around 50 metres away from the playing hall. Everyone had expected that Carlsen would win the game with the white pieces against the Chinese player. But Bu Xiangzhi had come to the game in an inspired mood. He had given up his e5 pawn and then sacrificed his bishop on h3. Magnus could have forced a draw, but as always, played for a win! However, the position was just too dangerous. Bu Xiangzhi played some phenomenal chess. The computer was shouting an advantage of nearly 3 pawns for Black. That's when I got into action. I took the camera and entered the playing arena looking to take a few pictures of Magnus' dejected expressions and capture the moment of Bu conquering the World Champion. I don't know what happened, but instead of taking a picture, I decided that video might be an interesting option.
Now taking a video is always a good idea, but you never know how long the game could go on, and if the players think a lot for their move, the video can become boring. Of course, I could cut the length post-production, but I didn't want to spend time on editing. Perhaps, both Carlsen and Bu saw me standing with the video switched on. They started making their moves quickly and within three minutes the game was over with players shaking their hands! To add spice to the video, there was a man on the other side who clapped after Carlsen resigned and the World Champion gave him a very quick stern look. This video which was uploaded minutes after the game ended, went completely viral (ok, we are not talking Gangnam Style, or some music video here!) and within ten days it reached....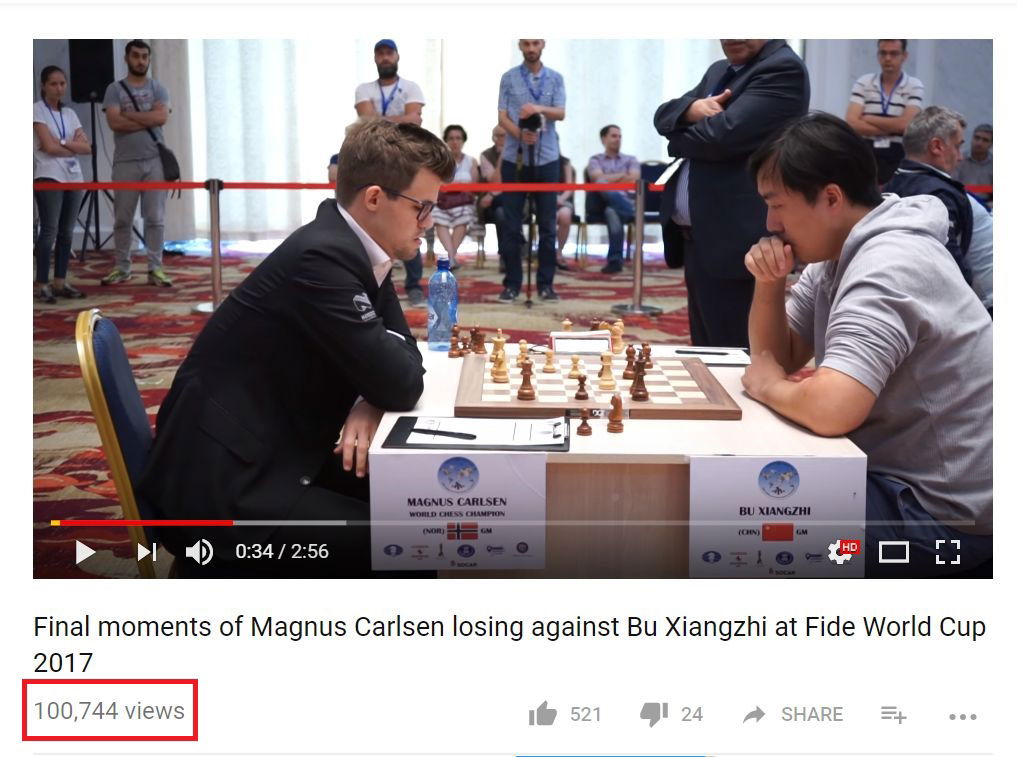 But that's not all. The ChessBase India Youtube Channel has in all 536 videos on chess. Here are the statistics of the last one month:
Here are some of the most recently trending and most popular videos on the channel:
There is just so much more in there. We have interviews with young talents like Praggnanandhaa, Nihal Sarin, Mrudul Dehankar, Divya Deshmukh. We have tutorials on chess, blitz videos from Aeroflot Open, Jacob Aagaard lectures, and of course interviews with famous players like Carlsen, Anand, Caruana, Giri and more. You can also get some unique content like the Chogging series by me.
Chogging (invented by me!) means chess + jogging. So, I would take a position in my head - usually a tough study and go out for a jog! I would run until I found the answer to the study. Of course, I was trying to solve it blindfolded. After I would come back from the jog, I would switch on the recorder and make a video with all the variations I saw and also check the answer. According to me Chogging is the ultimate form of staying fit and becoming stronger at chess. Why don't you try it out? Here's a position for you:
A lot of the content has been created by Amruta and me. But there are so many people who have contributed to our Youtube Channel. Most notable being Priyadarshan Banjan, Niklesh Jain, Jitendra Choudhary, Aditya Pai, Shahid Ahmed and many others. We thank each of them for building this great resource of chess education.
When I was young I watched a video on Youtube on the Kasparov Karpov match 1990 in Lyon. It was 2 hours and 45 minutes long. Believe me, I watched it without moving, without blinking my eyes! I learned so much from it. It was then that I realized the power of Youtube and the ability it has to make an impact on the chess community. I hope some of you will find content on the ChessBase India channel which will bring you closer to the game and make you fall in love with it.
We sign off with a video that has stunned chess players and professionals all around the world. A world elite player asked me at the world cup 2017- "This video is fake, isn't it? The boy already knew the answer, right?" Well, what can I say, in a few years from now when Nihal Sarin will sit opposite that elite GM, the boy will be able to clarify the grandmaster's doubt!
Subscribing to the ChessBase India channel would mean that you get updates whenever a new video is published.
---