Chennai 2018 Round 9: Can Timur Gareyev stop Ivan Rozum?
Ivan Rozum is on fire at the 10th Chennai International 2018. He beat GM R.R. Laxman and moved to the sole lead and is ahead of the entire field by one full point! It seems as if the Russian will win this event. But things are not so simple. First of all, he has the black pieces against top seed Timur Gareyev and secondly his tiebreak is not so great. In the ninth round there were quite a few draws on top ten boards, but there were a few upsets with Marcos Llaneza getting the better of Adam Horvath and Sidhant Mohapatra beating GM Tran Tuan Minh. Report from Chennai.
Ivan Rozum 8.0/9 has one point lead over the field
Rozum played a very nice game with the white pieces and scored a full point. Perhaps, he could have been more accurate at some points, but in general he never really let the advantage slip and Laxman didn't find the best defensive resources:
With this win, Rozum extended his lead to a full point over the field. All he needs to do is just draw his final round game. But he faces the top seed of the event Timur Gareyev with the black pieces. This is not going to be an easy game for the Russian. Also, his first tiebreak (buchholz) is not the best. So he cannot afford to lose.
Siddhant Mohapatra was able to beat GM Tran Tuan Minh after the latter blundered big time in the opening: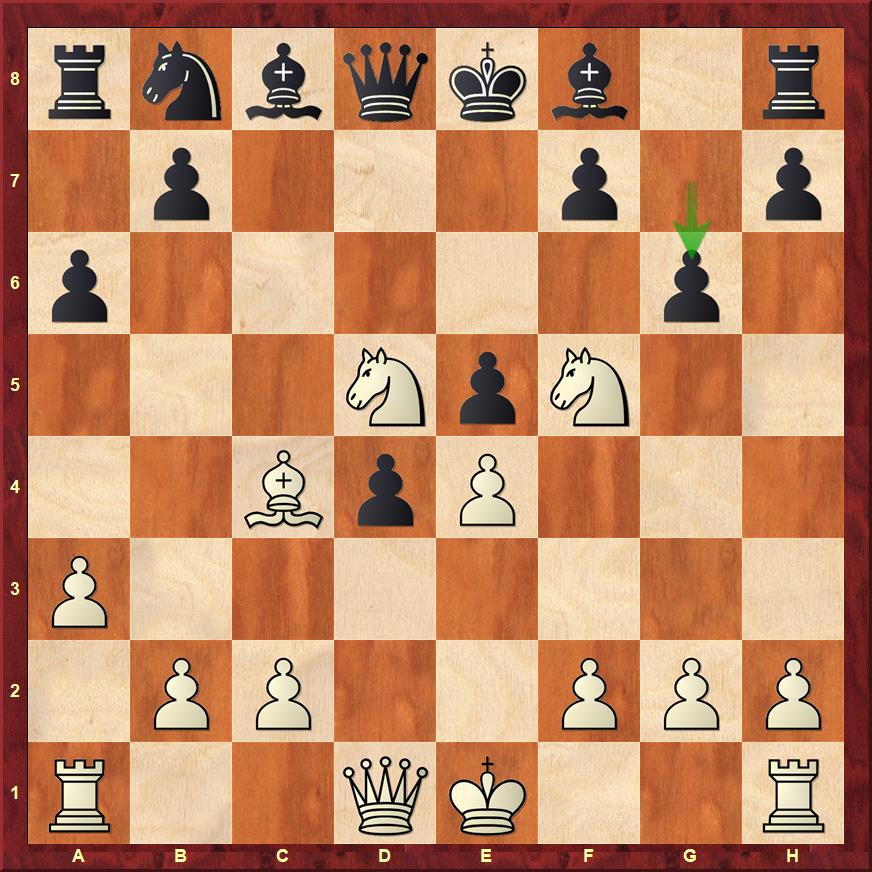 Results of round 9:
Rank after round 9:
| | | | | | | | | | | | | | | |
| --- | --- | --- | --- | --- | --- | --- | --- | --- | --- | --- | --- | --- | --- | --- |
| Rk. | SNo | | | Name | sex | FED | Rtg | Club/City | Pts. | TB1 | TB2 | TB3 | TB4 | TB5 |
| 1 | 2 | | GM | Rozum Ivan | | RUS | 2595 | RUS | 8,0 | 0,0 | 46,5 | 49,0 | 44,75 | 7,0 |
| 2 | 13 | | FM | Karthik Venkataraman | | IND | 2476 | AP | 7,0 | 0,0 | 52,5 | 57,0 | 42,25 | 6,0 |
| 3 | 19 | | GM | Laxman R.R. | | IND | 2434 | ICF | 7,0 | 0,0 | 49,0 | 53,0 | 38,50 | 6,0 |
| 4 | 17 | | IM | Visakh N R | | IND | 2457 | TN | 7,0 | 0,0 | 48,0 | 51,5 | 38,75 | 5,0 |
| 5 | 1 | | GM | Gareyev Timur | | USA | 2605 | USA | 7,0 | 0,0 | 47,5 | 52,5 | 39,00 | 7,0 |
| 6 | 18 | | GM | Dzhumaev Marat | | UZB | 2434 | UZB | 7,0 | 0,0 | 46,5 | 51,0 | 39,25 | 6,0 |
| 7 | 26 | | IM | Sidhant Mohapatra | | IND | 2382 | ODI | 7,0 | 0,0 | 46,5 | 51,0 | 38,75 | 6,0 |
| 8 | 25 | | FM | Erigaisi Arjun | | IND | 2386 | TEL | 7,0 | 0,0 | 46,5 | 50,5 | 39,00 | 5,0 |
| 9 | 21 | | IM | Llaneza Vega Marcos | | ESP | 2421 | ESP | 7,0 | 0,0 | 46,5 | 50,0 | 36,75 | 6,0 |
| 10 | 5 | | GM | Tukhaev Adam | | UKR | 2570 | UKR | 6,5 | 0,0 | 51,5 | 56,0 | 38,00 | 5,0 |
| 11 | 14 | | GM | Deepan Chakkravarthy J. | | IND | 2475 | ICF | 6,5 | 0,0 | 51,0 | 55,0 | 38,00 | 5,0 |
| 12 | 64 | | | Dixit Nikhil | | IND | 2139 | MAH | 6,5 | 0,0 | 49,5 | 54,0 | 35,75 | 6,0 |
| 13 | 3 | | GM | Tiviakov Sergei | | NED | 2584 | NED | 6,5 | 0,0 | 48,5 | 53,5 | 36,75 | 5,0 |
| 14 | 9 | | GM | Pruijssers Roeland | | NED | 2536 | NED | 6,5 | 0,0 | 48,0 | 52,5 | 36,50 | 4,0 |
| 15 | 6 | | GM | Sivuk Vitaly | | UKR | 2550 | UKR | 6,5 | 0,0 | 47,0 | 51,5 | 35,25 | 5,0 |
| 16 | 27 | | IM | Rathnakaran K. | | IND | 2372 | KER | 6,5 | 0,0 | 46,0 | 50,5 | 35,25 | 5,0 |
| 17 | 4 | | GM | Solodovnichenko Yuri | | UKR | 2571 | UKR | 6,5 | 0,0 | 45,5 | 50,0 | 34,25 | 5,0 |
| 18 | 23 | | IM | Raghunandan Kaumandur Srihari | | IND | 2402 | KAR | 6,5 | 0,0 | 45,0 | 49,5 | 34,50 | 5,0 |
| 19 | 20 | | IM | Nitin S. | | IND | 2422 | TN | 6,5 | 0,0 | 45,0 | 48,5 | 34,50 | 4,0 |
| 20 | 35 | | IM | Deshmukh Anup | | IND | 2285 | MAH | 6,5 | 0,0 | 44,0 | 48,5 | 33,25 | 6,0 |
Pairings for round 10:
---