Airthings Masters 2023 QF: Arjun Erigaisi squashes Firouzja, sets up a clash with Carlsen
The world no.4 Alireza Firouzja lost to Arjun Erigaisi in three consecutive games at Airthings Masters 2023 Quarterfinals. Arjun played outstanding chess in all three games, seized his opportunities to a score a 0-3 whitewash. He will face the world no.1 Magnus Carlsen in the Semifinals. Carlsen defeated Alexey Sarana 2.5-0.5, although he was winning the third game too. D Gukesh lost to Hikaru Nakamura 0.5-2.5. He won the Swiss stage Play-in scoring an unbeaten 7.5/9 and finished a full point on 3rd February. On the very same day he defeated the 14th world champion, Vladimir Kramnik thrice. It will be Carlsen vs Arjun and So va Nakamura in the Semifinals starting tonight from 9:30 p.m. IST. Photo: ChessBase India live stream
Gukesh wins the Play-In Swiss stage and beats Kramnik three times in a day
GM D Gukesh played phenomenally in the Play-In Swiss stage and also in the Play-In Match stage where he chose Kramnik as his opponent and made the most out of the opportunity. Although he lost to Nakamura in the Division 1 Quarterfinals, he will play in the 'Losers Round 1' against Rauf Mamedov who lost to Wesley So in the Quarterfinals. Gukesh can still go on to win the tournament as it is a double elimination event. Last year's Meltwater Champions Chess Tour 2022 winner Carlsen and chess.com Global Championship winner, So, are the only two players who had guaranteed spots in the main event, everyone else had to qualify. The total tour prize fund is US$1.41 Million with event including this one having $235K as total prize fund.
Quarterfinals: Firouzja - Arjun: 0-3
Alireza Firouzja weakened his own king by pushing the f2-pawn to f4 and asked for trouble in the first game against Arjun Erigaisi.
Firouzja - Arjun, Game 1
White's position fell apart in a hurry after 23.f4 h6 24.Nf3 exf4 25.gxf4 Bh3+ 26.Kh1 Qg4 27.Rg1 Qxf4 28.Rae1 Ng4 29.Qe2 Qxe4! 30.Bc1 Ng6 31.Bc2 Qc6 32.c4 Rbe8 and Black won the game.
In the second game, Firouzja needed to trade the queens when he ventured his queen to attack his opponent Arjun's king through the back rank.
Arjun - Firouzja, Game 2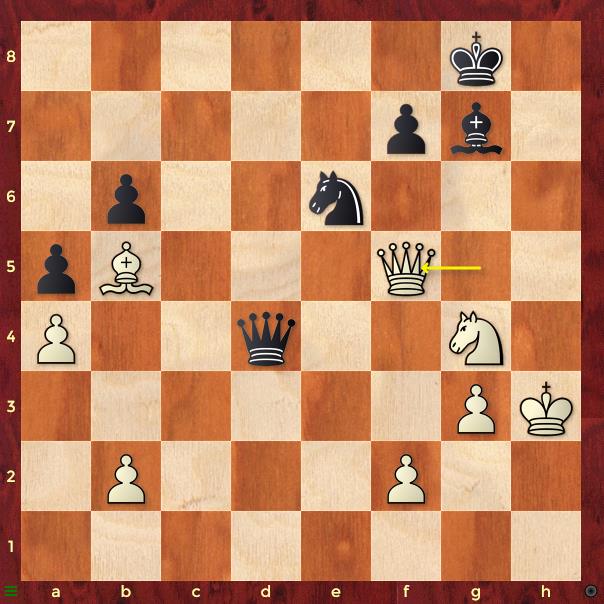 33...Qc5 forces queen exchange as White cannot move the queen safely and keep the g4-knight defended without losing the queen. 33...Qd1 34,Bc4 Qh1+ 35.Nh2 Qc6 36.b3 gave White a decisive positional advantage due to his better coordinated pieces and much safer king. Arjun went on to win the game to gain a 0-2 lead.
Firouzja - Arjun, Game 3
White went wrong early in the middlegame 14.Nh4?? Try to think like Arjun and find the best continuation for Black. What White should have done is, 14.bxc4 Bxe4 15.axb4 bxc4 16.0-0 and things would have been for him. Even 14.axb4 is equally okay for White. With this win, Arjun won the Quarterfinals 0-3 and advanced to the Semifinals where he will face the World no.1, Magnus Carlsen.
D Gukesh lost to Hikaru Nakamura by 0.5-2.5 in the Quarterfinals. He will play in the 'Losers' Round 1 against Rauf Mamedov. The winner of this match will face the person who loses the Semifinal between Carlsen and Arjun.
Replay the live stream
Replay Division 1 Quarterfinal games
On 3rd February, Gukesh won the grueling eight-hour Play-in which was a nine-round Swiss league featuring 146 players, a tournament where only Grandmasters were eligible to play.
Kramnik - Gukesh, Round 7
Kramnik dropped the e2-pawn with 18.Qb3. Gukesh took it 18...Bxe2 19.Rfe1 Qd2 20.Bc3 Qd3 21.Qc2 Qxc2 22.Rxc2 Bd3 23.Rd2 Bf5 24.Bf4 Bb4 White lost an exchange and eventually the game too.
Replay all Play-in Round 1-9 games
The top six finishers had a choice to pick an opponent from 7th-12th finisher, starting with the winner. Gukesh chose Kramnik and beat him twice after winning against him in the Swiss stage.
Replay all Play-in Matches
Replay all Division 2 Round of 16 games
Replay all Division 3 Round of 16 games
Results of Divisions 2 and 3
All games will start from 9:30 p.m. IST between 6th and 10th February 2022.
Links
---