Candidates 2018 Round 11: Why can't Ding win a single game!
We are nearing the fag end of the Candidates 2018 and it seems to be poised in an extremely interesting fashion. Caruana still sits pretty at the top (7.0/11) with his half point lead followed by Mamedyarov on 6.5/11. Karjakin seems to have been rejuvenated in the second half and is quickly notching up one victory after another. He is on 6.0/11 along with Grischuk and Ding Liren. The Chinese is doing really well for his first candidates, but is somehow just not able to win his games. Against Grischuk he missed a simple mating pattern. We have all the news, along with Kramnik's exciting novelty annotated by 14-year-old Prithu Gupta.
Ding Liren has all the qualities of a top class grandmaster. He works hard, has immense talent, takes care of physical fitness, has control on his nerves, yet at the Candidates 2018 he is just unable to score a win. He now has eleven draws out of eleven rounds and is just three games away from what Anish Giri achieved at the 2016 Candidates - 14 draws in 14 rounds!
In the eleventh round Ding was very close to winning his game against Grischuk. In fact at some point the computer was showing an evaluation of +10 not just in one line but two! Let's go over some of the key moments of the game below:
Ding Liren vs Grischuk
White has the aim to move his knight to e4. Grischuk could have played the excellent move...f5! The idea is very nice. exf6 opens the diagonal of the queen from c7 to h2 and makes Nxd4! possible as Bxd4 is met with Bxf3 with a winning position for Black. But instead of ...f5, Grischuk went for ...Na5. And Ding Liren managed to gain an advantage.
Followed by e6! Ding Liren was looking at his first win, playing one powerful blow after another!
This game reminds me of the battle between Adhiban and Nepomniachtchi in the World Cup 2017 where the Indian GM missed a similar tactic.
Adhiban vs Nepomniachtchi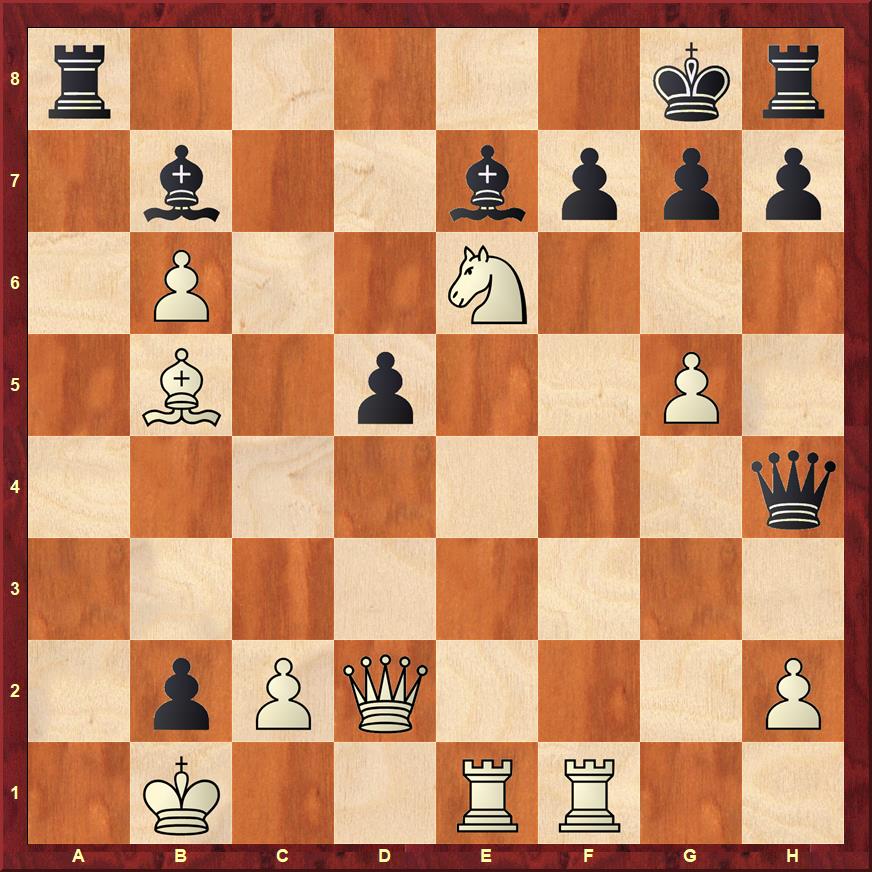 Adhiban missed the very nice move Nd8! breaking the communication between black pieces. Nepo would have nothing better than to resign!
Coming back to our battle between Ding and Grischuk, Ding Liren could also have just played Nd8 and Sasha would have had to resign the game as Qe8 is a huge threat.
Karjakin is yet to play Caruana. I have a feeling this will be the crucial encounter and like 2016 will decide the outcome of the Candidates 2018.
---