Big things have small beginnings
Covid-19 pandemic has had a big impact on mankind. Chess is a sport which is not just about championships and titles, triumph and tragedies, it is so much more. Chess can be used as a tool to edify the society and improve human nature. As it is the only sport in history which can be played by anyone, anywhere and anytime. There is no age restriction and you don't need to be in athletic physical shape to play it. CM FI Vinod Bhagwat of Nashik took an initiative to organize a small scale tournament on 26th January at Shraddha Heights to involve everyone in this beautiful sport. Photo: Vinod Bhagwat
Covid-19 has compelled us to keep ourselves locked in our houses for a long time which has affected our physical as well as mental balance. Children, in particular, have suffered a lot as ground activity, indoor or outdoor, were standstill on account of Corona. To encourage children and to rejuvenate them, on the eve of Celebration day of our society, Shraddha Heights, situated in heart of Nashik city, we organised a chess tournament on 26th January 2021. Though the event was small one but it proved to be very useful and it was a mega hit. As players from all age group i.e. from 6 to 74 have participated in the event. Highlight of the event was it has been conducted over-the-board (OTB) which has given players great sigh of relief from screen.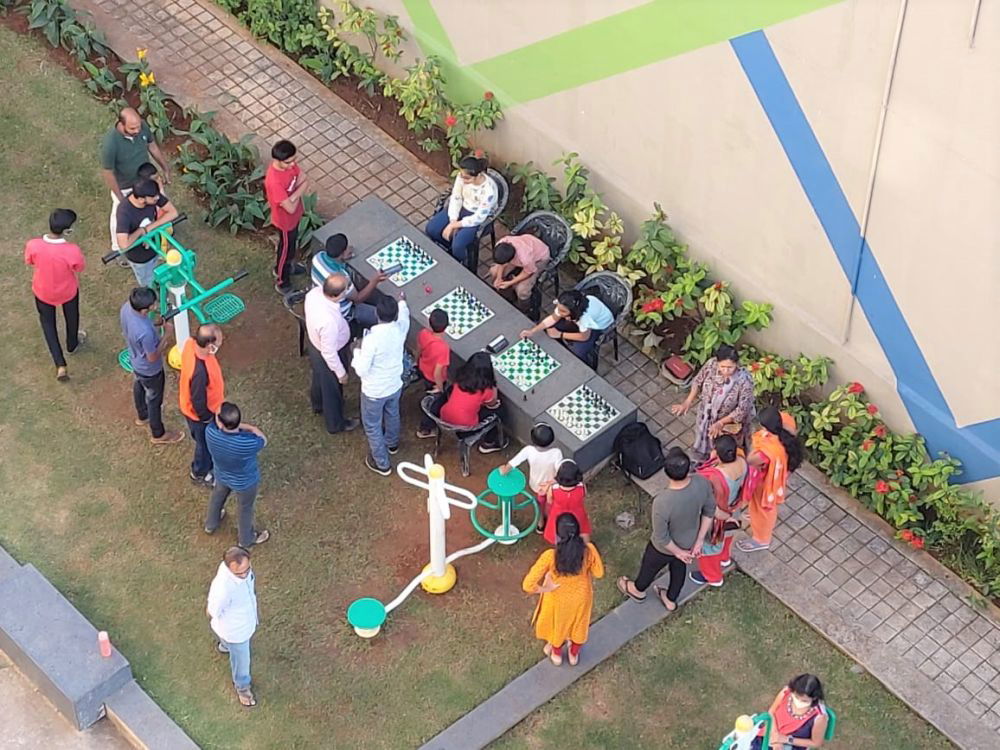 During this difficult time of last one year, I have seen that screen time of the children have greatly been augmented which is, of course, for the educational reason. Nevertheless, apart from that, children are spending their large amount of time in internet games, which can hardly add anything to their personality. Even parents cannot differentiate the use of the internet by their children, whether it is for educational reason or just for amusement purpose. I feel same is the scenario everywhere. Therefore, to provide them an option to get rid of harmful internet games, chess is of course a very good alternative. That is our main intention behind organising the event.
Before the event, it is also found that most participants are not aware of the basic rules and regulations of the game and in fact, there are lot of delusions about the game in the general public. For example, chess is a game of intelligent people and very hard to play and learn. Most players are only aware of knockout system as in most of the sports, knockout system is being used for pairing. Even many of them saw chess clock for the very first time. To lessen the fear of these participants and to make aware of basic rules of the game, we have organised a small orientation session of all society members which resulted in some chess education of players along with other society members. Even chess pairing software was also used for lots with swiss league system.
Truly, we have spent only few hours for organising this event but the happiness, we have found, on the faces of the participants have given us immense satisfaction, which, in itself, is a great achievement. Technically chess is growing and improving at a very high speed at higher levels. But it's benefits and educative values are still yet to be reached to the nook and corner of the society which is actually much needed. I feel that if children are using screen for amusement and if he knows chess, he has many good option like playing online chess, solving puzzles, watching streaming of Vidit, Sagar, Samay, Adhiban. In a nutshell, at the end of the day he will learn something good which will definitely add something to his character without harming him in any kind. Even in my chess career also, I have observed that, whether you are rated or unrated, titled or untitled player, everyone is planning something for their future chess journey, i.e. which tournament is to be played in the comings months, which opening to be prepared for future event, how to improve endgame skills and adding spice to it, every now and then chess books and software are adding new fillip to our sports journey. All in all, chess players are joyful, having a lot of hopes for their future. Therefore, I feel that if we try to educate chess to the society, by organising small chess events like tournaments, orientation sessions, it will give very positive encouragement to the chess learners, simultaneously removing the frustrations and negative sentiments from the children and it will be a very good contribution for building the nation, as a whole.
Nashik is already a very well conversant with chess field due to the bravura achievement of Super Grandmaster Vidit Gujrathi as Vidit belongs to Nashik. However, as we know our chess players are not getting their deserved fame and glory compared to other sports. This is also one of the reason that we have to organise small sessions like this in our society, offices, schools, colleges to make aware of the magnificent achievement of our chess heroes.
Check out Vinod's exciting game against Israel no.2 GM Tamir Nabaty.
About the Author
Vinod Bhagwat is a Candidate Master, having highest international rating of 2271 and a certified chess trainer - FIDE Instructor, engaged in chess training since the last 25 years.
---