How 13-year-old Balasubramaniam won the 17th Adyar Times Open
13-year-old Balasubramaniam was facing a mini-crisis in his play. He had played in the Malaysian Open and had reduced 90 Elo points. With a positive Facebook post he was trying to show the world that all was fine, but deep within he knew that there were problems in his game that needed to be fixed. He made a list of his weaknesses and then worked on them to get better. With the help of his coach R.B. Ramesh and his brother Bharath (former under-8 World Champion), he managed to improve his play. The results logically followed as the young boy went on to win the 17th Adyar Times ahead of many experienced IMs.
Analyzing your weaknesses and finding the solutions

By Balasubramaniam Harishankkar
For the first time in my life, I won an Open Fide rated chess tournament. Yes, I won the 17th Adyar Times organized by the Tamil Nadu State Chess Association and sponsored by The Adyar Times. The tournament had a good playing atmosphere. The playing hall was also a special one as it was used by current world champion, Magnus Carlsen to play basketball during his match against Anand.
I played the Malaysian Chess Festival before the Adyar Times tournament. That tournament was not so good for me. With less preparation, I made many positional errors in that tournament and reduced almost 90 Elo points. I decided to work on the areas I needed to improve rather than getting upset about my poor performance.
After that tournament, my confidence level was low; So to at least show that I was confident, I added the following Facebook post:
Now coming to my areas of improvement:
1. Physical Fitness
I joined a Badminton academy and played badminton six hours a week that improved my fitness. Initially it was hard for me to play continuously for more than an hour, but now it has become my habit. I play badminton daily for one hour with my younger brother and that completes my day.
2. Positional Chess
My coach, revered grandmaster R.B. Ramesh sir made me solve a lot of positions on the theme of Positional chess in the class.That made a drastic change in my positional play. I also read Dvoretsky and Yusupov's Positional Play book and I learnt a lot of things from the book. I thought in any opposite coloured bishop position unless the material is equal, it is a draw. Vladimir Simagin was an expert in winning those kind of positions. I learnt a lot from his games. Here is my favorite Simagin game: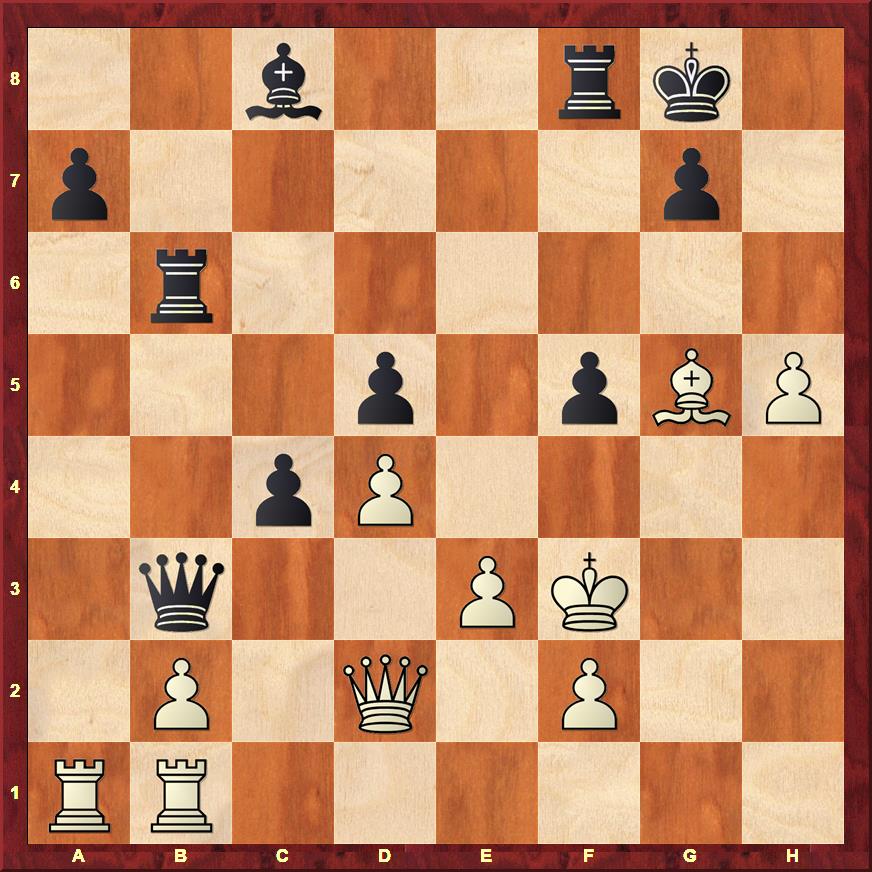 After a while I felt as if I am ready for the next tournament. I was the 7th seeded player at the "17th Adyar Times Open".
Starting rank
Of all the games, below is my best game in the tournament.
After playing two rounds on the penultimate day of the tournament I was very tired. Bharath (my brother) was very upset as he drew against a lower rated player. My mother for his relaxation asked me to play badminton with him. Perhaps it was not the best decision as after 30 minutes I was really tired. After dinner I straight away went to bed. The next day I woke up quite early and started preparing for my opponent Ram S Krishnan in the final round. I found that he was playing many openings and I did not have enough time to prepare all of them. Also when you prepare so much, you always are in the fear that your opponent will play something else.
I solved some puzzles which took me around 30 minutes and as I was trying to figure out what to do next when my father handed me a book and asked me to read it.The book's name was 'The Alchemist'. The book's theory was - If someone wants to achieve something, all the universe conspires in helping the person to achieve it.
Like remembering Archimedes' Principle in Science my dad asked me to remember this during the game. He meant that if I wanted to win the game, all my pieces would help me to achieve my goal.
My strong wish and will to win the game, contributed a lot. I was very happy after my game.Since there were two other players on the same score (6.5/7) I was not sure of the title, but was happy that I will finish in top 3. With fingers crossed, we were waiting for the final standings. Around 2 p.m. the final list was displayed and I shouted out with joy! My Buchholz was the highest thanks to all my opponents who won their games in the final round. I bagged the title and this was first time that I won a rating tournament.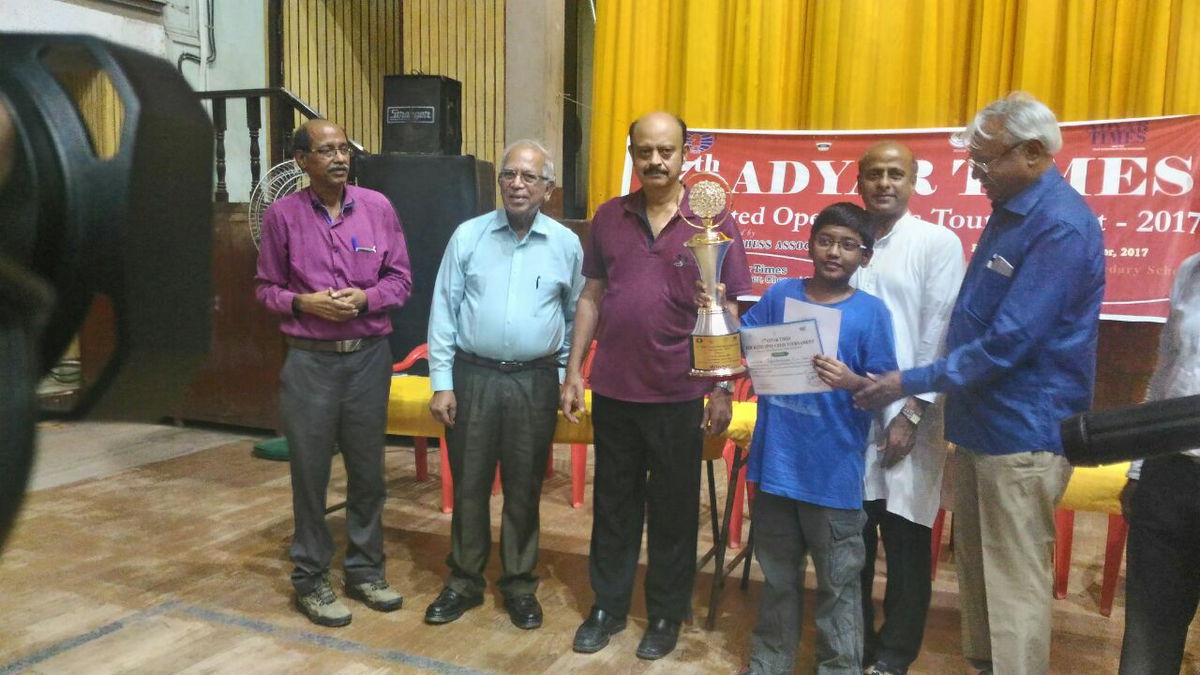 Final rankings after seven rounds:

Rk.
SNo
Name
sex
FED
RtgI
Pts.
TB1
TB2
TB3
TB4
TB5
1
7
Balasubramaniam H
IND
2103
6,5
0,0
35,0
31,75
6,0
4,0
2
6
Ashwath R.
IND
2253
6,5
0,0
34,5
31,75
6,0
2,0
3
12
Manu David Suthandram R
IND
2050
6,5
0,0
34,5
31,25
6,0
2,0
4
10
Gunasekaran K.
IND
2075
6,0
0,0
34,0
29,00
6,0
3,0
5
2
IM
Ravi Thandalam Shanmugam
IND
2307
6,0
0,0
34,0
28,25
5,0
1,0
6
25
AGM
Vignesh B
IND
1708
6,0
0,0
33,5
27,75
5,0
4,0
7
3
IM
Praveen Kumar C
IND
2267
6,0
0,0
33,5
27,00
6,0
2,0
8
22
Nitin Shankar Madhu
IND
1746
6,0
0,0
31,5
26,50
6,0
2,0
9
40
Sharan Sridhar
IND
1637
6,0
0,0
29,5
24,00
6,0
2,0
10
11
Bala Kannamma P
w
IND
2063
5,5
0,0
36,0
26,75
5,0
3,0
My father was right. The Alchemist theory had worked in an unexpected, miraculous way! Hard work combined with strong will power will give you the result. I thank my coach Ramesh sir and my parents for their support.This tournament title gives me confidence to play well in my future tournaments.
---