Asian Junior 2023 Silver medalist - Aswath S becomes the latest International Master of India
15-year-old Aswath S secured Silver medal at Asian Junior 2023 Open. This earned him a direct IM title. The teenager is also the current National Sub-Junior Under-15 Open 2022 champion. The boy from Kanyakumari, Tamil Nadu became International Master by virtue of a direct title rule. At the beginning of this year, he crossed the rating criteria for direct title of 2200 in January 2023 FIDE rating list. He earned his maiden IM-norm few months ago at Silver Lake Open 2023 in Serbia. Aswath became India's latest IM on Friday 15th September 2023. India got two more IMs - Ayush Sharma and Ritviz Parab in the same month at Tsaghkadzor Open 2023. It will be mentioned in separate reports. Photo: Himank Ghosh
Gold in National Sub-Junior and Silver in Asian Junior in just over nine months
After becoming 47th National Sub-Junior Open 2022 champion, Aswath S was looking for a major triumph. He has been performing well consistently in various tournaments. The teenager scored his first IM-norm in June. A little over 2.5 months later, he won Silver at Asian Junior 2023 Open to become an International Master.
First IM norm: Silver Lake Open 2023
Aswath S scored his first IM-norm at Silver Lake Open in June 2023. Despite getting a walk over in the first round, he scored 5/8, in the remaining eight games to earn his first IM-norm. The teenager defeated IM Shahil Dey, drew against IM Lazar Nestorovic (SRB) and IM Zoran S Markovic (SRB).
Aswath - Shahil, Round 2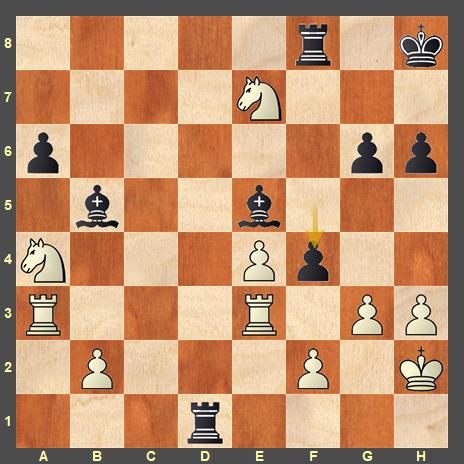 Aswath seized his opportunity when his opponent blundered 33...f4?? Find out the correct continuation.
Direct Title: Asian Junior 2023 Open
Aswath S did not have to earn the remaining norms. He fulfilled the criteria differently by winning Silver at Asian Junior Under-20 Open 2023. As per the tournament regulations, equal first (best three players after tie-break) of the tournament in the Open section gets the direct title of IM once he meets the criteria of reaching 2200 Elo rating. Aswath crossed 2200 at the beginning of this year. He defeated IM Kushagra Mohan, IM Gilbert Elroy Tarigan (INA) and IM Sambit Panda, drew against IM Aleksey Grebnev and IM Manish Anto Cristiano F.
Aswath - Sambit, Round 9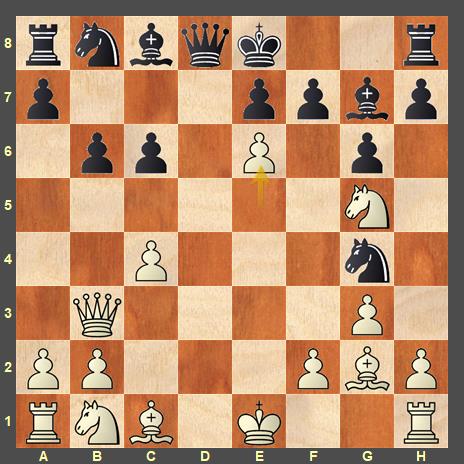 Aswath got a pleasant position out of the opening. 11.e6! fxe6 gave White a long-term positional advantage. He went on to convert his advantage and win the game.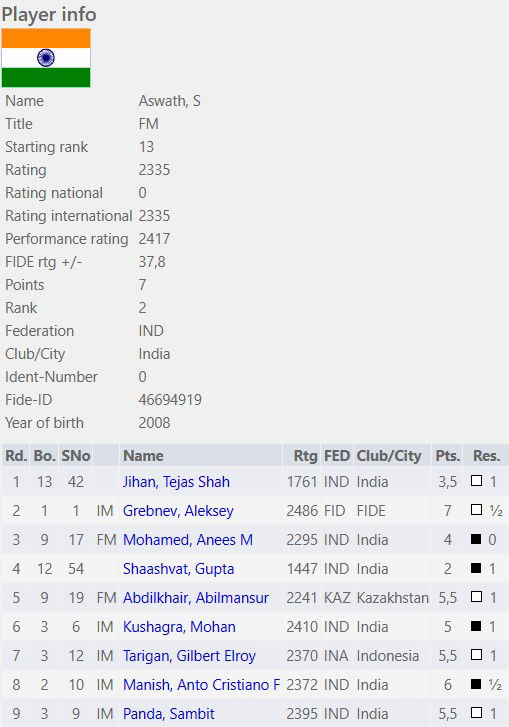 Aswath's Best Achievements
Aswath S has won a lot of accolades in his chess career so far. Here are the best ones:
• Silver - Asian Junior Under-20 Open 2023
• Champion - MPL 47th National Sub-Junior Under-15 Open 2022
• Runner-up - BYJU's Star Warz Rating Open 2022
• Second Runner-up - 1st Kanyakumari Parents Forum Rapid and Blitz Rating Open 2023
• Second Runner-up - Star Chess Foundation Rapid Rating Open 2022
• Champion - 47th Tamil Nadu State Under-15 Open Rating 2022
• Champion - 33rd Tamil Nadu State Under-14 Open Rating 2022
• Champion - 28th Tamil Nadu State Under-7 Boys 2015
• Champion - Kanyakumari District Open 2020, 2021 and 2023
• Champion - 44th Chess Olympiad 2022 AICF Kanyakumari District Schools Selection Tournament Boys
• Champion - Kanyakumari District Under-19 2022
• Champion - Kanyakumari District Under-18 2022
• Champion - Kanyakumari District Under-11 2019
• Champion - Kanyakumari District Under-9 2016
• Champion - Kanyakumari District Under-7 2014 and 2015
• Runner-up - Kanyakumar District Open 2022
• Second Runner-up - 22nd Tamil Nadu State Blitz Open 2022
• Second Runner-up - Kanyakumar District Under-11 2016
Replay Aswath's games
Videos
---