Arghyadip Das clinches All India Open Rapid Rating at Vijayawada
Top seed of the tournament IM Arghyadip Das scored an unbeaten 8.0/9 to win All India Open Rapid Rating Tournament at Vijayawada, Andhra Pradesh. He earned ₹21000 cash as the first prize. Untitled Nikhil M also finished with the same score. However, he had to settle for second place due to less tie-break score. He won ₹15000. Eight players finished at 7.5/9. IM Ravi Teja S had an identical score as the eventual champion till the penultimate round. A draw in the final round cost him the championship, and he was placed third as he had the best tie-breaks among the group of eight players. He received ₹10000 as third prize.
422 players participate from 14 states
The top five players remained undefeated in the tournament. Three out of the top five were secured by players from Andhra Pradesh. A total of 422 players including 5 IMs participated from 14 states across the nation in this two-day rapid rating tournament held on 23rd and 24th October. The total prize fund was ₹100,000.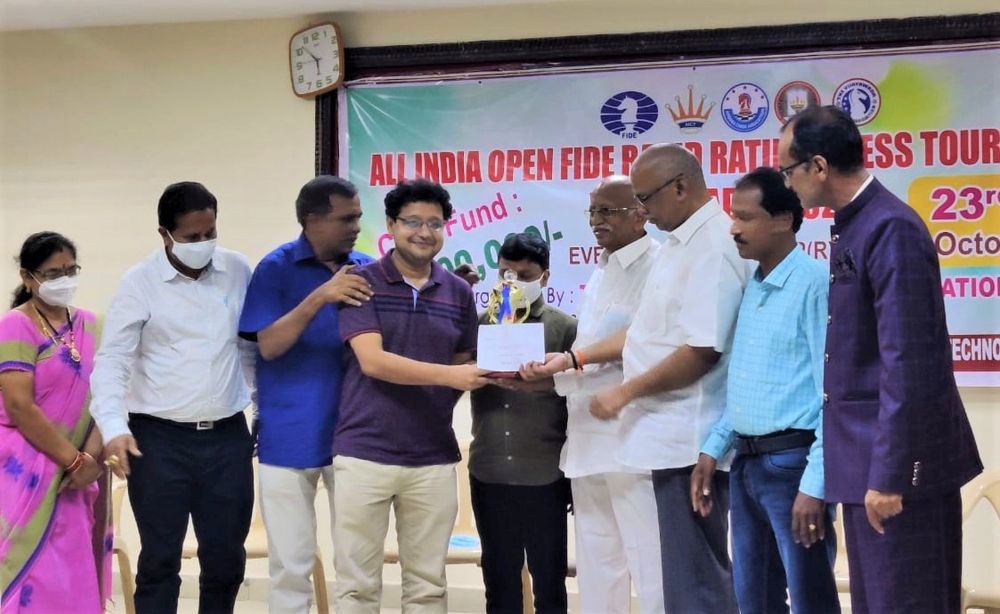 The tournament took place at PSCMR College of Engineering & Technology, Vijaywada, Andhra Pradesh on 23rd and 24th October 2021. Time control was 25 mins + 5 seconds increment.
Final standings
| | | | | | | | | | | | | | |
| --- | --- | --- | --- | --- | --- | --- | --- | --- | --- | --- | --- | --- | --- |
| Rk. | SNo | | | Name | Typ | sex | FED | RtgI | Club/City | Pts. | TB1 | K | rtg+/- |
| 1 | 1 | | IM | Das Arghyadip | | | IND | 2365 | WB | 8,0 | 51,5 | 20 | -6,8 |
| 2 | 13 | | | Nikhil M | | | IND | 1939 | AP | 8,0 | 50,0 | 20 | 5,6 |
| 3 | 2 | | IM | Ravi Teja S. | | | IND | 2356 | AP | 7,5 | 56,5 | 20 | -12,8 |
| 4 | 22 | | | Sreehith Reddy R | U15 | | IND | 1727 | TG | 7,5 | 51,5 | 20 | -4,2 |
| 5 | 27 | | | Md Imran | U13 | | IND | 1669 | AP | 7,5 | 51,0 | 20 | 50,6 |
| 6 | 33 | | AGM | Vignesh B | | | IND | 1538 | TN | 7,5 | 49,0 | 20 | 41,6 |
| 7 | 25 | | | Sham R | | | IND | 1704 | TN | 7,5 | 48,5 | 20 | 20,8 |
| 8 | 9 | | | Rao J. Malleswara | | | IND | 2006 | AP | 7,5 | 48,0 | 20 | -25,2 |
| 9 | 73 | | | Md Bashiq Imrose | U15 | | IND | 1316 | TG | 7,5 | 47,5 | 20 | 46,8 |
| 10 | 31 | | | Velpula Sarayu | F15 | w | IND | 1544 | TG | 7,5 | 45,5 | 20 | 49,0 |
| 11 | 40 | | | Gokula Vishnu R | U15 | | IND | 1483 | TN | 7,0 | 52,0 | 20 | 56,4 |
| 12 | 26 | | | Shaik Sumer Arsh | U13 | | IND | 1679 | TG | 7,0 | 51,5 | 20 | 2,2 |
| 13 | 3 | | IM | Rajesh V A V | | | IND | 2320 | RSPB | 7,0 | 51,5 | 20 | -38,2 |
| 14 | 10 | | | Hemanth Raam | | | IND | 2004 | TN | 7,0 | 51,0 | 20 | -19,6 |
| 15 | 7 | | FM | Ramakrishna J. | | | IND | 2130 | TG | 7,0 | 50,5 | 20 | -21,8 |
Links
---