Abu Dhabi Masters: Two GMs and a ton of norms!
The Indian contingent finished off with a bang at the Abu Dhabi Masters, this year. Even though none of the players made it into the top 10 on the leaderboard, India grew richer by two Grandmasters in Nihal Sarin and Arjun Erigaisi. Furthermore, Harsha Bharathakoti and P Iniyan also scored their Grandmaster norms and are heading strongly towards the title. Among IM norm scorers, Muthaiah AL and Sankalp Gupta scored their norms with a round to spare, while VS Rathanvel scored a quick draw in the finale to make the feat. Amid all this, Daniil Dubov and Salem Saleh caught up with Anton Korobov in the top spot in a nail-biting final round. After the tiebreaks were applied Dubov was declared the winner.
India grows two grandmasters richer on its 71st year of independence!
The 25th Abu Dhabi Masters came to a close on the 15th of August, the Indian Independence Day. Sadly, there wasn't a single Indian among the top 10 in the final standings. But that was more due to the high number of players tied on one score. Even for the first place, there was a tie between three players: Daniil Dubov, Anton Korobov and Salem AR Saleh. After the tiebreaks were applied, Dubov took the top spot while Korobov and Saleh were placed second and third, respectively. Gabriel Sargissian, who was half a point behind at 7.0/9 took clear second and then there was a long tie between 11 players at 6.5/9. Three Indians were a part of this tie; the highest placed was GM Murali Karthikeyan who took the 11th place on the leaderboard. Behind him were Harsha Bharathakoti and Debashis Das, who finished 13th and 15th, respectively.
Despite this, Indian fans had a lot to cheer for as, at the conclusion of the tournament, India was richer by two young Grandmasters! In our previous report, we had mentioned that IM Nihal Sarin had made his final GM norm in Abu Dhabi with a round to spare. To give you a quick recap, Sarin only needed half-a-point in the penultimate round to clinch his final GM norm — and with it, the Grandmaster title. Fortunately for him, his opponent, IM Teymur Kuybokarov, was also in a similar situation. He too needed a draw to earn his GM norm with a round to spare. The result of the game, quite obviously, therefore, was a tepid 21 move draw. In fact, both players were pitted against much higher rated opponents in the finale and had lost. But they had little to regret as they had already pocketed their grandmaster norms!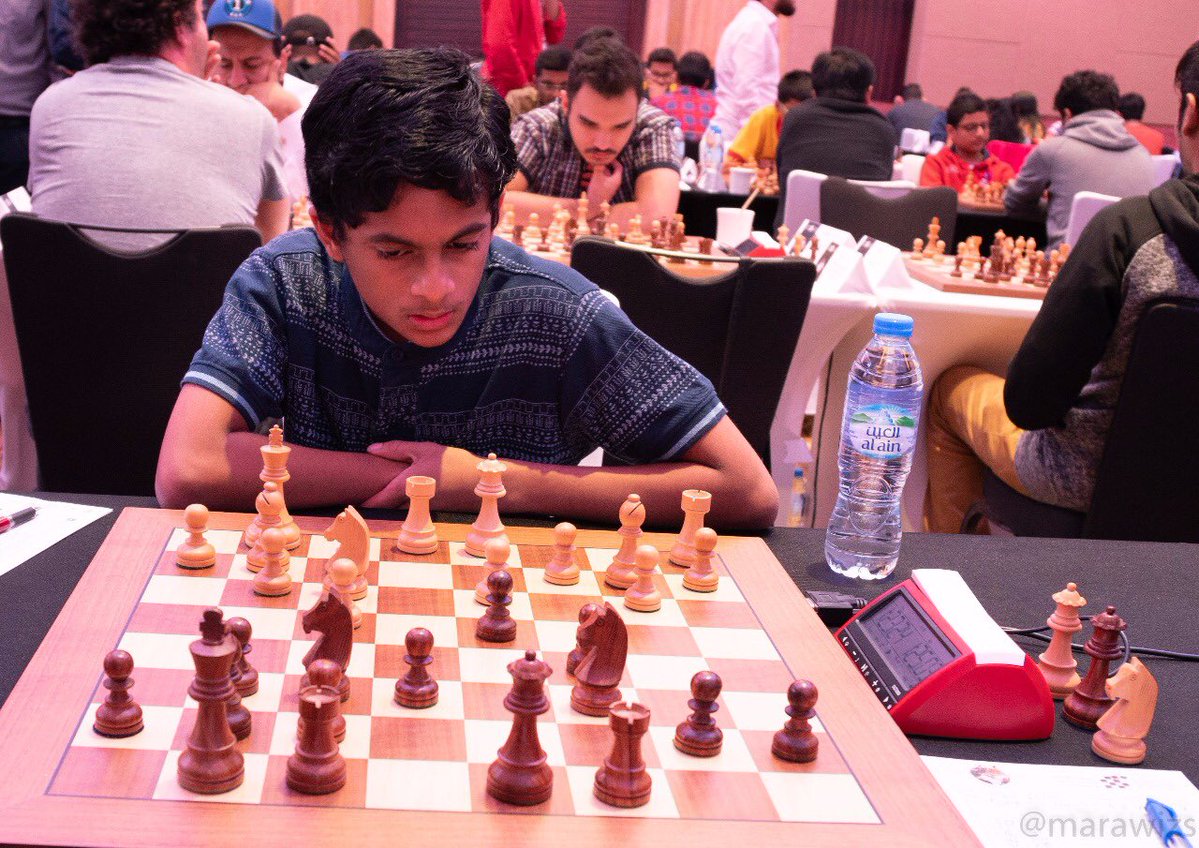 For Arjun Erigaisi, the final round of the tournament was a lot more crucial. He was in a must-win situation in his final round game against IM Krishna Teja. The game began with a Torre Attack wherein Erigaisi, who had the white pieces, had managed to stick out a passed pawn on the queenside, around 30 moves into the game. While this could potentially have been a trump for Arjun, the pawn also risked being rounded off. And that is what happened a few moves later.
Black could just take on b5 here and be better. But Krishna delayed on taking the pawn and soon an equal position was reached. The game soon reached a very double-edged rook and pawn endgame where Arjun managed to come out on top despite being a pawn down.
Interestingly, Arjun did not have even an IM norm to his name at the start of the year. All of his six norms — three IM norms and three GM norms — have come within just eight months! He also crossed the 2500 rating threshold in this time.
IM P Iniyan was yet another Indian teenager to have scored his GM norm. In the first eight rounds, Iniyan had scored 4.5 points, which included a win against GM Sanan Sjugirov who was rated more than 200 points over him! The only loss Iniyan had suffered this far was in the second round against the eventual winner of the tournament, GM Daniil Dobov. In the penultimate round, Iniyan faced Martyn Kravtsiv against whom the 16-year-old played a sharp tactical battle.
In a Classical Sicilian, Iniyan was forced to give up his queen in order to avoid mate in the middlegame. Kravtsiv was clearly winning after this but a blunder on the 46th move allowed Iniyan to wriggle out with perpetual checks and earn his title with a round to spare.
Harsha Bharathakoti was the fourth Indian to score a Grandmaster norm in the tournament. On his way towards making his final GM norm, Harsha scored four straight wins in his last four rounds, defeating strong GMs like Daniele Vocaturo and Levan Pantsulaia. He also gained 20 rating points on the way, taking his rating up to 2470. All he needs now to become a grandmaster is 30 rating points.
Besides the three GM norms, three Indians also scored their International Master Norms in the tournament. Like Nihal and Iniyan, Sankalp Gupta and Muthaiah AL also scored their norms with a round to spare. But these, of course, were International Master norms. The third Indian to score an IM norm was FM VS Rathanvel.
Rathanvel needed a draw in the final round against Dinara Saduakassova. Playing white, he essayed the Ruy Lopez and got the draw within just 24 moves. However, Saduakassova did not want to let the young lad get away without a fight. On her 17th turn, she gave up an exchange to rip open the white king.
White's king position looks precarious. However, Rathanvel not only found the best moves to hold ground, he also was better after black's attack had fizzled out. But despite being in a better position, he decided to draw the game by mutual agreement and seal his IM norm.
Dubov takes title in a dramatic finale
The final round itself was also quite a nail-biting one. Anton Korobov, with his win in the penultimate round, had sped past his nearest rivals Daniil Dubov and Salem AR Saleh. If he had managed to win just one more game, he would have finished as the sole leader. But Korobov did not even try to win in the finale. He agreed to a draw with black against Gabriel Sargissian only ten moves into the game. This draw gave Saleh and Dubov a chance to reunite with Korobov in the first place and both grandmasters made the most of the opportunity.
GM Saleh had the black pieces against Aravindh Chithambaram of India on board three and was struggling in a Sicilian Najdorf for a large part of the game. The Indian teenager made some errors, however, and allowed Saleh to come back in the game. On his 33rd turn, Saleh came up with an enterprising queen sacrifice that complicated the game significantly.
Black just took on b2 with his knight here. When white went 33.Rb4, Saleh uncorked 33...Rxb4! After 34.Nxb4 Rxe3, black is suddenly threatening a mate on e1. 35.Re2 was necessary here but Aravindh blundered immediately with 35.Nc6? and ended up resigning three moves later.
On board two, Dubov drifted away from the well-trodden paths of theory in an Open Catalan on his seventh turn and gave up a pawn with 7.b3.
The computer evaluates this sacrifice to lead to an equal position. However, by the middle-game, Dubov found himself in serious trouble.
White is seriously worse here. Black's a-pawn looks particularly threatening while White's kingside attack is still a long way from leading anywhere. Nonetheless, play on the king's wing was all White had and that's all he could hustle with. Over the next few moves, that's exactly what Dubov did — he tried to scare black with an attack.
White is downright busted here, but that is easy to say with an engine by your side; the position is razor sharp. White has just played 43.Rd3, letting the 'a' pawn run down the board. Play continued 42...a2 43.Rh3 and after 43...Qh5, the human reaction against White's threat of a queen invasion on h7, the position turns equal!
The computer suggests 43...Kg8 here. After 44.Qh7, black has 44...Kf8 45.Qh6+ and 45...Qg7 and all of White's pyrotechnics fizzle out.
After the text move, however, black lost two queens back to back — the one he has on the board and the one he had acquired by promoting his 'a' pawn. Dubov proceeded with 44.Qf4 a1=Q 45.Rxh5 gxh5 46.Rxa1 Rxa1.
From being clearly winning, Black has reached a complex position in a span of just five moves. But even here, the complications did not end. A couple of moves later, Cheparinov inexplicably gave up an exchange and ended up resigning after Dubov managed to hack off Black's queenside pawns.
With their wins, both Dubov and Saleh managed to catch up with the tournament leader, Anton Korobov in the first place. And since the tournament does not feature a playoff, tiebreaks were applied to determine the winner. As per the tiebreak, Dubov was crowned the champion, Korobov took the second place and Saleh, the third.
All Games
Final Standings
About the Author
Aditya Pai is an ardent chess fan, avid reader, and a film lover. He holds a Master's in English Literature and used to work as an advertising copywriter before joining the ChessBase India team.
Previous reports
Abu Dhabi Masters: Rathanvel dominates Le Quang Liem!
Abu Dhabi Masters: A shock defeat for Abhijeet Gupta
Abu Dhabi Masters: Aravindh Chithambaram holds Vladimir Fedoseev
Abu Dhabi Masters R4-6 Four Indians in a tie for fourth
Abu Dhabi Masters: Young Indians shine!
Abu Dhabi Masters: Nihal Sarin is India's latest GM!
---