Abu Dhabi Masters: Rathanvel dominates Le Quang Liem!
The 25th edition of the Abu Dhabi Masters saw some gnarly upsets on the first day. On the topmost board, IM VS Rathanvel achieved what Vidit Gujrathi could not at the Danzhou Masters some weeks ago; he defeated Le Quang Liem!! Playing white, Rathanvel gave up an exchange early in the game and dominated all the way through. This, however, was not the only upset of the round. Koustav Chatterjee, Sankalp Gupta,Rakshitta Ravi and many others also scored some stunning upsets. A detailed report.
Abu Dhabi Chess Fest turns 25!

One of the biggest chess events in the Middle East, The Abu Dhabi Chess Festival kicked off on Tuesday evening at Hotel Dusit Thani in the Emirati capital of Abu Dhabi. The event has been a hot favourite of Indian players and every year, there is a high number of participants from India. This year, too, is no exception. Out of the 150 participating players in the Masters' group, about 90 are Indians!
Celebrating its silver jubilee this year, the festival's premier event, the Abu Dhabi Masters, will feature a field of very strong grandmasters. More than 100 titled players from 25+ countries have confirmed their participation this year.
In comparison to the previous year when Nigel Short was the top seed of the event with an Elo of 2688, this year, the tournament features five grandmasters rated above 2700. The line-up includes some well-known names like Richard Rapport, Le Quang Liem, Ivan Cheparinov, and Short, currently focused on the FIDE Presidential race, is back as well.
Upsets and exchange sacs
The initial rounds of strong open tournaments like this one are always exciting. Norm hungry title aspirants fight to their fullest and, many a time, succeed in knocking their high rated opponents off their pedestals.
In that regard, the inaugural round was quite a spectacle. Top seed of the tournament, GM Le Quang Liem was thoroughly outplayed by V S Rathanvel, a 17-year-old FIDE Master from India! With an Elo of 2348, Rathanvel was rated almost 400 points below the Vietnamese number one.
Le has been in top form currently. He has come to Abu Dhabi after a very successful outing in Dangzhou where he finished clear second in an all 2700+ rated eight-player round robin, winning back to back games in the last two rounds. But this game painted a completely different picture.
If one were asked to guess who was playing white in the game, one might easily fall prey to thinking it was Le Quang Liem. In a Caro-Kann Advanced, Le had established a menacing pawn on d3. In the position above, it is black to play and taking on a1 with the queen or on e5 with the knight were decent options.
However, Black played 17…Bg4, perhaps, trying to dislocate the d1 rook. If the white moves the rook to e1, Qxa1 just wins. White does not have Bb2 in this case as the rook on e1 remains en prise. But Rathanvel never intended to defend the rook. He simply responded with 18.Bb2 and after 18…Bxd1 19.Rxd1 Qg4 20.Rxd3 Rd8, planted his knight in the heart of black's position with 21.Nd6.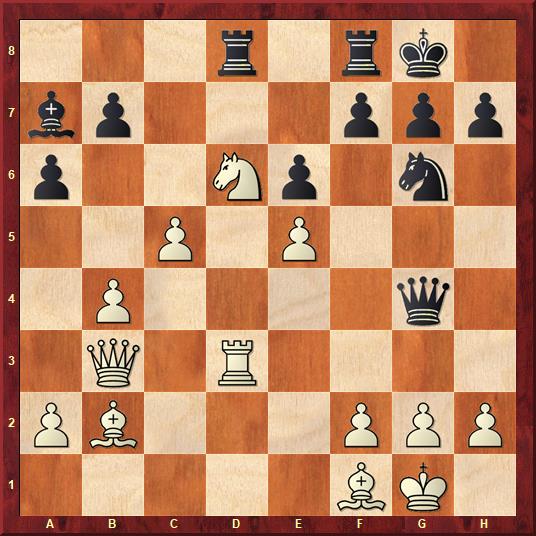 Play turned extremely sharp after this and Rathanvel proved that his tactical skills are absolutely world class!
Board five saw another exchange sacrifice by white but in this case it did not lead to victory. Padmini Rout, who had the black pieces against Vladimir Fedoseev, had inflicted several weaknesses in her opponent's pawn structure. But with his active pieces, black was doing just fine.
Here, Padmini decided to give up an entire exchange with 18.Nxf4 allowing 18…Bxd1 19. Rxd1 h4. As play progressed, however, Padmini struggled to find compensation for her material deficit. Fedoseev, in the meantime, took over the initiative and scored a clean win.
A third exchange sacrifice of the round was seen in the game between local GM Salem Saleh and Sankalp Gupta. The Emirati number one had dominated all through the game and by the 36th move, he was merely giving finishing touches to his well-deserved victory when an unfortunate mishap ruined it all.
Black is just very passive here. The bishop has no future and the rook is stuck defending it. Saleh just gave up an exchange here with 36.Rxb7 and was just completely winning. But then the UAE grandmaster began to move back and forth with his queen. At first, it looked like Saleh was just playing cat and mouse with his opponent but, as it turned out, he had lost the thread of the position and ended up being held to a draw!
Something equally stunning and surprisingly similar was seen in the game between Koustav Chatterjee and GM Sanan Sjugirov. Just like in the game between Saleh and Gupta, an exchange was sacrificed on the 36th move. But this time it was black who had played the sac.
Sjugirov plunged in here with 36…Rxf3 37.gxf3 and 37…Qxh2. After this, white was completely winning. It's not clear whether this was time pressure or something else but both players missed several opportunities after this. Within six moves, white, from being completely lost, was in a totally winning position. But surprise, surprise… a draw was agreed!!
Deep down the pairing list on board 46, 13-year-old Rakshitta Ravi was pitted to play against IM Javokhir Sindarov. Rated about 300 points above Rakshitta, Sindarov was clearly the favourite to win. But the Uzbekistani International Master began to falter quite early in the game let his opponent win an exchange as early as on move 13. As play progressed, Sindarov began to fight a bit too hard to restore material equality.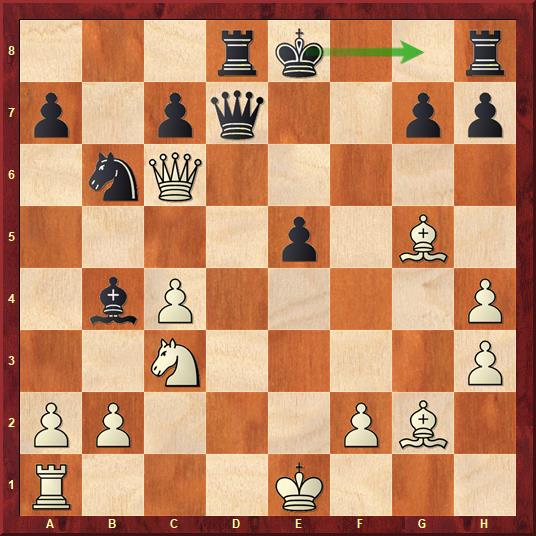 Here, Rakshitta just let her opponent win back the exchange and just castled short. But after 19.Bxd8, white seized the initiative and simply dominated the game with 19…Qd4 20.Be7 and 20…Bxc3. Within the next six moves, Rakshita had scored her first win of the tournament!
Round 1 results
Standings after round 1
| | | | | | | | | | | | | | | | | |
| --- | --- | --- | --- | --- | --- | --- | --- | --- | --- | --- | --- | --- | --- | --- | --- | --- |
| Rk. | SNo | | | Name | FED | Rtg | Pts. | TB1 | TB2 | TB3 | n | w | we | w-we | K | rtg+/- |
| 1 | 2 | | GM | Rapport Richard | HUN | 2719 | 1,0 | 0,0 | 0 | 0,0 | 1 | 1 | 0,90 | 0,10 | 10 | 1,0 |
| | 3 | | GM | Cheparinov Ivan | GEO | 2718 | 1,0 | 0,0 | 0 | 0,0 | 1 | 1 | 0,90 | 0,10 | 10 | 1,0 |
| | 4 | | GM | Wang Hao | CHN | 2711 | 1,0 | 0,0 | 0 | 0,0 | 1 | 1 | 0,90 | 0,10 | 10 | 1,0 |
| | 5 | | GM | Fedoseev Vladimir | RUS | 2707 | 1,0 | 0,0 | 0 | 0,0 | 1 | 1 | 0,90 | 0,10 | 10 | 1,0 |
| | 6 | | GM | Dubov Daniil | RUS | 2691 | 1,0 | 0,0 | 0 | 0,0 | 1 | 1 | 0,89 | 0,11 | 10 | 1,1 |
| | 7 | | GM | Amin Bassem | EGY | 2684 | 1,0 | 0,0 | 0 | 0,0 | 1 | 1 | 0,89 | 0,11 | 10 | 1,1 |
| | 8 | | GM | Sargissian Gabriel | ARM | 2680 | 1,0 | 0,0 | 0 | 0,0 | 1 | 1 | 0,89 | 0,11 | 10 | 1,1 |
| | 10 | | GM | Korobov Anton | UKR | 2664 | 1,0 | 0,0 | 0 | 0,0 | 1 | 1 | 0,89 | 0,11 | 10 | 1,1 |
| | 11 | | GM | Short Nigel D | ENG | 2659 | 1,0 | 0,0 | 0 | 0,0 | 1 | 1 | 0,88 | 0,12 | 10 | 1,2 |
| | 12 | | GM | Akopian Vladimir | ARM | 2655 | 1,0 | 0,0 | 0 | 0,0 | 1 | 1 | 0,88 | 0,12 | 10 | 1,2 |
| | 13 | | GM | Kravtsiv Martyn | UKR | 2654 | 1,0 | 0,0 | 0 | 0,0 | 1 | 1 | 0,88 | 0,12 | 10 | 1,2 |
| | 15 | | GM | Maghsoodloo Parham | IRI | 2636 | 1,0 | 0,0 | 0 | 0,0 | 1 | 1 | 0,88 | 0,12 | 10 | 1,2 |
| | 17 | | GM | Adly Ahmed | EGY | 2634 | 1,0 | 0,0 | 0 | 0,0 | 1 | 1 | 0,88 | 0,12 | 10 | 1,2 |
| | 18 | | GM | Lupulescu Constantin | ROU | 2619 | 1,0 | 0,0 | 0 | 0,0 | 1 | 1 | 0,87 | 0,13 | 10 | 1,3 |
| | 19 | | GM | Vocaturo Daniele | ITA | 2617 | 1,0 | 0,0 | 0 | 0,0 | 1 | 1 | 0,87 | 0,13 | 10 | 1,3 |
| | 20 | | GM | Gupta Abhijeet | IND | 2614 | 1,0 | 0,0 | 0 | 0,0 | 1 | 1 | 0,87 | 0,13 | 10 | 1,3 |
Round 2 pairing
---