15 days after his wedding, Mr. Commonwealth Abhijeet Gupta wins Cannes Open 2019
GM Abhijeet Gupta won 33rd Cannes festival in France emphatically finishing a full point ahead of the competition. This was his first tournament after getting married. Despite being busy with all ceremonies and celebration, he showed no rust. In fact, if statistics are anything to come by then he completely overthrew them all, remained undefeated and won the tournament living up to his moniker of 'Mr Commonwealth'. Abhijeet had a performance rating of 2733 and scored 7.5/9 to win the tournament. He won a beautiful trophy and €1800 cash. 12-year old Pune lad, Aditya Samant scored his maiden IM-norm. In this report we show you some of the beautiful games he played and an interview with the man himself. Photo: Cannes Chess Club
Abhijeet fantastic in Cannes, France
After the tournament Sagar Shah caught up with Abhijeet Gupta and asked him a few questions about his excellent performance:
Sagar Shah (SS): How was it playing the event after being recently married?
Abhijeet Gupta (AG): It was not that different. You have met Aditi as well. She is very easy going. I didn't have that much trouble sharing room with her during the event. On a serious note, I think I was very similar to how I was before. That really did not change much.
SS: Many people play poorly after marriage, but you came out there and scored 7.5 with a rating performance of 2733! How did you do it?
AG: I have not played that much recently. Probably the hunger to play kept me going and that probably showed in my game. I wanted to push harder in the game and I was not looking for short draws except for the last round. There were double rounds, especially the morning games can be tough for me, but I survived.
SS: Would you credit Aditi for your performance?
AG: I would not only credit Aditi but a lot of people - my family, Vishal (Sareen) sir, Aditi of course for taking care of a lot of small things like waking me up with a cup of coffee. All of these little things make a huge difference. To be honest, only after that I realized, I am a married person now. There is somebody to take care of me.
SS: The chess fans are eager to know more about Aditi. Does she play/understand chess? What is her profession?
AG: She is going to be 22 in a few days. She does not play chess, but she does understand a bit. She follows the game on Chess24 and Follow Chess and she can see whether white or black is winning. Besides that, she does not know that much about the game. As for her profession - she is a fashion designer. She likes to shop and design clothes.
SS: Will we see Abhijeet play more frequently now? Because before marriage you had reduced the number of tournaments you play in.
AG: My schedule is pretty tight. I am going to play next in Sharjah and then in Iceland. So yeah you will see a lot of games from me in the next few months.
SS: Which was your favourite game of the event? and why?
AG: Probably the penultimate round game against Ameet Ghasi was pretty clean. Although in the end I messed it up slightly. I should have won it more cleanly. Probably the game before that in which I introduced a new idea in Grunfeld and managed to win with the black pieces. It was quite decent. Because of that I managed to win the tournament convincingly. In the end, I just needed to make a draw.
Here's a position from Abhijeet's eighth round win against Ameet Ghasi.
Can anyone believe this? What a move!! pic.twitter.com/L5HIevN7Fk

— Vishal Sareen (@vishalsareen) February 23, 2019
SS: How did Aditi help you in this event?
AG: Being able to live with somebody whom you wanted to all your life and when you know that person is going to take care of you in every sort of way, comforts you, Aditi helped me in the same way.
Overview of Abhijeet's tournament
Here is a fine win by Abhijeet in round 1 over Alexandre Bacrot:
In round 2, Abhijeet demolished Edoardo Di Benedetto with a devastating attack in Queen's Gambit Declined Exchange Variation.
Abhijeet showed his endgame technique against GM Michele Godena in round 3.
Against Marcin Krzyzanowski in round 4, Abhijeet executed some brilliant positional play by sacrificing two pawns:
Abhijeet's win in the seventh round against Harutyun Barseghyan, which was analyzed above.
The game against Ameet Ghasi in round 8 was such an exciting one. Check out the analysis of the game in the interview.
A quick draw in the final round with the same idea in the Grunfeld as in round seven gave Abhijeet the title.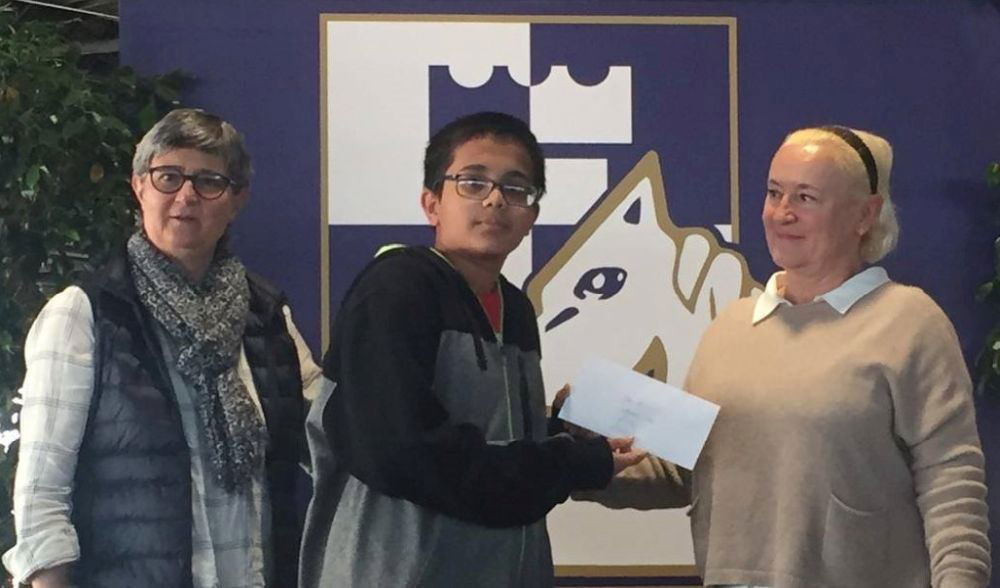 Aditya Samant scored 5.5/9 at the Cannes Chess Festival 2019 and scored his maiden IM norm. He drew against GM Solodovnichenko (2574), Rubio Mejia (2437), Mohamed Tissir (2391), Di Benedetto (2382), and Barseghyan (2457). His wins came against Roman Skomorokhin (2343) and Mateusz Paszewski (2347). Aditya had been close to IM norms on many occasions in the past, and has finally done it. This might well be the start of the next two norms coming in very soon. A big congratulations to the lad and his team.
---