Koustav Chatterjee wins WB State Sub-Junior and Youth consecutively
Koustav Chatterjee becomes the first player in West Bengal to win two different West Bengal State Championships consecutively within two weeks. Koustav won State Sub-Junior for the very first time and within 8 days, he won the first edition of State Youth championship. He had won State u-11 and u-13 before in 2013 and 2015 respectively. Koustav won both Sub-Junior and State Youth convincingly as he finished half point ahead of the runner up. Bristy Mukherjee won State Sub Junior Girls emphatically as she finished a full point ahead of a pack. Photo: Amruta Mokal
Koustav and Bristy are 41st West Bengal State Sub-Junior champions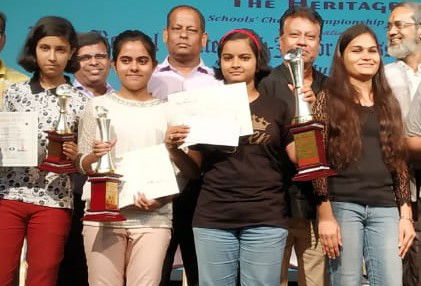 Koustav Chatterjee scored 7.5/8, finished half point ahead of the runner-up of the tournament, CM Aronyak Ghosh who scored 7.0/8. Arpan Das Jr. scored 6.5/8 and due to a better tie-break score, he finished as the second runner-up, out of the pack of 8 players who also finished at 6.5/8. Koustav sent us two annotated games from both his championship winning tournaments.
First game is from 41st WB State Sub-Junior of round 5 against Sanket Chakravarty. Watch the game and see his annotations where he talks about what was going through his mind when he played the game.
The second game is from 1st WB State Youth of round 6 against Srijit Paul. However this time, round 6 is a penultimate round. Koustav minutely describes why this win was important to him for winning the championship.
Both Koustav Chatterjee and Bristy Mukherjee went on to win Bronze and Silver medal in under 16 open and under 14 girls category in Commonwealth Chess Championships after this event.
Final Standings of 41st WB State Sub-Junior 2018 in Open category
| | | | | | | | | | | | | | | | | | | |
| --- | --- | --- | --- | --- | --- | --- | --- | --- | --- | --- | --- | --- | --- | --- | --- | --- | --- | --- |
| Rk. | SNo | | Name | Typ | sex | FED | Rtg | Pts. | TB1 | TB2 | TB3 | TB4 | TB5 | w | we | w-we | K | rtg+/- |
| 1 | 1 | | Koustav Chatterjee | | | IND | 2365 | 7,5 | 0,0 | 40,0 | 44,0 | 40,50 | 7 | 7,5 | 7,07 | 0,43 | 20 | 8,6 |
| 2 | 2 | CM | Aronyak Ghosh | | | IND | 2271 | 7,0 | 0,0 | 42,5 | 46,0 | 39,00 | 6 | 7 | 6,77 | 0,23 | 20 | 4,6 |
| 3 | 4 | | Arpan Das (Jr) | | | IND | 2078 | 6,5 | 0,0 | 41,0 | 44,5 | 31,75 | 5 | 5,5 | 6,00 | -0,50 | 40 | -20,0 |
| 4 | 7 | | Sanket Chakravarty | | | IND | 1836 | 6,5 | 0,0 | 40,0 | 44,0 | 33,00 | 6 | 5,5 | 4,47 | 1,03 | 40 | 41,2 |
| 5 | 3 | | Utsab Chatterjee | | | IND | 2105 | 6,5 | 0,0 | 40,0 | 43,5 | 35,00 | 6 | 6,5 | 7,31 | -0,81 | 40 | -32,4 |
| 6 | 5 | | Shuban Saha | | | IND | 1939 | 6,5 | 0,0 | 40,0 | 43,0 | 33,25 | 6 | 5,5 | 4,93 | 0,57 | 40 | 22,8 |
| 7 | 8 | | Soham Dey | | | IND | 1799 | 6,5 | 0,0 | 37,0 | 39,0 | 28,75 | 5 | 5,5 | 6,00 | -0,50 | 40 | -20,0 |
| 8 | 18 | | Swarnava Biswas | | | IND | 1614 | 6,5 | 0,0 | 36,5 | 40,5 | 33,00 | 6 | 5,5 | 4,79 | 0,71 | 40 | 28,4 |
| 9 | 6 | | Soumma Chakraborty | | | IND | 1921 | 6,5 | 0,0 | 36,0 | 38,0 | 30,75 | 6 | 5,5 | 5,79 | -0,29 | 40 | -11,6 |
| 10 | 12 | | Ayan Pal | | | IND | 1663 | 6,5 | 0,0 | 35,5 | 38,5 | 30,50 | 6 | 5,5 | 5,33 | 0,17 | 40 | 6,8 |
Final Standings of 41st WB State Sub-Junior 2018 in Girls category
| | | | | | | | | | | | | | | | | | | |
| --- | --- | --- | --- | --- | --- | --- | --- | --- | --- | --- | --- | --- | --- | --- | --- | --- | --- | --- |
| Rk. | SNo | | Name | Typ | sex | FED | Rtg | Pts. | TB1 | TB2 | TB3 | TB4 | TB5 | w | we | w-we | K | rtg+/- |
| 1 | 1 | | Bristy Mukherjee | | w | IND | 1814 | 6,5 | 0,0 | 28,5 | 32,0 | 29,50 | 6 | 6,5 | 6,34 | 0,16 | 40 | 6,4 |
| 2 | 3 | | Mehendi Sil | | w | IND | 1611 | 5,5 | 0,0 | 28,0 | 31,5 | 24,50 | 5 | 5,5 | 5,76 | -0,26 | 40 | -10,4 |
| 3 | 2 | | Sudipa Haldar | | w | IND | 1621 | 5,5 | 0,0 | 27,0 | 30,5 | 23,50 | 5 | 5,5 | 5,79 | -0,29 | 40 | -11,6 |
| 4 | 7 | | Sanika Sengupta | | w | IND | 1403 | 5,5 | 0,0 | 25,0 | 28,0 | 21,00 | 5 | 5,5 | 5,67 | -0,17 | 40 | -6,8 |
| 5 | 13 | | Das Annika | | w | IND | 1288 | 5,5 | 0,0 | 25,0 | 27,5 | 20,25 | 5 | 4,5 | 3,14 | 1,36 | 40 | 54,4 |
| 6 | 4 | | Diya Chowdhury | | w | IND | 1544 | 5,0 | 0,0 | 32,0 | 35,0 | 23,50 | 4 | 5 | 4,32 | 0,68 | 40 | 27,2 |
Final Standings of 1st WB State Youth 2018
| | | | | | | | | | |
| --- | --- | --- | --- | --- | --- | --- | --- | --- | --- |
| Rk. | SNo | | Name | FED | Rtg | Pts. | TB1 | TB2 | TB3 |
| 1 | 2 | | Koustav Chatterjee | IND | 2365 | 6,5 | 0,0 | 29,5 | 33,0 |
| 2 | 4 | CM | Aronyak Ghosh | IND | 2271 | 6,0 | 0,0 | 30,0 | 33,0 |
| 3 | 5 | | Subhayan Kundu | IND | 2192 | 6,0 | 0,0 | 28,5 | 32,0 |
| 4 | 3 | | Srijit Paul | IND | 2347 | 6,0 | 0,0 | 28,0 | 31,5 |
| 5 | 6 | | Arpan Das | IND | 2180 | 5,5 | 0,0 | 31,5 | 35,0 |
| 6 | 1 | | Kaustuv Kundu | IND | 2371 | 5,5 | 0,0 | 30,0 | 33,5 |
| 7 | 25 | | Shouvik Kar | IND | 1712 | 5,5 | 0,0 | 27,5 | 30,0 |
| 8 | 8 | | Suvradeepta Das | IND | 2017 | 5,5 | 0,0 | 26,5 | 28,5 |
| 9 | 9 | | Shuban Saha | IND | 1939 | 5,5 | 0,0 | 25,5 | 28,5 |
| 10 | 10 | | Debankan Dhara | IND | 1923 | 5,0 | 0,0 | 29,0 | 33,0 |
| | 12 | | Koustav Chakraborty | IND | 1876 | 5,0 | 0,0 | 29,0 | 33,0 |
---