3rd Vizag GM Open R1-4: Konguvel makes a perfect start
IM P Konguvel is a revered chess player and gentleman of the game. He is in a three-way lead 4/4 along with the top seed GM Farrukh Amonatov and GM Stupak Kirill at GITAM University 3rd Vizag GM International Open 2022. He scored sublime victories over GM Boris Savchenko and IM Nigmatov Ortik in the third and fourth round respectively. The perfect start by Konguvel does not surprise us. He is former National 'A' champion (1995) and has GM strength. He has all the norms, only the rating requirement is left to be fulfilled. The current rating system might make things difficult to increase by a lot for an adult. However, Konguvel is certainly going to strive for it. Round 5 starts today at 10 a.m. IST. Photo: Aditya Sur Roy
Aditya Varun Gampa and Bharat Kumar Reddy impresses
There are two untitled players who are undefeated at 3.5/4 each. They are - Aditya Varun Gampa (1836) and Bharat Kumar Reddy Poluri (2224). Aditya defeated GM Nguyen Duc Hoa (VIE, 2398) and drew with GM Nguyen Van Huy (VIE, 2383). Bharat defeated IM Shota Azaladze (GEO, 2429) and drew with IM Nitin S (2404).
Round 2: Mayank - Mitrabha: 1-0
CM Mayank Chakraborty (1978) scored the biggest upset of the second round when he beat GM Mitrabha Guha (2499).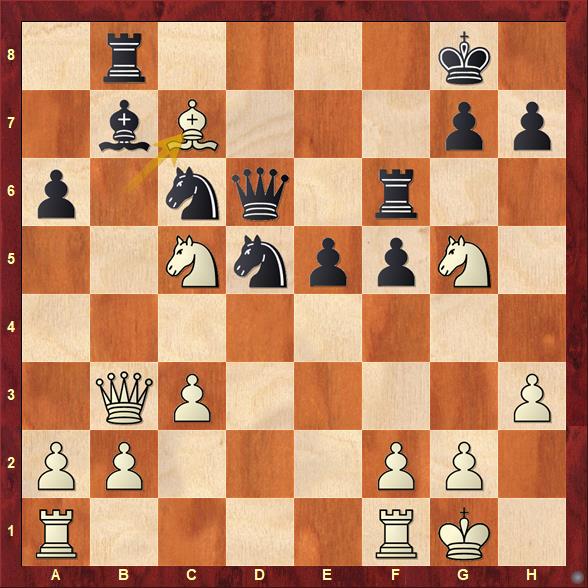 19.Rad1 was a better continuation. However, 19.Bc7 works too. 19...Qxc5 20.Bxb8 Na5 21.Qa4 Bc6 22.b4 Bxa4 23.bxc5 and White is completely winning. Mitrabha did not go down easily. He ensured his opponent earned the full point.
Round 3: Boris - Konguvel: 0-1
IM P Konguvel (2299) maneuvered his knights beautifully against GM Boris Savchenko (2524).
Both knights at c4 and e4 are completely dominating the position. 34.Nxb5 Rxb5 35.Qd4 Qc5 36.Qxc5 Nxc5 37.Be2 Ne6 38.Bg3 Rxb4 39.cxb4 Nd4 and Black went on to win the game using his knights beautifully against the bishop pair.
Round 4: Konguvel - Ortik: 1-0
IM P Konguvel (2299) is in terrific form. He defeated IM Nigmatov Ortik (UZB, 2462) with a nice tactical shot.
Find out the winning continuation for White after 33...f5.
IM P Konguvel is playing fantastic chess. However, he was forced to change rooms in the middle of his stay as tweeted by him
A total of 142 players including 16 GMs, 10 IMs and 2 WIMs are taking part from 13 countries across the world including India. The tournament is organized by Andhra Chess Association from 10th to 17th June 2022 at GITAM University, Visakhapatnam, Andhra Pradesh. The ten-round Swiss league tournament has a time control of 90 minutes + 30 seconds increment from move no.1.
Replay Round 1-4 games
Round 4 results
Round 5 pairings
---