17-year-old Divya Deshmukh is the 12th Indian female to become an International Master
The reigning two-time National Women's champion, WGM Divya Deshmukh scored her final IM-norm on Thursday 11th May at Baku Open 2023. Despite losing her eighth round game against IM Aditya S Samant, Divya's final norm was secured. Her last round result became immaterial. As the 44th Chess Olympiad 2022 individual Bronze medalist, mentioned in an interview, she scored her norms in two years of gap. The first norm was when she was 13-years-old at AICF-Velammal WGM Round Robin in February 2019. She crossed 2400 in April FIDE 2019 Rating list. A little over two and a half years later, she earned her second IM-norm at First Satuday GM October 2021. She will make her FIDE Women's World Cup debut in almost 2.5 months from now. Photo: Maharashtra Chess Association
Final IM-norm in her comeback tournament
Divya Deshmukh has won a lot of accolades in a tender age. She has won the Gold medal for the Indian team in the first ever FIDE Online Olympiad 2020. Last year, Divya won Gold in Asian Continental 2022 Women Blitz and Bronze in Asian Continental 2022 Women. Her play on the board is certainly of a matured player. However, she is just 17 years old! She mentioned in an interview with IM Sagar Shah that she went to play Baku Open 2023 immediately after she finished taking her twelfth standard board examination. When she became India's 22nd WGM, then also she secured final WGM-norm in her comeback tournament, a little over 1.5 years ago. She is certainly on her way to earn the coveted Grandmaster title.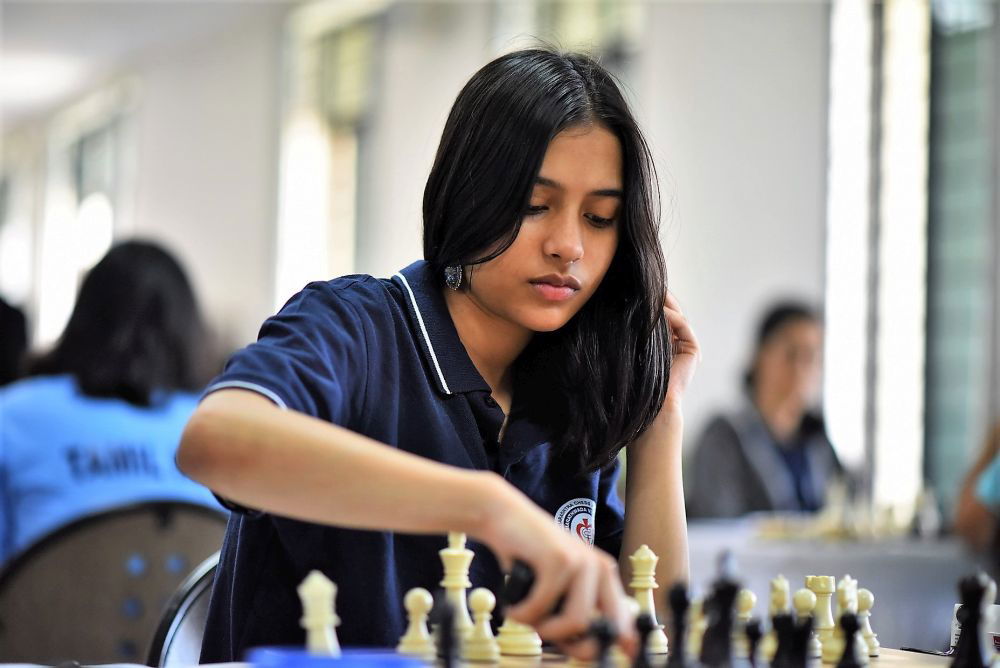 First IM-norm: Velammal-AICF Round Robin 2019
Divya scored her first WGM and IM-norm at Velammal-AICF International WGM Round Robin. She scored 8/11 to win the tournament, including wins over IM Julia Osmak (UKR), WGMs Uurtsaikh Uuriintuya (MGL) and WGM Olga Babiy (UKR). She also drew with IM Guliskhan Nakhbayeva (KAZ).
Julia - Divya, Round 2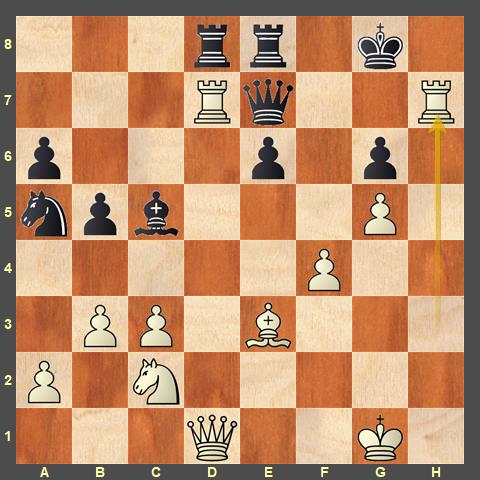 30.Rxh7 is a blunder Rd7 31.Qxd7 Kxh7 and now White is down by a rook and there is no compensation for it.
Second IM-norm: First Saturday GM October 2021
Divya scored her final WGM and second IM-norm at First Saturday GM October 2021. She defeated GM Misa Pap (SRB) and IM Rathanvel VS, drew against GM Lajos Seres (HUN), performed at 2452 to become India's 22nd WGM.
Divya - Misa Pap, Round 6
Black king is at the center of the board and very much unsafe. Try to find out how White can lay the mating net and checkmate the king at the center of the board.
Third IM-norm: Baku Open 2023
Despite starting the tournament with a loss against the top seed, GM Hans Niemann (USA), WGM Divya Deshmukh bounced back well and scored 4.5/7 in her next seven games to score her final IM-norm with a round to spare. She had already crossed 2400 in April 2019 FIDE Rating list. Divya defeated GM Timur Gareyev (USA), GM Bharath Subramaniyam H, drew against GM Harsha Bharathakoti and IM Ihor Samunenkhov (UKR) en route her final IM-norm. She increased her Elo rating by 16.7 points in the process.
Timur - Divya, Round 5
GM Timur Gareyev (USA, 2617) made an incorrect decision to move his a-pawn and support the bishop. Instead, 38.Bd2 would have been much safer. The reigning two-time National Women's champion, seized her opportunity, 38.a3? Rcb6 39.Bc2 Nxh4+ 40.gxh4 c5 41.Kg3 cxb4 42.Rxb4 Rxb4 43.axb4 Rxb4 and Black went on to win the game.
The eleven Indian woman who are International Masters - Subbaraman Vijayalakshmi (2001), Koneru Humpy, Harika Dronavalli (2007), Tania Sachdev (2008). Eesha Karavade (2010), Nisha Mohota (2011), Padmini Rout (2015), Bhakti Kulkarni (2019), Soumya Swaminathan (2020), R Vaishali (2021) and Vantika Agrawal (2023). Humpy became a GM in 2002 directly when she was a WGM. Since she became a GM from WGM, it also means she has fulfilled all the requirements for an IM too.
Replay Divya's games
Videos
Links
---