Celebrating 10 years of chess training excellence
On 19th of April 2007, exactly ten years ago, chess training in Pune, Maharashtra and India received a huge boost. Two siblings who had conquered Indian chess by their amazing performances decided to establish a chess academy. Abhijit and Mrunalini Kunte together founded the Kunte's Chess Academy (KCA). Over the period of ten years KCA has created numerous champions and contributed to the growth of Indian chess. ChessBase India pays its respect to this great institution by organizing a blitz tournament. Be a part of this celebration!
Abhijit went on to become the fourth grandmaster of India, two time national champion (1997 and 2000) and also the British Champion. WIM Mrunalini was one of the best female players of our country and won the national championship in 1996.
Says Abhijit, "I started playing chess because of my sister, Mrunalini Kunte. At that time, very few girls used to play chess. Mohan Phadke spotted her and wanted her to come to his class. In 85-86 going to a chess class was an entirely new concept! The funny thing was that the fees were just 10 rs per month! And he gave us 50% concession! So when my sister went to the class on the first day, she was the lone girl She kept the condition that someone should accompany her otherwise she won't go to the class. I still remember it was a Saturday afternoon and I was playing a cricket match and my mother called me back and asked me to go with Mrunal. What can I say, India lost a good cricketer!"
Mrunalini and Abhijit were perhaps one of the most successful Indian chess siblings. Once they had become strong players they had both dabbled their feet in training other youngsters. But it was only in 2007 that they founded the Kunte's Chess Academy.
It was a great decision by the Kuntes. They believed in sharing their knowledge and resources. It was something that Abhijit and Mrunalini had been taught by their father Prakash Kunte. Opening of the Kunte's Chess Academy meant that they could now train the talents of Maharashtra and India in an organized and consistent manner.
Mrunalini Kunte spoke to us reminiscing her journey, "Baba (Prakash Kunte) had started with his trust activities in 1997-98 and we were actively participating in it. Even though my job in IDBI was good, I couldn't resist my urge of teaching. I decided to leave my job and enter in to chess coaching. The new academy I had started had just six students. Within a year the numbers grew and we went upto 50 students with an additional branch in Aundh."
Abhishek is the backbone of Kunte's Chess Academy and puts in a lot of effort to ensure that the quality of training is kept up at the highest level. However, Kelkar still feels that he is a student of the academy and keeps learning from his mentors Abhijit and Mrunalini.
"KCA has always supported me through out my chess career. Since the very beginning with quality coaching, proper guidance and later on as moral support and confidence booster. When the things were not in my favour, there used to be lot of financial pressure due to not getting desired results in tournaments. In 2011 Dada (Abhijit) and Tai (Mrunalini) asked me to start chess coaching rated players. That helped me not only financially but also chess wise. I got completely different angle to my game. I became more matured and controlled. A lot of things changed once I started chess coaching. I owe my success to Kunte's Chess Academy."
The tournament will be held on Playchess on 30th of April at 6 p.m. IST. It will be eleven rounds of 3+0 blitz chess. The first prize is a hefty Rs. 11,111 and the total prize fund is Rs.40,000.

| | |
| --- | --- |
| lace | Prize |
| 1st | 11,111 |
| 2nd | 7,500 |
| 3rd | 5,000 |
| 4th | 3,000 |
| 5th | 2,000 |
| 6th | 1,750 |
| 7th | 1,500 |
| 8th | 1,250 |
| 9th | 1,100 |
| 10th | 1,000 |
There are more special prizes. You can check them out on the tournament page.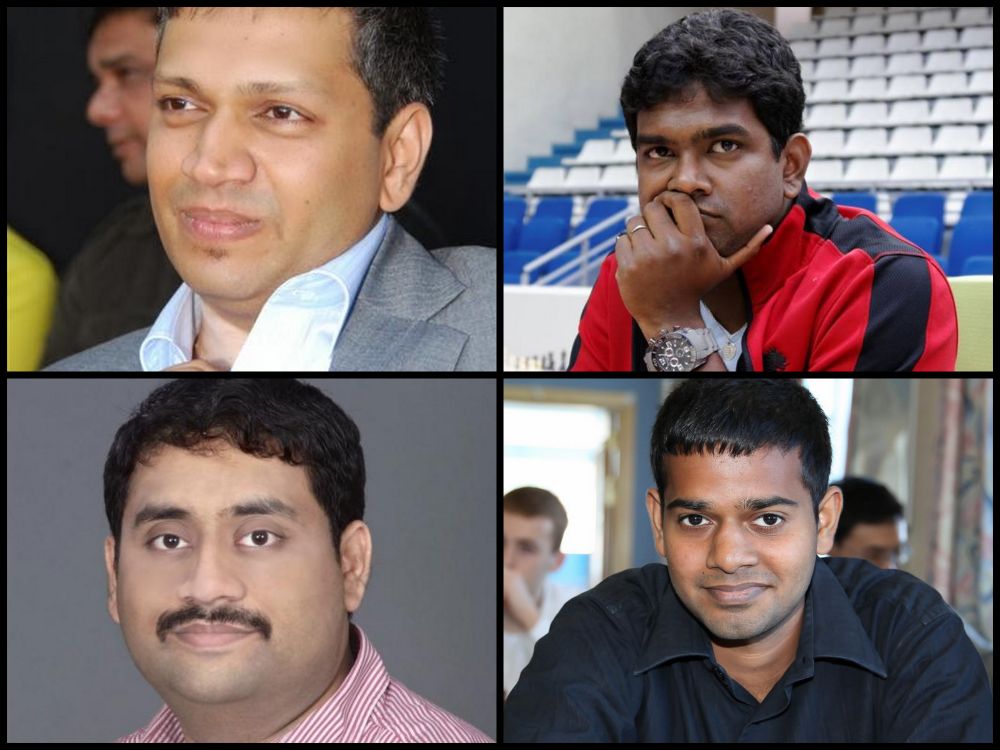 We already have IM P. Karthikeyan (almost a GM!), IM Swayams Mishra, IM Abhishek Kelkar, IM Akshat Khamparia who have confirmed their entry. In our first online prize money tournament we had six grandmasters and 16 IMs who had participated in a field of 148 entries. We are sure that this number will easily be surpassed.
The entry fee for the tournament is Rs.500. Today is your last chance to get a 20% off on the entry fee - Rs.400. From 20th of April the entry fee will be Rs.500. When you enroll for the event you also get one month's ChessBase Premium Account subscription worth Rs.125.
Achievements of the Kunte's Chess Academy
Soumya Swaminathan became the World Junior champion and has made us proud on many occasions by winning the National and Commonwealth title
Abhishek Kelkar achieved IM title in 2015
Harshit Raja has scored 2 IM norms
Aakanksha Hagawane, current under-16 world and u-18 asian champion and is trained by IM Jayant Gokhale, has attended a few training camps and training sessions at KCA from time to time.
Pruthu Deshpande won the Maharastra State Championship (open) at age of 14!
Arnav Nanal won State under-7
Dakshayani Chavan won State u-9 girls
KCA has team of 10 coaches including GM Vishnu Prasanna and IM Ahishek Kelkar.
KCA started playing club at PYC Hindu Gymkhana. It's a perfect place for players to come and play a game of chess!
All of this would have been impossible without a strong back office and administrative team consisting of Rohit Tambe, Aniket Wagle and Vibha Tai.
Kunte's Chess Academy has always aimed to bring the best of trainers and impart knowledge to the youngsters. Some of the famous coaches who have lectured at the academy are:
GM Evgeny Vladimirov
GM Elizbar Ubilava
GM Surya Sekhar Ganguly
IM Vargeese Koshy
IM Neeraj Mishra
IM D.V. Prasad
Some novel initiatives: 
Internal talent hunt competitions
Chess in school program
Trainin adiwasi students from Anandgram
Meet the World Champion (Q&A with GM Vishy Anand)
Become a part of the Kunte's Chess Academy:
Kuntes now have four branches of their academy - 
Mayur Colony
Aundh
PYC Gymkhana
Walvekarnagar
You can find out the timings and their training programs from here.
Kunte's Chess Academy official website
---