Curtain raiser for the Women Premier 2015
The National Women Premier 2015, will be held in Kolkata from the 12th to the 24th of November. In this article we get acquainted with the 12 different participants. The author also tries to find out who has the maximum chances to win the title. Will it be Padmini, Tania, Soumya, Vaishali or someone else?
It is the biggest women event in the country. 12 women players from different parts of the country will meet in Kolkata from the 12th to 24th of November 2015 to participate in the 42nd National Premier Chess Championships. So let's first straight get to know who are the players in the event:
1. IM Padmini Rout (2437)
After Humpy and Harika we can say that currently she is the third strongest female player in the country. She is the reigning national champion and the bad news for her opponents is that she is in excellent form. Recently she was the joint champion at the Malaysian Open where a lot of strong grandmasters had taken part. I would say Padmini is a favourite to win the title once again this year because she is rated nearly 50 points more than the second seed. I asked Padmini about the pressure of being the defending champion and she replied, "I can either take the pressure or not. Right now I am not thinking about it, I hope I will continue doing the same during the tournament too." 
And what are her main aims in the event? Like an experienced campaigner Padmini says, "I just want to play good games. That will be my aim." And who does she think is her biggest competitor? "I am my biggest competitor. I hope to do better than last year." When you receive such level headed answers from a player, you see a battle hardened sportsperson who is confident about her abilities, but makes sure to think about things that are in her control. We can looks forward to some high quality chess from the princess of Orissa.
2. IM Tania Sachdev (2385)
 At the end of 2013, Tania had a rating of 2441. Since then her rating has dropped consistently and she is now down to 2385. Tania has become an important member in the international chess community as she is called to many top events as a commentator or a host like Gibraltar 2015 or Millionaire Chess 2015. But when asked whether she is into full time commentary, Tania replies, "Ha! Not yet, I quite enjoy commentating but playing is still my #1 priority." With this National Premier Tania would be aiming to get back some of her lost rating points and also prove that she is very much one of the top female players in the country.
3. WGM Soumya Swaminathan (2341)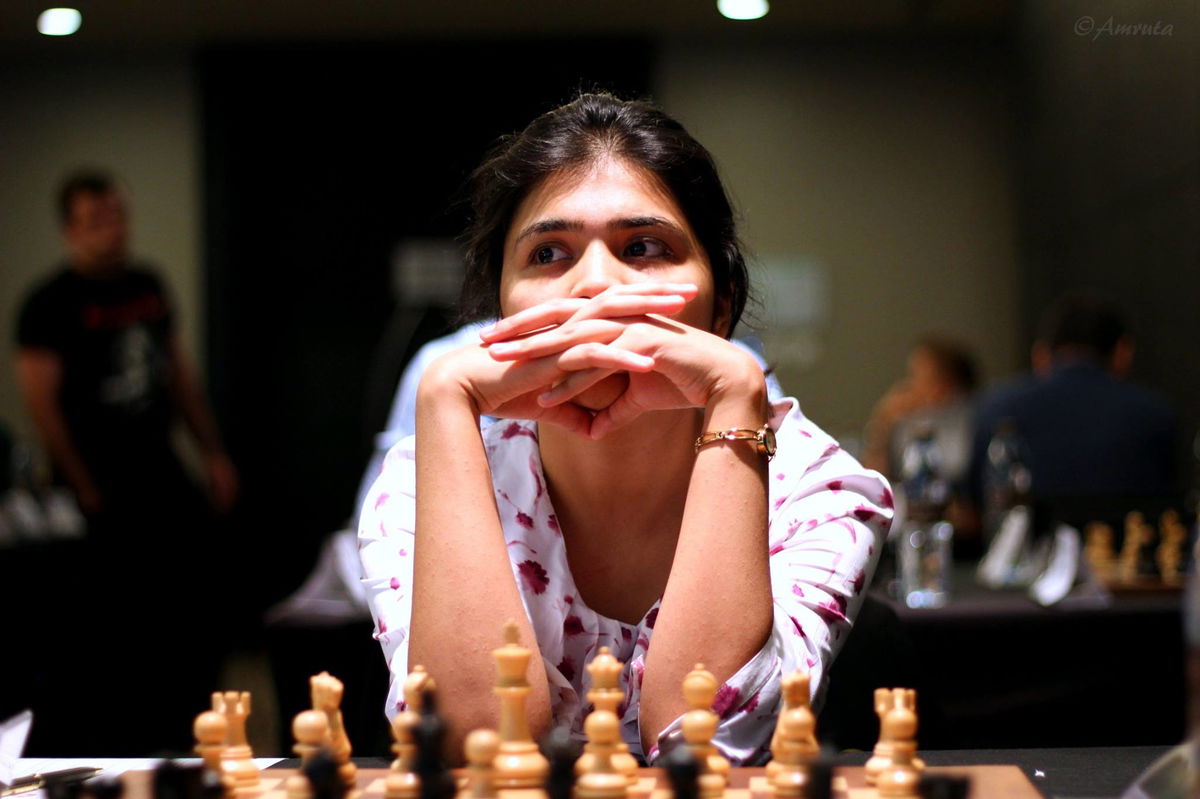 The former World Junior champion and 2011 National Champion is one of the strongest contenders to win the title. When Soumya was contacted and asked what is her aim in this National Premier, she replied, " My aim is to win the tournament of course. Looking forward to a well organized event and playing some good games!" 
The best part about Soumya is her attacking style of play. She loves to aim at her opponent's king and is one of the reasons why spectators would enjoy watching her games.
4. WFM R. Vaishali (2298)
She is the fourth seed in this event and I would dare to say that one of the biggest threats to all the seasoned players mentioned above. Even R. Vaishali is not sure what she is capable of doing at this point of time. Just yesterday, she won the under-14 World title. She was also the National Challengers champion, a tournament that had all the players who will be playing in the premier apart from Padmini. True that she lost to Soumya and Tania in that event scoring 9.0/11, but she will looking out for a revenge in the National Premier.
Vaishali is a free soul when it comes to the chess board. Opening theory does not bind her. She has a keen sense of psychological factors in chess. For example: if she thinks that her opponent is a positional player who doesn't like to be attacked, she is ready to make bold moves even if they are objectively weaker. Her confidence can be gauged from the fact that at the recently concluded National under-17, she played in the boys section and was leading right until the last round before finishing third. Somewhere I already see the signs of another Judit Polgar in her.
5. WGM Bhakti Kulkarni (2257)
One of the top women players in the country now for quite some time, Bhakti had a career high rating of 2339 in the year 2011. Her rating has dipped a bit in the recent past but she is very much a force to be reckoned with. The thing which separates her from the rest is her subtle positional play. She likes to play quite openings, sometimes even boring, but what's important is that she gets the job done. With lot of attacking players in the line up like Padmini, Soumya, Vaishali, Swati it will be interesting to have a player with a completely different style of play.
6. WIM Pratyusha Bodda (2248)
This player from Andhra Pradesh has, in my opinion, one of the most fluctuating rating charts that I have ever seen. In July 2013 she was rated 2180. One year later in August 2014 she had a rating of 2033! She then pumped it up to 2270 (Yes a 240 point gain!) in February 2015 and then slid down to 2128 in a few months. The story doesn't end her. Thanks to a brilliant performance at the Asian Continental she gained 132 points and reached a career high rating of 2326. But then dropped 28 points at the World Juniors and is now down to 2248. As is clearly apparent, if she is in form she can even become the champion. But if she is not then we can expect her to finish at the bottom of the table.
7. WIM Michelle Catherina (2242)
This year 19-year-old girl has gained 200 Elo points this year. She is a solid performer and capable of beating anyone on the best of her days. She starts off as the 7th seed in the event.
8. WGM Swati Ghate (2230)
A epitome of a true manager - Swati is a wife and a mother to a little kid. She manages all her roles and that the same plays some enterprisingly brilliant chess. She is known as one of the fiercest attackers in Indian chess circles. However, her incapability of maintaining her nerves has led her to lose many a winning positions. If she is in her best playing form she can beat the best.
9. WFM V.Varshini (2163)
2163 is not her real rating. Make it 2297! How you may ask? Well, Varshini won the silver medal at the World Youth under -18 which finished yesterday thereby gaining 134 Elo points! She also won the under 17 national title recently. The form she is in, her opponents will surely have to take her as a very serious threat to the title.
I wouldn't consider these three players as serious contenders for winning the title. But it can be a very good exposure for them to play against the top players , especially for both the young Priyankas!
Neha Singh, wife of IM D.P.Singh, played a good event at the National Challengers to book a berth at this premier event. It would be interesting to see if she can cause a few upsets here. 
The participants at a glance:
1. IM Padmini Rout (2437)
2. IM Tania Sachdev (2385)
3. WGM Soumya Swaminathan (2357)
4. WFM R.Vaishali (2298)
5. WGM Bhakti Kulkarni (2257)
6. WIM Pratyusha Bodda (2248)
7. WIM Michelle Catherina (2242)
8. WGM Swati Ghate (2230)
9. V. Varshini (2163)
10. Neha Singh (2024)
11. Priyanka. K (2011)
12. Priyanka Nutakki (1994)
Organizers
The tournament is being organized by Diaspora Times under the aegis of AICF and Bengal Chess Association. It must be said that Diaspora Times were also the organizers of the National Challengers 2015 and they did a commendable job. Hence, the players can expect some high quality arrangements for this event.
Venue:
The tournament will be held at the Bengal Gallery, Kolkata.
Prizes:
The zero tolerance rule will be applied at the event and the time control will be one hour thirty minutes with an addition of thirty minutes after move forty and an increment of thirty seconds from move one.
As I was writing this article, I realized that this is a wonderful National Premier. There are seasoned campaigners like Padmini, Tania, Soumya, Bhakti, Swati who have proved themselves on numerous occasions for winning loads of laurels for our country. And then there are upcoming, young and talented players like Vaishali, Varshini, Michelle, Pratyusha who will give the experienced guys a run for their money. Besides, there are bottom three seeds who would be waiting to catch one of the big fishes at the event.
Who will win the event? I think as of now Padmini is a clear favourite to win the title based on her rating and also the recent performances at the Malaysian Open. Tania is a little bit out of practice but Soumya is currently competing with the best players in India at the inter PSPB championships. So she might be in good form. As for Vaishali I can only think of one word: Giant Killer! Let's see if she can become the youngest National Premier Champion of our country!
---